Five Things You Didn't Know About the "Chamber of Secrets" Illustrated Edition
October 4 marked the release of the illustrated edition of Harry Potter and the Chamber of Secrets! You can now pick up either the Standard Edition or the Deluxe Edition at most retailers. Check out Jim talk about bringing Chamber of Secrets to life in a brand new video here!
To celebrate the launch of the illustrated edition of Chamber of Secrets, we attended a release event with Jim Kay at the House of Illustration in London. Here are five things we learned about the new book!
1) There are jokes hidden throughout Diagon Alley.
If you have a copy of the illustrated edition of Sorcerer's Stone, you already know that Jim Kay's drawing of Diagon Alley is full of little details. He continues his beautiful illustration of Diagon Alley in Chamber of Secrets and fills it with some unique and wonderful shops!
2) The greenhouse was Jim Kay's favorite illustration!
The drawing of Hogwarts's greenhouse was the one image that really came out like Jim Kay imagined. To him, this was the one thing that best represented Hogwarts – and he's looking forward to drawing them more often in the future books. Drawing inspiration from when he worked at the Royal Botanic Gardens, he designed the greenhouses to look like bits had been added on. Check out his sketches below!
3) Jim Kay fed spiders in his workshop.
Chamber of Secrets is chock-full of creepy crawlies. To get his drawings just right, Jim Kay actually fed a spider that he found in his studio! Here's a picture of the spider in his studio, as well as the beautiful spiders in the book!
4) All the characters in the books are based off actual people!
Jim Kay has said before that Harry Potter is based off a boy he met on the London Underground, but did you know that Professor Snape is based off one of Kay's friends? When asked whom he's most looking forward to drawing, he says that he's most looking forward to Snape (because his friend is such a good model), Professor Trelawney, and Voldemort (whom he hasn't actually drawn yet).
5) Jim Kay hid his dog Leroy in St. Pancras station.
In Harry Potter and the Sorcerer's Stone, Jim Kay hid a little doodle of his dog Leroy in Diagon Alley. Although Leroy is sadly no longer with us, he lives on in Chamber of Secrets! Can you spot where Leroy is hidden in this picture of St. Pancras? (Hover over the image to zoom in.)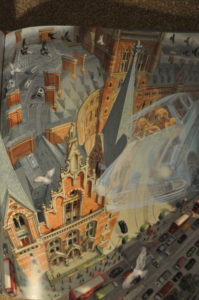 Could you spot Leroy? Have you gotten your copy yet? Let us know in the comments below!