"Harry Potter" and "Fantastic Beasts" Make Magic with "LEGO Dimensions"
Harry Potter fans are not the kind of Muggles who live in just one fantasy world. Many have an impressive range of eclectic tastes in franchises. From fan fiction that connects distant fandoms to new theories being endlessly shared across Tumblr, Potter fans are some of the best at breaking the boundaries between worlds and finding creative ways to mash-up their favorite characters and worlds. So it may surprise these fans to know that, for the last year, LEGO and Traveller's Tales (or TT) Games have been producing an enormous and constantly evolving video game that caters perfectly to the Potter community's boundless creativity.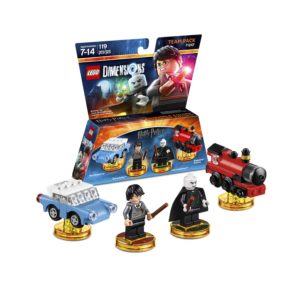 If you've ever dipped your toes into a LEGO video game, it's 99.9% likely that it was the LEGO Harry Potter series (which has recently been remastered and rereleased in HD for the PlayStation 4). But that wasn't quite the end for Harry and his friends in the LEGO multiverse. Harry, Voldemort, and a handful of other famous Potter characters have recently made their way into LEGO Dimensions, a massive toys-to-life video game where an impressive range of popular and beloved characters collide. MuggleNet recently had the privilege to chat with the game's head of design, Arthur Parsons, who provided a brief explanation of just what this game is about:
In a series that features such powerful and talented characters as Portal's reality-bending Chell and The Wizard of Oz's Wicked Witch of the West, one wonders what more Harry, Newt, and their friends could add to an already packed game like LEGO Dimensions. As Arthur made clear, the crew at TT Games carefully selected abilities for Harry, Newt, Voldemort, and Tina that highlight their unique talents, ensuring them as must-have characters for the game:
With more packs for Year 2 on the way through next year (including diverse characters like Sonic the Hedgehog, E.T. the Extra Terrestrial, and the Powerpuff Girls), the question of whether or not more Potter characters will make their way into LEGO Dimensions has already been raised. Arthur provided the answer at the 2016 San Diego Comic-Con, revealing that Hermione will be joining the crew in the final wave of Year 2, scheduled for release in 2017. In a MuggleNet exclusive, Arthur revealed what Hermione's accessory will be, what forms it will morph into, and a few hints about her abilities:
With exciting wizarding world additions already available for the game, along with more packs in the coming months, it's tempting to rush into LEGO Dimensions with little regard for which packs to buy, but the game's large scope (and large cost, depending on how you decide to approach purchasing the multiple packs) can be overwhelming to newcomers. Arthur put forth his suggestions for Potter fans who want to give the game a try but aren't sure where to start:
The LEGO Dimensions Starter Pack is now available for Xbox 360, Xbox One, Nintendo WiiU, PlayStation 3, and PlayStation 4 (the last of which comes with an exclusive Supergirl minifigure for a limited time). The Harry Potter Team Pack, featuring Harry and Voldemort, is now available. The Fantastic Beasts Story Pack and the Tina Goldstein Fun Pack will be on shelves November 18, with the Hermione Granger Fun Pack following in 2017. Potter gamers can also pick up the original LEGO Harry Potter games, now remastered in HD for the PlayStation 4.