"Harry Potter" and "Fantastic Beasts" Make Magic with "LEGO Dimensions"
Harry Potter fans are not the kind of Muggles who live in just one fantasy world. Many have an impressive range of eclectic tastes in franchises. From fan fiction that connects distant fandoms to new theories being endlessly shared across Tumblr, Potter fans are some of the best at breaking the boundaries between worlds and finding creative ways to mash-up their favorite characters and worlds. So it may surprise these fans to know that, for the last year, LEGO and Traveller's Tales (or TT) Games have been producing an enormous and constantly evolving video game that caters perfectly to the Potter community's boundless creativity.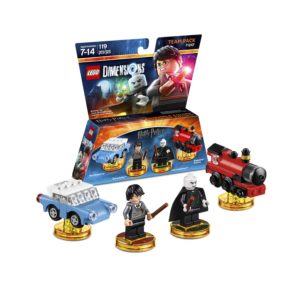 If you've ever dipped your toes into a LEGO video game, it's 99.9% likely that it was the LEGO Harry Potter series (which has recently been remastered and rereleased in HD for the PlayStation 4). But that wasn't quite the end for Harry and his friends in the LEGO multiverse. Harry, Voldemort, and a handful of other famous Potter characters have recently made their way into LEGO Dimensions, a massive toys-to-life video game where an impressive range of popular and beloved characters collide. MuggleNet recently had the privilege to chat with the game's head of design, Arthur Parsons, who provided a brief explanation of just what this game is about:
LEGO Dimensions is a toy select video game with no rules, we like to think. So you can basically take any toy from any of the different IPs that are in the game, and you place them on the gamepad. You can place up to seven at any one time, and they'll appear in the world instantly. The LEGO Dimensions Starter Pack contains a huge game, definitely on a [unintelligible], if not bigger than any of the main standalone games. You get LEGO Batman, you get Gandalf, and you get Wyldstyle, as well as the Batmobile, and mound of LEGO bricks to build onto your portal in the starter pack. And that starter pack is all that anybody needs to get into LEGO Dimensions. All the other packs, it's a case of people picking and choosing and buying whichever ones they're actually interested in. So you can buy any of the Year 1 IPs, so things like Scooby-Doo, or Portal, Doctor Who's incredibly popular, Jurassic World, any of those IPs. And then in Year 2, that's when we get to see IPs like Harry Potter, the new Ghostbusters, because [the] old Ghostbusters was in Year 1. We also have Adventure Time and A-Team. And then throughout the rest of this year and into next year, we have some IPs coming like, obviously, Fantastic Beasts, which I'm sure you and everyone else that's part of MuggleNet is excited about, as well as Sonic the Hedgehog, Goonies, Knight Rider, Beetlejuice, Teen Titans Go!, Powerpuff Girls, LEGO City: Undercover, there's loads. Loads of great content coming.
In a series that features such powerful and talented characters as Portal's reality-bending Chell and The Wizard of Oz's Wicked Witch of the West, one wonders what more Harry, Newt, and their friends could add to an already packed game like LEGO Dimensions. As Arthur made clear, the crew at TT Games carefully selected abilities for Harry, Newt, Voldemort, and Tina that highlight their unique talents, ensuring them as must-have characters for the game:
The way that we looked at it was what are the coolest things that these characters can do? And then you look at it and think, well, there are characters already blow up Silver LEGO, so giving Harry "Reducto" isn't such a problem. There are characters that can already fly, so giving Harry a broomstick isn't a problem. So you very quickly rattle through, it's fine to give him certain spells and abilities, but then you also want to give him unique abilities to make people want to play as him. So with Harry, his unique abilities are Diffindo, which is a new mechanic just for him for [LEGO] Dimensions, which works very similar to how it does in the LEGO Harry Potter games. He's also got his Patronus, while it's cool to see it, it can just smash LEGOs. So it's a cool feature, but it doesn't really make him overpowered. He has Parseltongue, which is again it's only him in Dimensions, him and Voldemort, that can do it. So although we've given him unique powers, we've not overpowered him. He can do Leviosa and a few other things, so both Harry and Voldemort feel very much like they should, but at the same time, they're not game-breakers. They're game-changers, so they're really, really cool. And then as you go into [Fantastic] Beasts, well then, again, just because Newt is a magizoologist, and was at Hogwarts, doesn't mean that he should just be a wizard the same as Harry. So Newt has abilities that are unique to him, and the same with Tina. So we've tried to make every character unique, but also ensure that they're all complementary to the game rather than anything else. So I think people will be really, really excited when they play these characters. And some of the abilities, for Newt, for example, because again, a lot of people don't know anything really about the movie other than things that they may have read or trailers they've seen online, I think they're in for a big surprise. It really is truly terrific.
With more packs for Year 2 on the way through next year (including diverse characters like Sonic the Hedgehog, E.T., and the Powerpuff Girls), the question of whether or not more Potter characters will make their way into LEGO Dimensions has already been raised. Arthur provided the answer at the 2016 San Diego Comic-Con, revealing that Hermione will be joining the crew in the final wave of Year 2, scheduled for release in 2017. Arthur revealed what Hermione's accessory will be, what forms it will morph into, and a few hints about her abilities:
I think she's out in Wave 7. Okay, yes. So yes, she's out post-Christmas, and if I remember rightly, she does come with a hippogriff, and I'm pretty sure it transforms into two other creatures, one of which I think is an owl. I can't remember the other one. I don't think it's Crookshanks, but it might be. But I can't remember, so don't quote me if I'm wrong. But anyway, in terms of abilities, she's Hermione; so, as everyone knows, she's the most intelligent of all of our Hogwarts trio more than anything else. But yeah, I won't spoil it. Put it this way: We've made sure that she is unique in her own way because we would want obviously people to want to get Hermione as well as get Harry and Voldemort.
With exciting wizarding world additions already available for the game, along with more packs in the coming months, it's tempting to rush into LEGO Dimensions with little regard for which packs to buy, but the game's large scope (and large cost, depending on how you decide to approach purchasing the multiple packs) can be overwhelming to newcomers. Arthur put forth his suggestions for Potter fans who want to give the game a try but aren't sure where to start:
For me, if anyone is into the Potter universe, and enjoys all aspects of it, not just the movies and books, that hopefully, most people have played a Harry Potter. But the [LEGO] Dimensions Harry Potter content is different. It's a unique take on it. That in itself might be enough to knock people over the edge. But the Fantastic Beasts content should be because anyone that loves Harry Potter is going to be blown away by that movie; it is incredible. And as such, we have made a story pack that's part of Dimensions, which does that movie justice and more. So I think the people [who] love Harry Potter and the universe that J.K. Rowling has created, being able to get a starter pack, if they've not got Dimensions already, they can get a starter pack now probably for $49.99, $50.99. I think it's reselling at somewhere around there if you shop around.

[…] In fact, the PS4 would be the way to do it. Go out and get a PS4 starter pack with Supergirl, then go and get the Harry Potter team pack, and get the Fantastic Beasts and Where to Find Them Story Pack. You're going to get in that starter pack, in those packs, forty plus hours worth of gameplay because it's a huge amount of content. While you're there, you might as well pick up the Harry Potter collection remastered on PS4 as well. And then that's it, that's all the entertainment you need from now until the new year.
The LEGO Dimensions Starter Pack is now available for Xbox 360, Xbox One, Nintendo WiiU, PlayStation 3, and PlayStation 4 (the last of which comes with an exclusive Supergirl minifigure for a limited time). The Harry Potter Team Pack, featuring Harry and Voldemort, is now available. The Fantastic Beasts Story Pack and the Tina Goldstein Fun Pack will be on shelves November 18, with the Hermione Granger Fun Pack following in 2017. Potter gamers can also pick up the original LEGO Harry Potter games, now remastered in HD for the PlayStation 4.
Want more posts like this one? MuggleNet is 99% volunteer-run, and we need your help. With your monthly pledge of $1, you can interact with creators, suggest ideas for future posts, and enter exclusive swag giveaways!
Support us on Patreon