Pancakes, "Harry Potter" Style
Happy Shrove Tuesday!
What does Shrove Tuesday entail? PANCAKES. Loads and loads of pancakes. (Additionally, for some English cities, the celebration of Shrove Tuesday (or Pancake Day) involves pancake races and mob football matches and what is essentially trick or treating for pancakes. The last tradition sounds amazing and one that should be followed in the States.)
Why? Because tomorrow is the start of Lent and many, many foods must be inhaled before we all fast from greasy junk food for the next 40 days. (Oh, is that just me?) Pancakes use up rich, fatty foods like butter, eggs, sugar, and milk.
Anyway. So what is the intersection between Harry Potter and Shrove Tuesday? Two years ago, Saipancakes created Potter character pancakes. Go check them out again: They're EPIC. Additionally, the resourceful aspect of Pancake Day is super interesting, especially when aligned with the parameters of Gamp's Law of Elemental Transfiguration. Food can't be outright created out of nothing (which, if you talk to college students, we would prove you wrong, but regardless). Shrove Tuesday, on the other hand, makes sure to utilize all remaining resources to create a decadent last meal before repenting and being good for some-odd days.
I thought it'd be fun to round up a bunch of Harry Potter-themed pancake recipes so that we may all celebrate Shrove Tuesday together in this virtual community of ours.
Butterbeer Pancakes
OMG, WHAT?! First, there was straight butterbeer. Then butterbeer slushies. Then actual boozy butterbeer. And butterbeer lattes at the Wizarding World of Harry Potter. NOW there are butterbeer pancakes? SIGN ME THE EFF UP.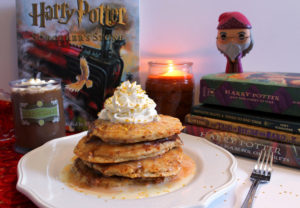 Check out the recipe (which includes butterscotch chips and caramel sauce!) from Natasha's Food Adventures.
Beet Pancakes
Technically, in the movie, Luna's earrings—and favorite soup—are shaped like Dirigible Plums. And all descriptions of them in the book point to them looking like orange radishes. And beets are in the radish family, aren't they?
Check out the colorful recipe on Weelicious!
Chocolate Chip Pumpkin Pancakes
Pumpkin pasties are a staple in the Potter universe. And why not? Pumpkin puree and allspice naturally conjure up notions of the start of a new school year, so it makes sense that Harry devours them on his first train ride to Hogwarts. Another sweet that witches and wizards chow down on are Chocolate Frogs. Voila! Glorious pumpkin pancakes, studded with chocolate chips, à la Half Baked Harvest.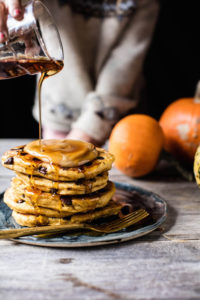 Check out this recipe, which essentially takes all the ingredients for a pumpkin pasty, combines it with chocolate chips, and "pancakes" a Chocolate Frog/pumpkin pasty hybrid.
Cornbread Pancakes with Maple-Pecan Syrup
Ah, treacle tarts. Basically, they're pecan pies but without the pecans: just a whole lot of golden syrup. In this pancaked version, we take the flavors of treacle tart, bring back the missing pecans, and end up creating a pretty protein-packed breakfast item. Whoever thought of combining browned butter and pecans with maple syrup is a GENIUS.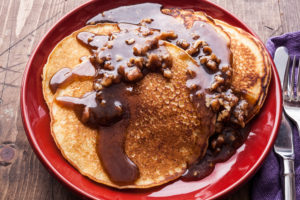 Check out the recipe on Chowhound!
Lemon Sugar Pancakes
And then, to finish the list, I will regale you with the first Pancake Day pancakes I indulged in with my Scottish friend Susie many a year ago. Susie, a study abroad student from Glasgow, introduced me to the concept of Pancake Day as well as her particular way of dressing up a batch of plain pancakes.
Once a pancake is slid onto your plate, sprinkle it with a heavy dose of powdered sugar, and then liberally squeeze a lemon wedge all over that sucker. And bam! You've got yourself lemon-iced pancakes that disappear as quickly as you can say "Dumbledore."
What kind of pancakes will you be eating on Shrove Tuesday?