UPDATED: Evanna Lynch to Star in Stage Revival of "Disco Pigs"
We last saw Evanna Lynch performing on the stage in Houdini, playing Harry Houdini's wife, Bess. (Read our review here!) Now we're thrilled to hear that Evanna will be hitting the stage again this summer for a 20th-anniversary revival of the play Disco Pigs.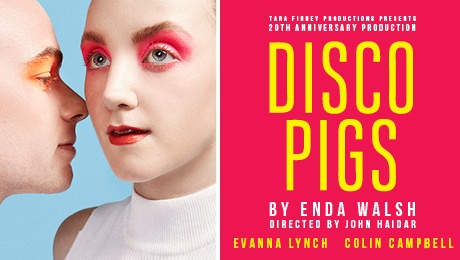 Written by Enda Walsh, the play is about two teenagers who've had a close lifelong relationship that eventually turns dark. The summary sounds intriguing:
Born at the same time on the same day in the same hospital, Pig and Runt have been inseparable ever since. They speak in their own language, play by their own rules, and create a world for themselves in which boundaries blur between truth and illusion. Until, on their seventeenth birthday, they discover something more. As night falls, and the disco and drink take hold, they spiral violently out of control.
Evanna will star as Runt, while Colin Campbell (Dublin by Lamplight, Through a Glass Darkly) will play Pig.
Walsh said of the revival, "It seems shocking that 'Disco Pigs' is 20 years old, but I trust that Evanna Lynch and Colin Campbell – under the stewardship of John Haidar – will brilliantly send Pig and Runt crashing through their chaotic joint birthday."
The original play debuted at the Edinburgh Fringe in 1997 and won both the George Devine Award for most promising playwright and the Stewart Parker Trust Award for best Irish debut play. It was adapted into a film of the same name in 2001.
Disco Pigs runs at Trafalgar Studios in London July 12–August 19, 2017. For tickets, click here.
We can't wait to see Evanna on stage again!
—
UPDATE 6/8/17
We now have a behind-the-scenes look at Evanna as her character, Runt! Check out the video below!