Coming Home: MISTI-Con 2017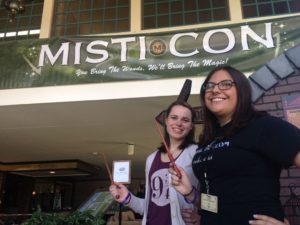 A handful of MuggleNet staff members clambered up to the Margate Resort in picturesque lakefront Laconia, New Hampshire, for MISTI-Con 2017. We experienced an extended weekend of Harry Potter fandom, surrounded by fellow Potter fans and aficionados. We attended numerous panels, reveled in the picture-perfect cosplay, spent way too much money at the merchandise/craft tent, and stayed up way past our bedtimes.
In other words: We had the perfect family- and friend-filled weekend, full of Hufflehugs and supremely generous people who welcomed any and everyone.
Day 2 (Friday)
We flew into Manchester, Boston, on Friday, May 19, so we missed the first day of the Con. But we hit the ground running, darting around to catch as many panels as possible.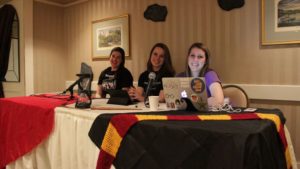 Con-goers got a sneak preview of MuggleNet's newest podcast, Not for Prophet! This podcast will cover current issues through the lens of the Harry Potter books, and we sure had a great time discussing the latest in media and education with all the great panel attendees at MISTI. Look for more news about this podcast's launch in the upcoming weeks!
Day 3 (Saturday)
Two things were on display today: CRAFT TENT and GNOMEs trivia.
Sadly, the craft and merchandise tent was only open from 10 a.m. to 4 p.m. on Saturday. But that didn't keep the MuggleNet staff members from emptying their pockets there.
Some craft highlights: Colorful Geek, stuffed Nifflers and Bowtruckles galore, themed tea samples, and an appearance from the Harp Twins.
We at MuggleNet worked incredibly hard to make our GNOMEs trivia as gruelingly nauseating as indicated on the tin. And we think we did well, considering we kept hearing groans and exclamations after each round of questions *insert evil laugh*. Honestly, it was incredibly gratifying to collectively stump this caliber of Potter fans who turned out for the Con.
Day 4 (Sunday)
MuggleNet had two panels today: a live podcast of SpeakBeasty and Whose Side Are You On, Anyway? We won't spoil the soon-to-be-released bonus episode of the former (be on the lookout!). At the latter, we and other fans sat in a circle to discuss popular fan topics such as Snape, Dumbledore, and Veritaserum in law enforcement.
Then it was time for Ministry Masquerade Ball! That meant it was time for us to don our best robes and head out into the night.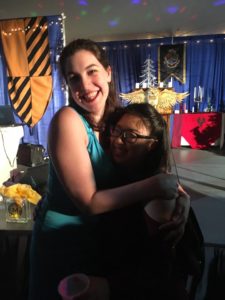 The main tent had been magicked into a tent worthy of Bill and Fleur: floating candles, tables full of treats, a silent auction, a huge dance floor, a live DJ, Potter movie clips projected onto the draped ceiling of the tent – these are just some of the goodies we were surrounded with. Oh, and don't forget the themed Potter drinks (and cake!).
Day 5 (Monday)
After staying up until 2 a.m. karaoke-ing our voices hoarse, we were all running on empty. We had just enough time to grab breakfast before an effusive goodbye.
We all caught a bit of the con plague and a hefty dose of post-con depression. The theme for this year's MISTI-Con was #ComingHome, and the nostalgia was strong indeed. Couple that with the fact that, in 2019, MISTI-Con will no longer be held at the Margate, and this year's festivities felt like the best kind of bittersweet send-off.
See you in 2019 – and before then at MuggleNet Live! in Orlando in September 2017!
We want to take a moment to thank the MISTI-Con staff for an incredible weekend, the Margate Resort staff for their hard work, and all the Con attendees who participated in our events throughout the weekend. For fans wondering if this is the con for them, we highly recommend attending in 2019 and seeing what all the magic is about for themselves.