Theater Review: "Disco Pigs", Starring Evanna Lynch
Last week, we attended the Off-Broadway production of Disco Pigs, starring Evanna Lynch and Colin Campbell. Lynch, best known for her role as Luna Lovegood in the Potter films, stars as Runt alongside Campbell as Pig. The show originated in the United Kingdom and has since transferred to New York City. You can see our original review here.
The play gets quite intimate as you find yourself in a small audience at the Irish Repertory Theatre that's comfortable and soothing since warm smoke lays atop the audience throughout the production.
Pig and Runt were both born in the same hospital, on the same date, in separate rooms, making them siblings by practically everything but bloodline. They grow up next door to each other and form such a close relationship that they're almost telepathic.
The play follows said relationship as they come up on their 17th birthday. One of their favorite activities? Attending the disco, where Runt discovers a fondness for a schoolmate named Mark, and Pig realizes he's attracted to Runt.
The combination boils down to disaster as they attempt to navigate their own awakenings, not knowing what it will mean for their own future.
While we struggled with the dialect at the start, we quickly adapted and became attached to the pair as they struggled to remain close to one another. It was really great to hear Evanna using her native (if exaggerated) accent.
It's 90 minutes straight with no interruption, allowing you to stay invested without a break that may ruin the flow of the story. They're the only two you see on stage, so all of your focus becomes fixated on one character or the other. You focus on observing the unique mannerisms that even further depict what their characters are thinking on a subconscious level. Even though they are the only two actors, they're not the only two characters, so it was cool to see how the presence of other characters relies solely on Lynch's and Campbell's performances.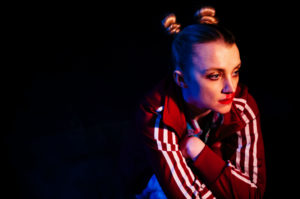 We thoroughly enjoyed the performance, and seeing Lynch so up close and personal is always a treat. Both her and Campbell complement each other so well, and their costumes are bright and captivating (wearing Adidas tracksuits, essentially). Even though Pig is the more active and explosive of the two, Evanna brings a lot of subtlety to Runt that gives her an equal stage presence.
The lighting does all of the work for the small space since there are no props aside from one television that will transport you back to the '80s. Smoke and color take you from place to place while keeping you in the know for the entire performance.
For those who are fans of the original film or the actors, we encourage you to take a trip to see the performance. It's a great way to reflect on how we grow as individuals while still striving to remain part of a group.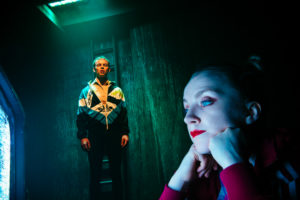 Pig and Runt come to their own realizations by the end, and it may not be the one you anticipate, but it cements the theme of development as a teen and how we are constantly looking for what comes next.
Disco Pigs is running now through March 4, 2018. A special thank you to the team for allowing us to review this production. Please be aware the play does contain profanity and strong sexual language.