Dan Fogler on His Comic Book Series "Brooklyn Gladiator", Its Future, and the Gifts He Gets from Fans
Internet news site Bleeding Cool had the opportunity to speak to Fantastic Beasts, Fanboys, and Balls of Fury star Dan Fogler (Jacob Kowalski) about his upcoming Chapter House Publishing comic series, Brooklyn Gladiator, which was funded through a Kickstarter back in 2015. The series is set in a dystopian New York City "in which nanites do all the work, chemtrails have become an all-consuming fog, and the constant threat of war ensures an isolationist government's absolute power."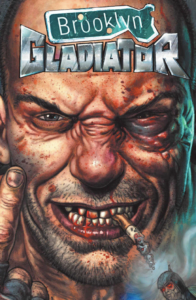 When asked about his inspirations for the series, Fogler laughed and said, "There's so many."
It kind of harkens to Matrix; Neo, he's got that stink in his mind that things aren't quite what they seem. So there's that. And it's a hero's journey, so it's similar to Star Wars in that sense. And so yeah, I took all my favorite stuff and put it in there.
The interviewer asked Fogler about the treatment of women in this volume because their role seemed to be "downplayed" when compared to the role of John Miller, the comic's protagonist. Fogler explained, touching on what seems to be some of the main themes of this series.
It's really the last screams of the Yang energy dying, because the Yin energy is rising. I don't know if you've ever heard that term, but the Yin Yang is a wheel, and we've been living in the Yang energy for a very, very long time. It's obviously this male energy, and you can feel it every day. The Yin energy is rising all around us. What happens over the course of Brooklyn Gladiator [is], John Miller is transformed. He becomes less of a bloody criminal and more of a warrior prophet, more spiritual. It's his transformation finding the Yin in himself with the appearance of this psychic energy that is rising.
Fogler also explained what he wants people to think about after reading this comic.
I want […] people to take away, after reading Brooklyn Gladiator, how far are we from this reality? 2033 isn't that far away. Where we are now, it could totally come to fruition, and I want that to scare the s*** out of people.
Fogler told geek news and analysis website the Geekiary that he is hoping to publish "a volume a year" of Brooklyn Gladiator until he starts earning more money from Fantastic Beasts to put toward publishing the series more frequently.
It's become my Star Wars. My Epic. I've got prequels and sequels.
Meanwhile, Fogler is still recognized by fans as the lovable Jacob Kowalski, and he told the International Business Times that he frequently receives gifts in the form of baked goods.
It's very sweet, and because I play a baker, people give me muffins and cookies all the time.
Brooklyn Gladiator is written by Dan Fogler with Andrew Harrison and Ben McCool with art from Tom Hodges with Derick Robertson, Nadir Balan, Mark Hiblen, and Stephen Bunting. Volume 0 is slated for release April 11.
Will you be reading Brooklyn Gladiator or sending Dan Fogler some cookies?