"Harry Potter and the Cursed Child" Is the Last Story with Harry Potter
With the opening of Harry Potter and the Cursed Child on Broadway this past Sunday, a lot of people have been wondering about whether or not we could see a sequel set in the same time period or perhaps even further into the future. (In case you missed our coverage leading up to the premiere, this post will be sure to bring you up to speed.)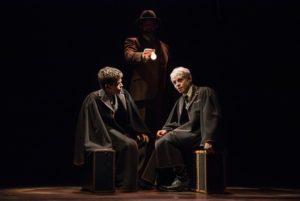 Before its official opening date, Cursed Child has already become the highest-grossing play in Broadway history and has already been nominated for the 2018 Drama League Awards. It's no wonder that the highly acclaimed play already has people asking about the future of the Cursed Child franchise, including hopes to see this story as a movie.
The answer, unfortunately, is a resounding "no" and comes straight from the Queen herself.
I think we really have now told, in terms of moving the story forward, the story that I, in the back of my mind, wanted to tell. I think it's quite obvious, in the seventh book, in the epilogue, that Albus is the character I'm [most] interested in. And I think we've done the story justice. So I think pushing it on to Harry's grandchildren really would be quite a cynical move, and I'm not interested in doing that.
Although it saddens us to think of an end coming to Harry Potter's storyline, we're very happy to know that we have the Fantastic Beasts film franchise to quench our magical thirst. (Honestly, though, when will we ever NOT be thirsty for the wizarding world?)
So even though the beloved story of Harry and his generation is over, we are getting an amazing look at the world before him. So the proper question to ask now is, will we ever see a book/film/play about the Marauders generation?
If you want more magic but are distraught over the end of Harry's story, check out some of our articles concerning Fantastic Beasts. The new movie hits theaters November 16, 2018.
What do you think? Excited for Fantastic Beasts? Missing our golden trio? Want Rowling to pursue the Marauders next? Let us know in a comment below!