"Cursed Child" NYC: Creative Team, Alex Price Talk the Move to Broadway
Harry Potter and the Cursed Child had its highly anticipated Broadway premiere on Sunday, April 22, and American fans aren't the only ones excited about the show's move overseas.
J.K. Rowling herself made her way to Broadway to surprise the cast and crew and share in the excitement, and several cast members have opened up about the experience of taking the show to Broadway. Jamie Parker (Harry Potter) talked about the differences between London and New York City audiences and the role of the audience in the success of the play. Noma Dumezweni (Hermione Granger) described the personal significance of the move to Broadway in relation to her background as a refugee child. Anthony Boyle reflected on Scorpius Malfoy and how he has grown as an actor during his time in the role.
Producer Sonia Friedman, playwright Jack Thorne, cowriter and director John Tiffany, and actor Alex Price (Draco Malfoy) have also spoken about the move.
The show's creative team is thrilled to bring Cursed Child to new audiences. Producer Sonia Friedman described the reaction she hopes the New York audience will have to the show:
I hope they will experience the beauty of the power of the imagination, which theater can deliver. I hope they will love seeing some of their old friends on stage, Harry, Ginny, Hermione, Ron, and a few others that we don't say because we still keep the secrets.
Friedman described the process of bringing the story to the stage as an act of trust and responsibility between the team, J.K. Rowling, and Harry Potter fans:
It's about trust. Fundamentally, Jo trusted me and my co-producer, Colin [Callender], to put together the team that was going to be able to deliver what we've finally put on stage, and I think trust engenders love and respect and responsibility.
Playwright Jack Thorne and his cowriter and the play's director, John Tiffany, said that finding the right venue, which they found in the Lyric Theatre, was an important consideration in bringing the play to New York. Tiffany gave some insight into the method behind the magic for the show:
I work with a lot of very, very clever people to enable and realize that magic. There's a real Victoriana to Harry Potter – there always has been – and we wanted to explore Victorian illusions and magic tricks.
Thorne hopes that they have succeeded in fulfilling audience expectations by capturing the essence of the beloved Harry Potter characters who return in Cursed Child:
Hopefully, they feel we do justice to who Harry, Hermione, Ron, and Albus and Scorpius are now and why they're like that. And hopefully, we take them on an emotional journey.
Judging from overwhelming ticket sales and positive audience responses, imagination, emotional responses, and fun must be exactly the combination that audiences are looking for when they return to Harry's world during performances. Of course, none of it would be the same without familiar characters from the books.
Alex Price, who plays Draco Malfoy in the Broadway production of Cursed Child, said that he is looking forward to bringing more layers of the complex character to life on a new stage:
The joy of this Draco is that you get to understand why he was like what he's like in the books.
Price wanted to be sure to keep some of the trademark Draco Malfoy characteristics that fans all know and love (or love to hate), however:
There's still a little bit of the swagger about him. I wanted to keep that. It's part of who he is. Doing the play in London, I could tell people enjoyed when me and Harry were having a bit of a dig at each other.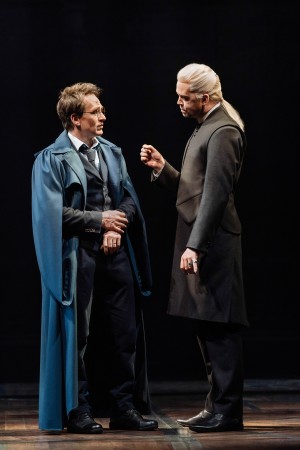 Price's tactics seem to be working, based on the speed at which Cursed Child tickets are selling – it became the highest-grossing play in Broadway history even before its opening. And it looks like Harry Potter madness will continue in New York for the foreseeable future; Cursed Child is already raking in nominations for awards from the Drama League and the Outer Critics Circle and the Drama Desk Awards.
Harry Potter and the Cursed Child seems unstoppable as it takes New York by storm. What's next for this powerful play? We can assume it will see more awards and even higher sales figures as it settles into the Lyric Theatre. Hopefully, it will also do everything the creative team, cast, and crew are hoping for to connect with fans and bring Harry and his friends to life for new audiences.