UPDATED: A Donation to Lumos Could Win You a Trip to See "Cursed Child" in NYC
Lumos is giving you another amazing opportunity to win a trip to see Harry Potter and the Cursed Child in New York City at the end of September! Every $10 donation gives you one entry to win!
The winner will receive a round-trip flight to New York City from anywhere in the world for you and a friend, a three-night hotel stay, two tickets to Harry Potter and the Cursed Child – Parts One and Two, and a meet and greet with the cast. The winner will also have the opportunity to have tea with one member of the cast and will receive a goody bag of Cursed Child merchandise as well as a personalized copy of the Harry Potter and the Cursed Child script book signed by J.K. Rowling, John Tiffany, and Jack Thorne.
—
UPDATE (August 15): 
Lumos emailed us to announce an amazing addition to this campaign! Check it out!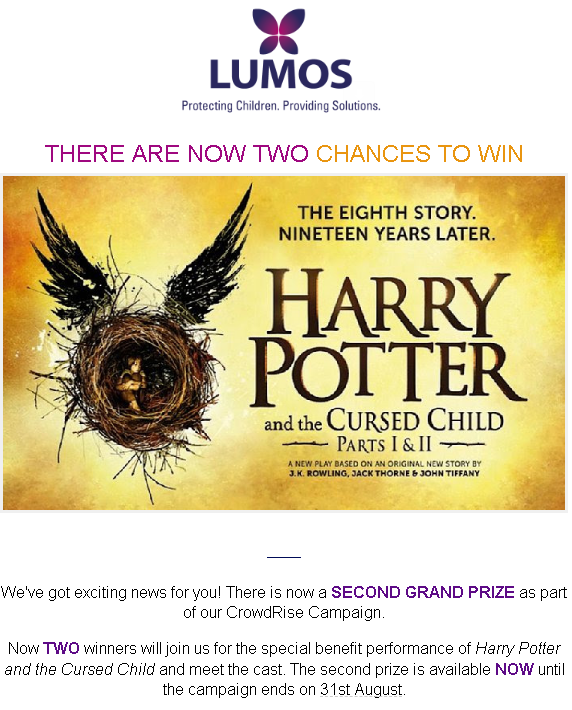 Check out the announcement video and scroll to the end of the article to read Lumos's press release!
—
Lumos, a charity founded by J.K. Rowling, is dedicated to reuniting children currently in orphanages with their families. There are over eight million children who are currently facing horrible living conditions in orphanages and institutions across the world. 80% of these children have families out there who were unable to take care of them due to poverty or other circumstances. Lumos hopes to locate the families of these children and provide them with the means to care for the child at home.
A $10 donation could help train parents of a disabled child, $50 could allow Lumos to locate the family of a child, and a $100 donation would help to develop local services designed to assist children leaving the orphanages and institutions to live independently. If you're lucky enough to have $2,500 to spare, the first ten people to donate $2,500 or more will receive a UK edition of the Harry Potter and the Cursed Child script book signed by J.K. Rowling, John Tiffany, and Jack Thorne along with their 250 entries.
The promotion starts on August 1 and ends August 31 at 11:59 p.m. EST. The winner will be drawn during the week of September 3 and must be available during the dates of September 20–24.
You can find out more about the promotion or make a donation here.