Meet the New Cast of "Cursed Child" on Broadway
As everyone knows, we're a little obsessed with the original cast of Harry Potter and the Cursed Child on Broadway. Most of the incredible actors have been involved with the show since its West End production in London, England. The show was nominated for a stunning 10 Tony Awards and has been smashing box office records since its opening.
Yet we are thrilled to meet the new actors who will be taking over the iconic roles. The new cast has been announced in a press release, and rehearsals have already begun! They will begin performances on March 20, 2019, following the current cast's final performance on March 17, 2019. Let's meet the new players.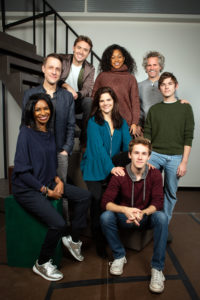 Taking over the iconic role of Harry Potter, winningly played by the beloved Jamie Parker on the West End and on Broadway, is James Snyder. Snyder previously appeared on Broadway in the musicals Cry-Baby, If/Then, and In Transit. In a video from the first day of rehearsal, Snyder expressed his shock at being involved in the production.
In my wildest dreams, I would have never been in this play. I'm still in disbelief, and I think a lot of us are just still giddy with what it means to be a part of this world.
Also joining the Potter family is Diane Davis as Ginny Potter and Nicholas Podany as Albus Severus. Podany said he came into the first rehearsal "nervous and a little overeager to be joining an entirely new family. But everybody's been so welcoming, everybody's been so warm. I always assumed a project like Harry Potter would attract people who are generous, and that's exactly what's happened." 
Broadway newbie Matt Mueller will be playing Ron Weasley. Jenny Jules, who made her Broadway debut in 2016's The Crucible, will be Hermione Granger, and Nadia Brown will take over the role of Rose Granger-Weasley. Playing Draco Malfoy will be New Zealander Jonno Roberts, with Bubba Weiler playing his son, Scorpius Malfoy.
Said Roberts, "The theater magic is what I want to see. I'm really looking forward to actually making real magic happen onstage eight shows a week and watching people's heads pop." We can't wait to see this cast create magic!
Check out photos from the cast in rehearsal and the incredible video of the first day.