Evanna Lynch Dances into a New Short Film
Evanna Lynch will dance once again in a new short film about modern dance icon Lucia Joyce. Evanna posted about the project on Instagram, with an image showing herself in an iridescent green costume and pose reminiscent of Berenice Abbott's famous image of Joyce in her silver fish costume at the first international festival of dance at Bal Bullier in Paris, France.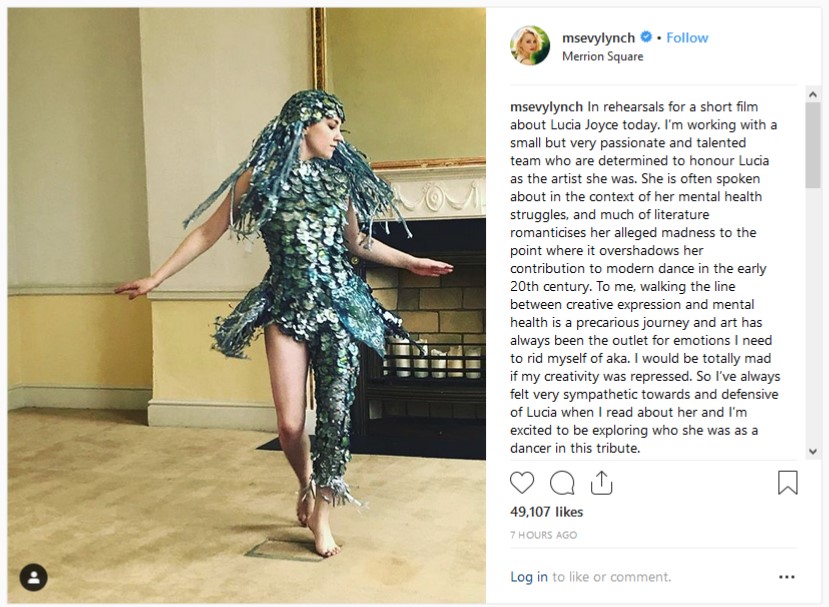 "In rehearsals for a short film about Lucia Joyce today," Evanna wrote in the Instagram caption. "I'm working with a small but very passionate and talented team who are determined to honor Lucia as the artist she was." The film, directed by Deirdre Mulrooney and titled Lucia Joyce: Full Capacity, will explore Joyce's brief but promising career as a rising star of modern dance in 1920s Paris through a re-creation of Joyce's most famous performance.
Lucia Joyce, the daughter of acclaimed author James Joyce and his wife, Nora Barnacle, was born in Trieste, Italy, in 1907 and studied dance in Paris in the 1920s. Her performance at Paris's Bal Bullier dance festival in 1928 was heralded as a great success and a promise of even greater things to come. "When she reaches her full capacity for rhythmic dancing, James Joyce may yet be known as his daughter's father," proclaimed the Paris Times. Poet W.B. Yeats wrote to his wife, "Tom [MacGreevey] has written praising above all other public dancers, James Joyce's daughter. We may use her someday [for his own Abbey Theatre Ballets]." She went on to tour Europe with a group of radically creative young dancers, Les Six de Rythme et Couleur. Tragically, Joyce's career was cut short by mental illness when she was still in her 20s, an aspect of her life that often eclipses her talent and creativity when she is remembered.
The project is close to Evanna's heart, both because of Joyce's brilliant yet often overlooked talent and because of her own experiences with the challenges of leading a creative life in the shadow of mental illness.
She is often spoken of in the context of her mental health struggles, and much of literature romanticises her alleged madness to the point where it overshadows her contribution to modern dance in the early 20th century. To me, walking the line between creative expression and mental health is a precarious journey and art has always been the outlet for emotions I need to rid myself of aka. I would be totally mad if my creativity was repressed. So I've always felt very sympathetic towards and defensive of Lucia when I read about her and I'm excited to be exploring who she was as a dancer in this tribute.
In honor of Joyce's artistic identity, dance will be central to the film, in which Evanna will perform a reimagined version of Joyce's Bal Bullier dance choreographed by Megan Kennedy. The beautiful costume Lynch wears in the photograph, inspired by Joyce's creation, was designed by Claire Garvey.
However, Evanna and the rest of the film team need help to make their dream of bringing Lucia Joyce's story to life a reality. If you'd like to get involved, you can donate to the team's fundraising efforts. In addition to the satisfaction of contributing to an artistic endeavor, you will also receive funding rewards from the film team at qualified donation levels, which range from an invitation to a special film screening to autographed photographs of Evanna in costume and even the opportunity to be credited as an executive producer on the film.
We can't wait to see Evanna in this project! Judging by the image she shared today and the passion with which she speaks about the role, Full Capacity should be a stunning tribute to the art of Lucia Joyce.