Unicorns Spotted at Hagrid's Magical Creatures Motorbike Adventure
With just over a month to go until Hagrid's Magical Creatures Motorbike Adventure opens at Universal Orlando Resort, there has been a flurry of news surrounding the new ride.
So far, Universal Orlando has revealed that guests will encounter Fluffy, Cornish pixies, centaurs, Blast-Ended Skrewts, the troublesome magical plant Devil's Snare, and an amazing animatronic Hagrid.
This list isn't exhaustive, however, and new aerial photos from Attractions Magazine have revealed that unicorns will also be a feature of the new, highly themed ride!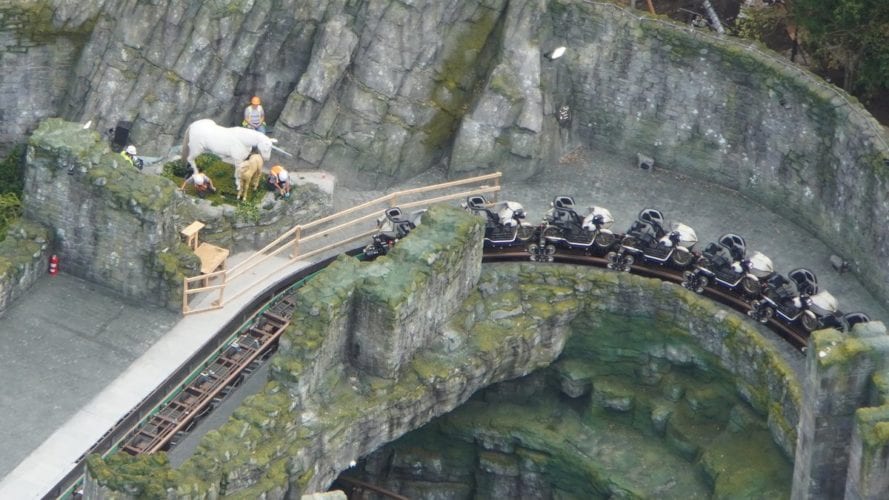 According to Attractions Magazine, it is not yet known whether the unicorns will be animatronics or static figures but that they appear to be the last feature of the outdoor section of the ride.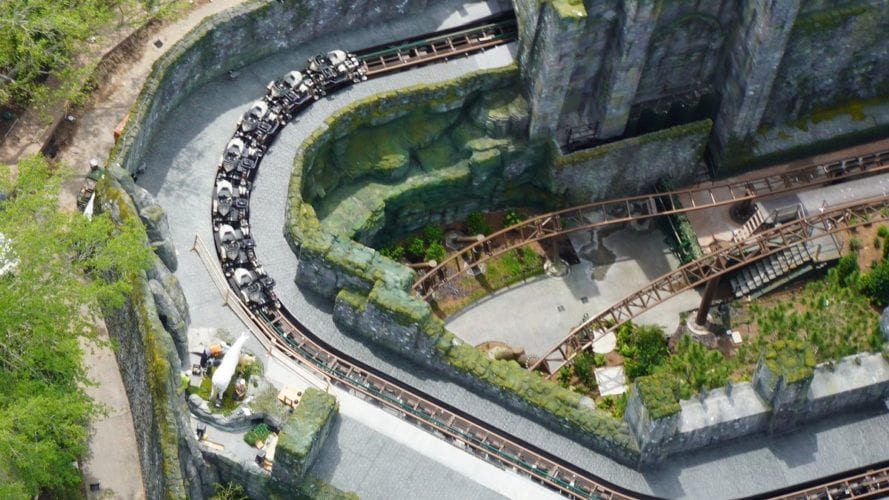 Another magical creature has made an outdoor appearance in the new images. Hagrid's three-headed dog, Fluffy, can be seen close to the dead-end section of the ride. The image below shows just how big this animatronic will be compared to the ride vehicles.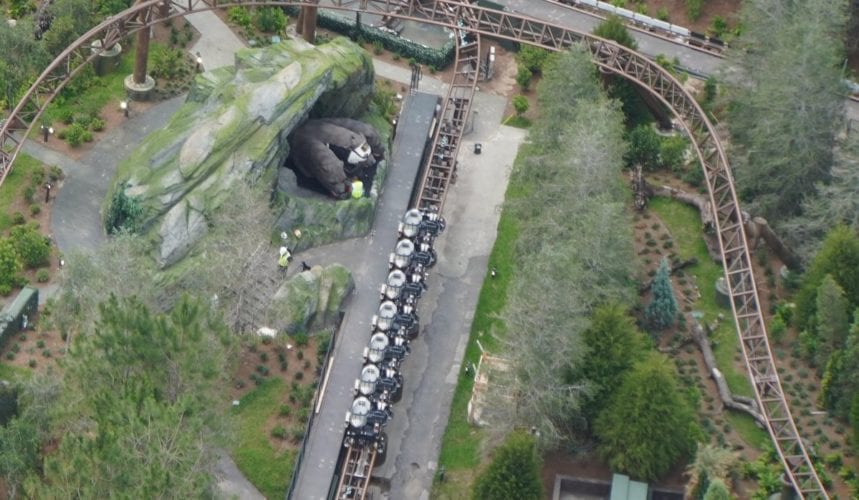 The new aerial photos have also provided a great look at the ride vehicles, showing details of the motorcycle and sidecar in which guests will experience their magical creature adventure. Attractions Magazine suggests this image shows that both seats will have the same ride restraints but that the motorcycle could be a less restrictive seat.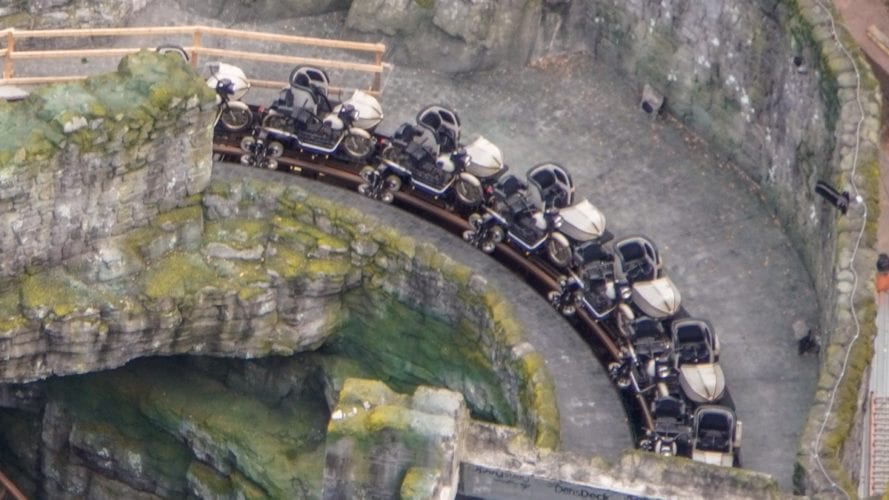 Some signage for the ride has also begun to be put in place. Attractions Magazine suggests that the example shown below will light up in a similar way to the signage for Harry Potter and the Forbidden Journey.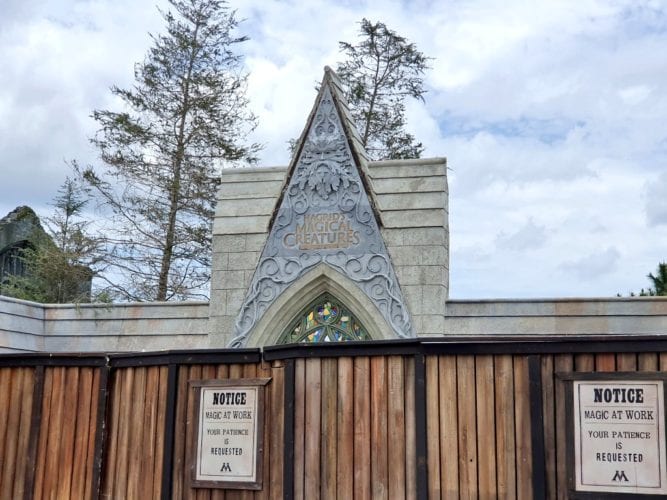 Finally, aerial photos of the whole attraction suggest that the entrance to the ride will be the same as the entrance for the previous Dragon Challenge ride. The location of the ride entrance is something that has been speculated as the attraction has been developed and ultimately won't be known until the ride opens.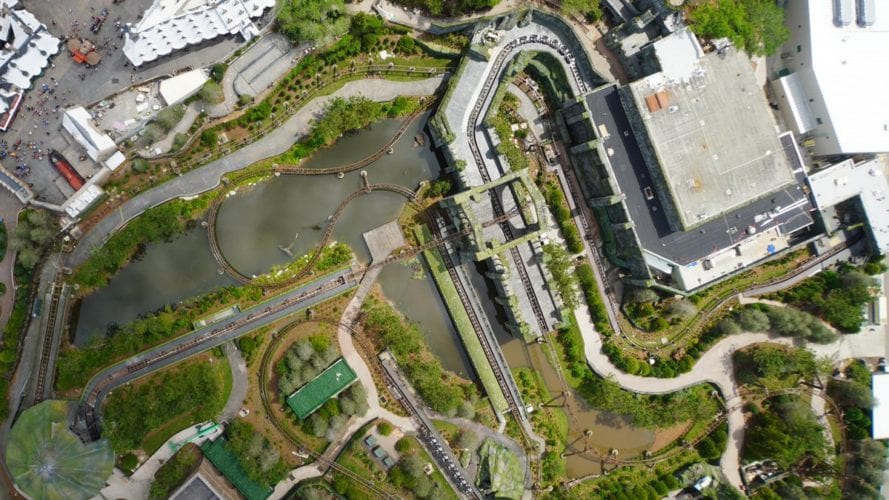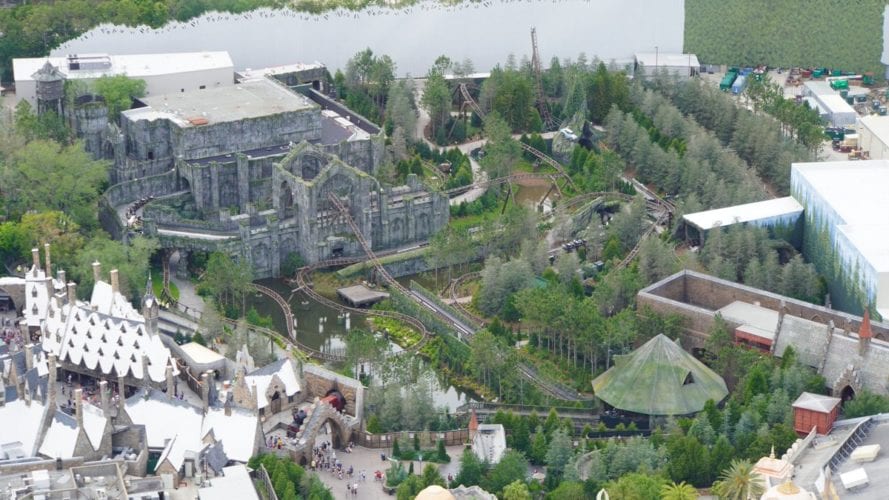 Additionally, as Attractions Magazine points out, these images also show that this new ride will be almost three times the size of Hogsmeade!
Are you counting down the days until Hagrid's Magical Creatures Motorbike Adventure opens? Let us know in the comments!