Baby Care Brand aden + anais Reveals Spellbinding "Harry Potter" Collection
Calling all wizarding families! Get ready to wrap your baby in the softest and now, the most magical muslin ever with the aden + anais limited-edition Harry Potter collection.
The collection features a range of swaddles, sleep sacks, blankets, and burp cloths all featuring Harry Potter-themed prints. The prints to choose from range from a strangely calm-looking Whomping Willow, a metallic Golden Snitch floating among the clouds, Hedwig delivering a Hogwarts letter, and a colorful array of lightning bolts and stars.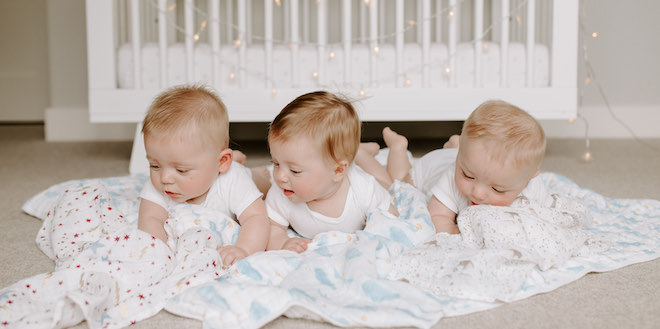 Speaking about the collection, Christina Campisi, Director of Integrated Marketing at aden + anais, revealed that the company's main motivation was to inspire a love of Potter in families.
Many first[-]generation Wizarding World fans are now having families of their own, and we want to inspire them to continue passing down the Harry Potter fandom to their own children through this collection.
Passing on a love of Potter is definitely going to be easy with the designs included in the range, which were created by collection designer (and Harry Potter fan) Lauren Hauck.
What I loved about reading Harry Potter stories growing up is that they evoked visuals that sprung to life before my eyes. I wanted to do the same with the designs we created for the aden + anais Harry Potter [l]imited[-e]dition [c]ollection.
Each of the designs in the collection emulates the magic of J.K. Rowling's wizarding world, and initially, a number of the designs were created by hand.
[The m]ajority of the collection artwork is hand[-]drawn or hand[-]painted, including everybody's favorite imagery. In the 'Snitch dot' design, we etched the Snitch as it darts through the sky, the sketchy circles imitating the shadowy glimpse you catch as it quickly escapes your eye through painted clouds. For the 'invisibility cloak' design, we portray the famous lightning bolt, and the six-point stars that imprint the pages of every Harry Potter book.
Check out the gallery below to have a look at the products and designs.
Items from the aden + anais limited-edition Harry Potter collection can be purchased online, with prices ranging from $22.95 to $174.95.
This is the ideal time to be a baby in the Muggle world, with so many popular brands dropping Harry Potter collections. We think these swaddle cloths and blankets would fit perfectly in one of the magical Jujube "Flying Keys" bags that were recently released earlier this month. And don't forget the magical Mini Boden baby and children's wear collection!