Review: "Alice's Adventures in Wonderland & Through the Looking Glass" by Lewis Carroll, Illustrated by MinaLima
MinaLima's illustrated edition of Lewis Caroll's classic Alice's Adventures in Wonderland & Through the Looking Glass is out in the world, and it is beautiful and weird, as it should be.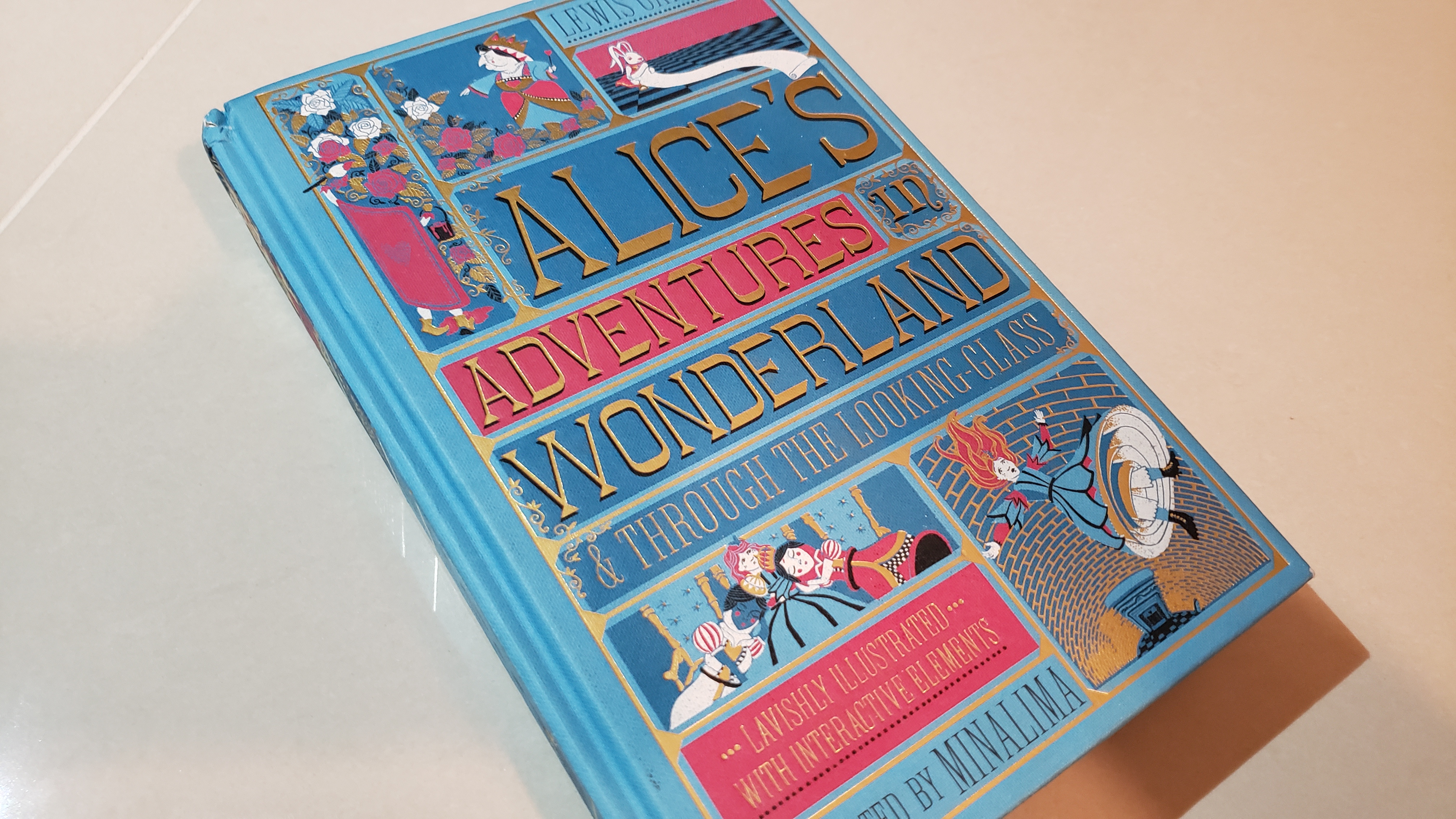 MinaLima has challenged themselves by choosing novels with some of the most iconic illustrations in children's literature, from J.M. Barrie's Peter Pan, originally illustrated by Francis Donkin Bedford, to Frances Hodgson Burnett's The Secret Garden, originally illustrated by Charles Robinson (United Kingdom) and Maria Louise Kirk (United States). But none of the five titles they've tackled before have such cherished original illustrations as those of John Tenniel's from Alice's Adventures in Wonderland. You know the ones: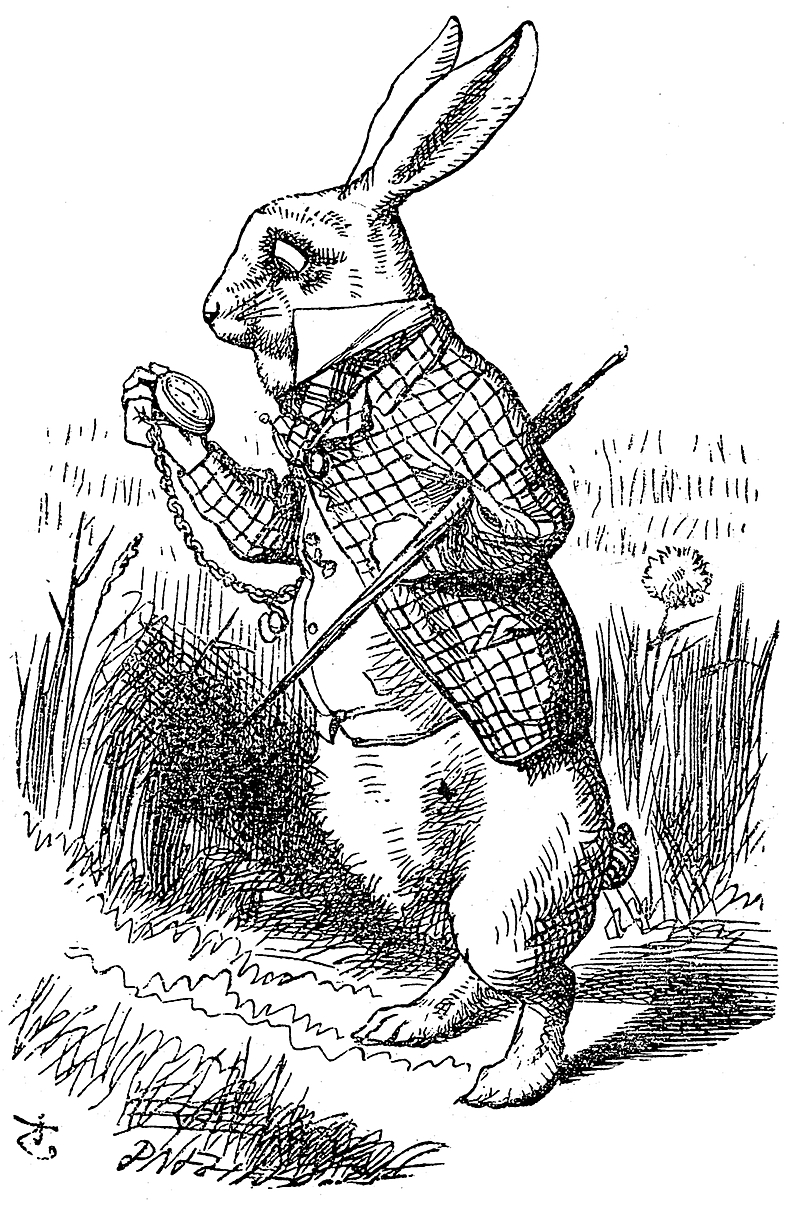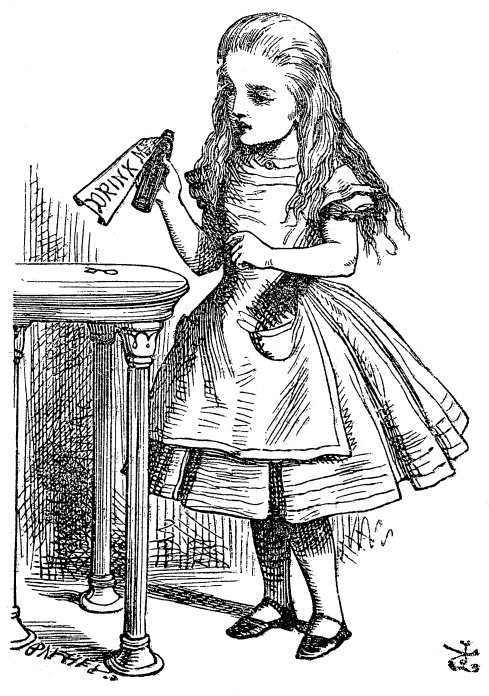 Before I received a copy of MinaLima's edition, I almost wasn't going to get one (despite my love of their other illustrated classics) because nothing could replace my old copy with the iconic Tenniel illustrations. Mad Hatter, was I wrong.
Okay, so I still won't be getting rid of my Tenniel copy, but MinaLima's innovative elements and brightly colored images give a spark of new life to the already lively adventures of Alice. MinaLima really opened their bag of tricks for this one; it's like they were building up to this book the whole time, and you can tell how much fun they had making it. Alice and the Wonderland inhabitants leap off the pages (sometimes literally with 3D elements), which is fitting for a story so full of strange delights.
I don't want to spoil all the fun for you up front, but I will talk about some of my favorite elements and illustrations. Firstly, the Cheshire Cat is brilliant, and they even include an interactive element so you can make him disappear (all but his smile, of course):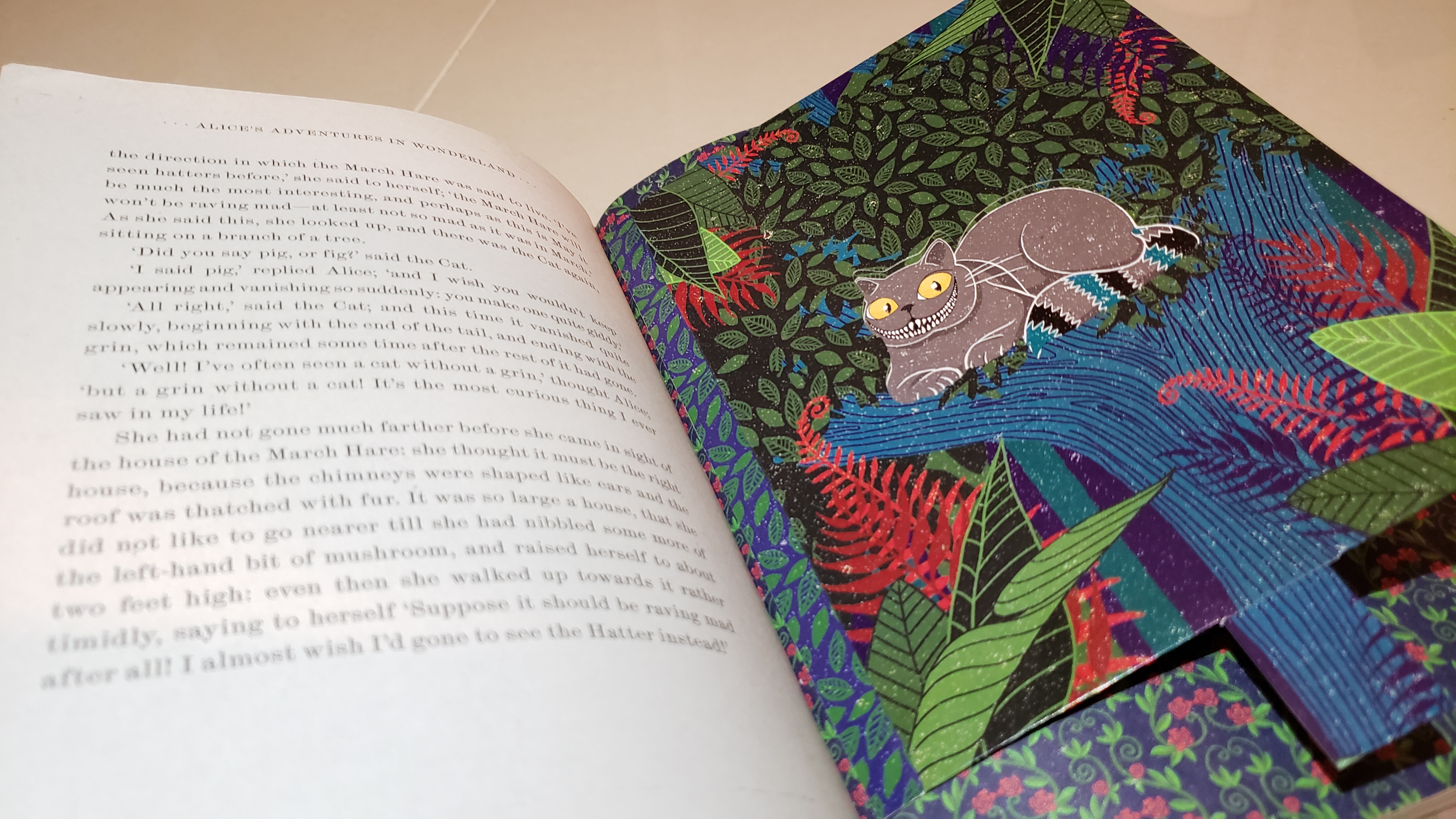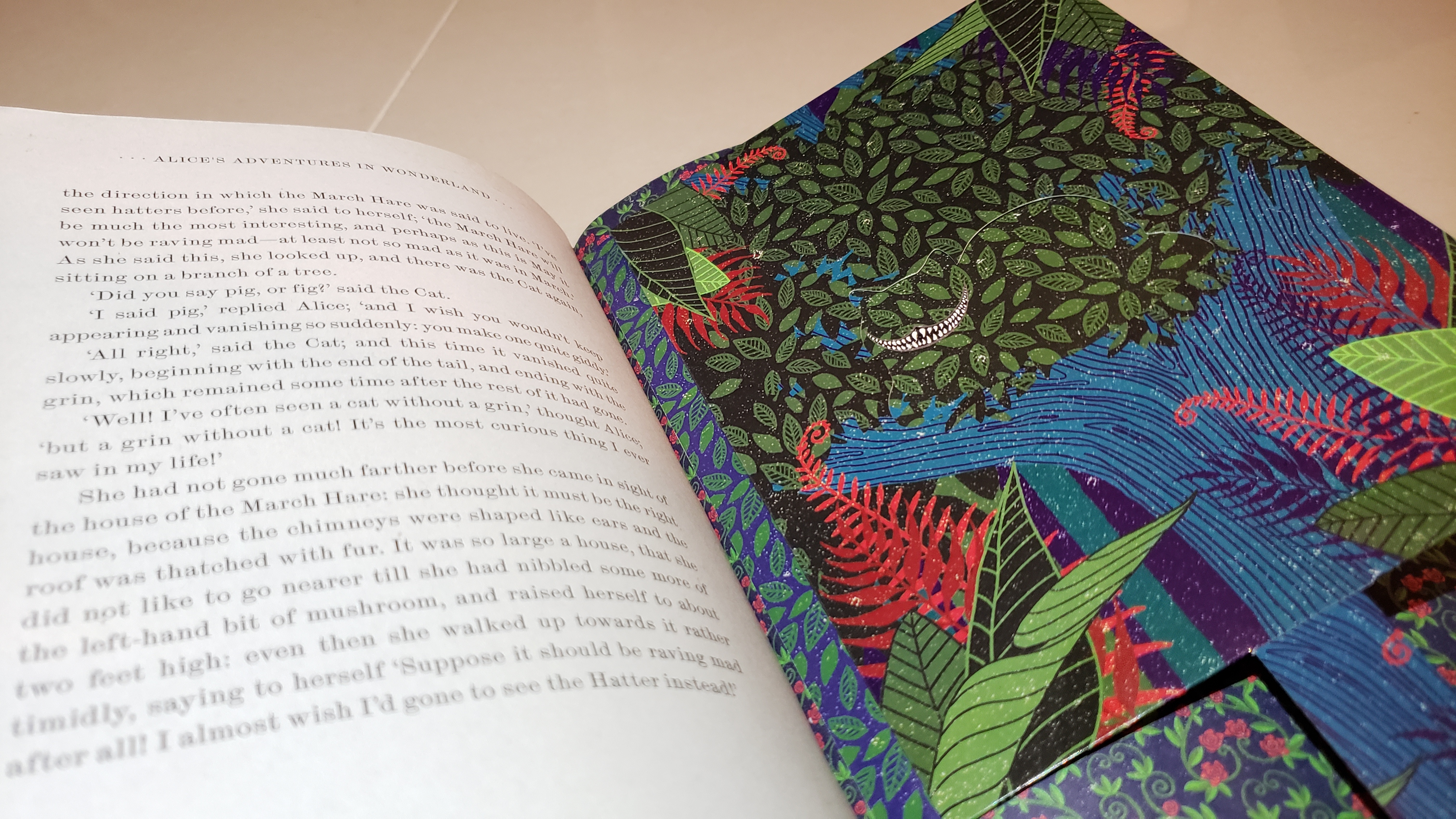 The mad tea party is delightful and shows one of my favorite examples of MinaLima's use of wallpaper-like patterning on certain elements (like the teacups) that add old-world whimsy: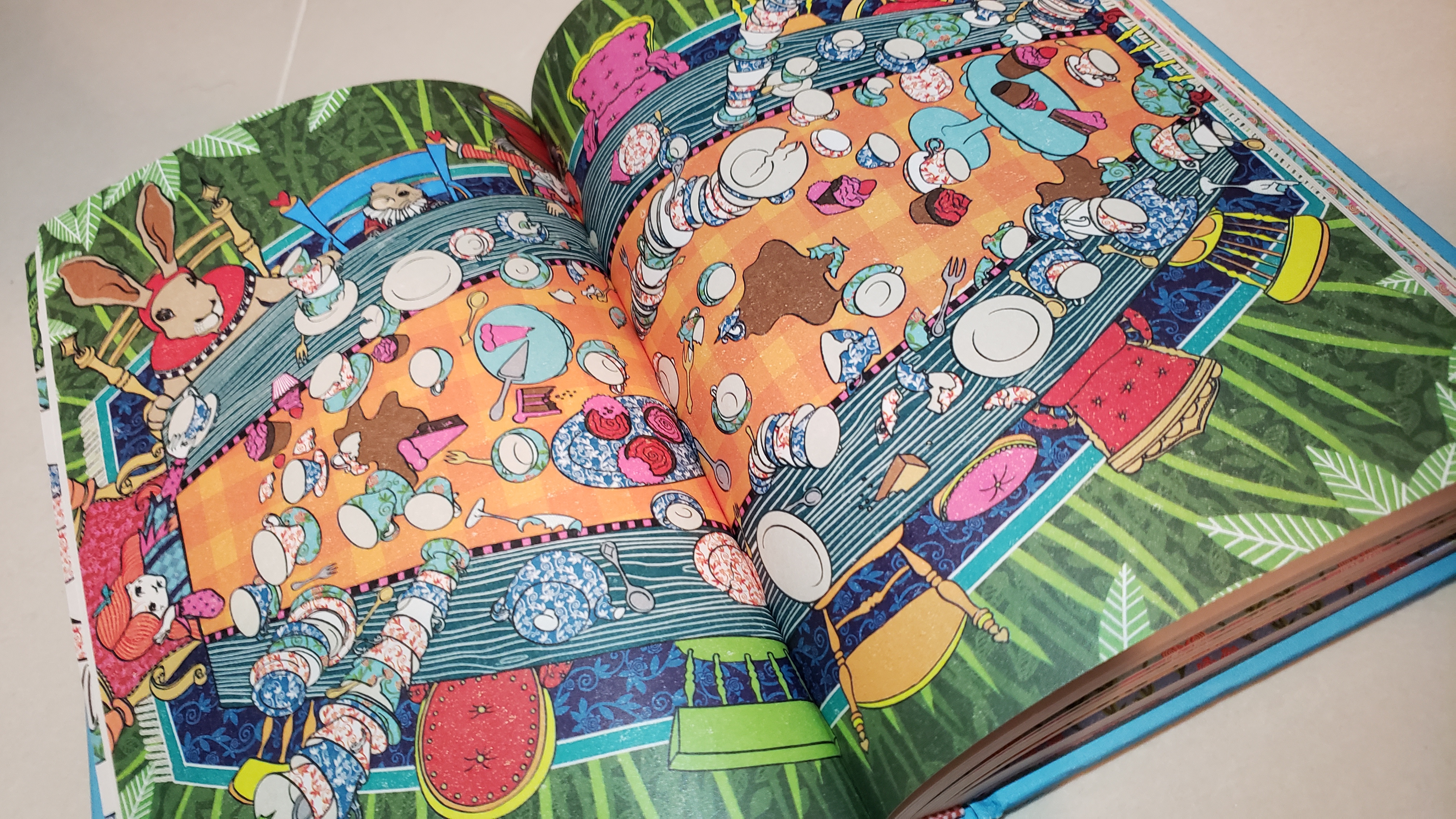 And finally, why the heck have I never seen a King and Queen of Hearts that are actually illustrated like playing cards, as they should be!? Brilliant!
It was truly a joy to read this story in an interactive way. When Alice struggles through several bouts of growing and shrinking, you can grow and shrink her limbs right along with the story. When Tweedledee and Tweedledum layer up their clothing for battle, you can add and swap layers of their ridiculous clothing. MinaLima even included their very own chess board map for Through the Looking Glass.
From long-time Alice fans to people who've only ever seen the Disney movie when they were children, I would recommend this edition to literally everyone. Those who love MinaLima's style already will appreciate their take on the old classic, and those whose first MinaLima book happens to be this one will want to go out and get the rest. They raised the bar to giant-Alice level, and I cannot wait to see what they come up with next.
A copy of this book was provided by the publisher, Harper Design, for review.