Review: "Harry Potter and the Goblet of Fire" in Concert
As part of the global Harry Potter CineConcerts tour, on November 2, Patrick Doyle's enchanting score for Harry Potter and the Goblet of Fire took residency at one of London's most prestigious music venues, the Royal Albert Hall, as the tour came to an end in the United Kingdom.
Performed by the Royal Philharmonic Concert Orchestra, and conducted by the president of CineConcerts himself, Justin Freer, Potter fans and music lovers gathered together for an evening of live music and an overall sense of togetherness. Regardless of how big or small of a fan they were, the auditorium was bustling with people adorned with their respective House colors and Weasley Christmas sweaters, and the occasional cosplayer could be seen walking through the gift shop.
The evening's audience was dominated by those of the "Potter generation," who grew up with the series and are now all adults, out for a night of nostalgia with friends and significant others. However, arriving early and seeing those leaving the afternoon's screening, I saw many families among the earlier audience – including several with children dressed as adorable mini Harrys.
Before the film started, Freer took to the stage and greeted his friendly audience by asking them which Houses they were in, causing plenty of excitable cheers (and comical boos) to erupt whenever the names of the Houses were called out. Freer himself is a self-confessed Hufflepuff.
Then, as soon as the lights were dimmed, and the first few instruments started to play Doyle's rendition of "Hedwig's Theme," the hall fell silent, and the room was instantly transported into Harry's dramatic fourth year at Hogwarts.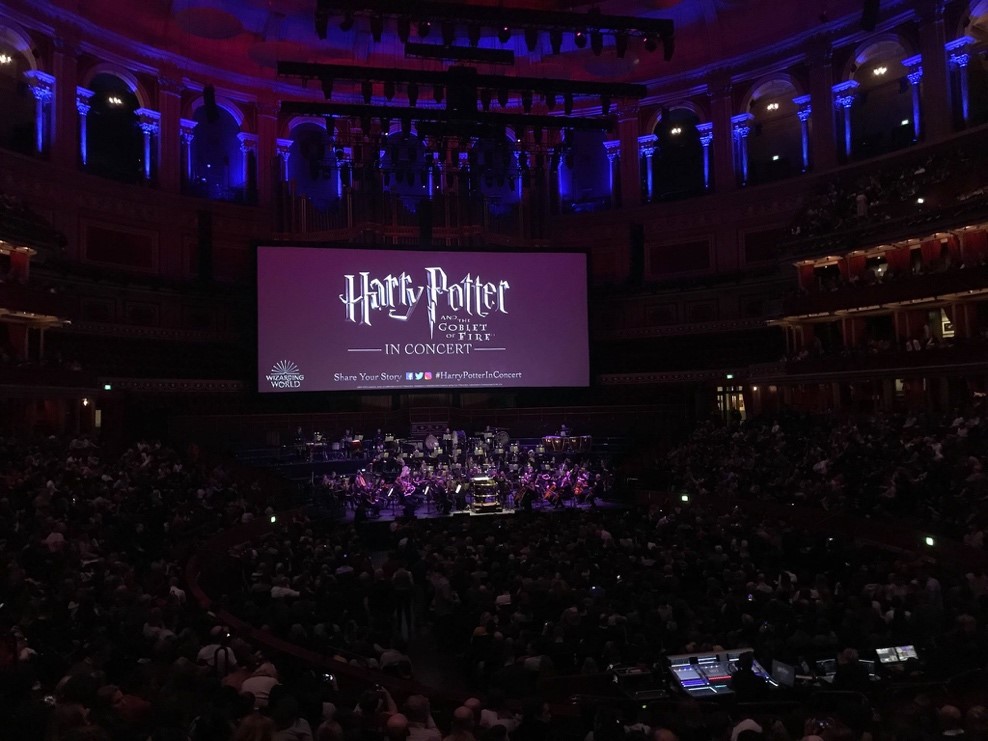 Throughout the event, notes that are usually overshadowed by either dialogue, background noise, or other dominating instruments were magically brought to life onstage. Even pieces that fans know and love such as "The Quidditch World Cup," "Potter Waltz," "Neville's Waltz," and "Hogwarts' March" took on a new lease of life, and a deeper level of appreciation was created. In particular, Hermione's iconic Cinderella moment and the death of Cedric were heightened by their beautiful and heart-breaking arrangements onstage.
Freer was an excellent conductor, and the orchestra's performance was timed perfectly. For us, hearing the dialogue over the live music was never a problem, but as a precaution, and not to mention a great move for wider accessibility, the film is shown with subtitles.
Outside of the music, however, the overall atmosphere was a relaxed and enjoyable one to be a part of. Forming an unspoken bond, the hall laughed in all the right places, from Harry being bitten by Sirius's owl to Ron realizing that Hermione was "indeed a girl" to in-joke references regarding Seamus, there was something there for everyone to participate in.
There were also a few wolf whistles at Ron dancing with McGonagall and appreciative clapping at just how smooth Fred was when asking Angelina to the Yule Ball. In a touching moment, a spontaneous burst of applause issued from across the Hall as the late Alan Rickman's name came up in the credits.
It's been 14 years since Harry Potter and the Goblet of Fire was released, and watching films we love with large groups of other people is something we don't often get to do outside of movie theaters. There is real joy to be found in sharing that viewing experience with others, though, and the live orchestra just adds to it.
Like many a fellow fan, we have long since lost count of the number of times we've watched the Harry Potter films. We've watched them at home, in theaters, and in classrooms; we've watched them on planes, trains, and automobiles. After all this time, it's great to find a new way to enjoy them. The Royal Albert Hall is certainly the grandest location we've ever watched a film in, at any rate.
If you're a huge Potter fan and a casual music lover, or vice versa, there really is something here for everyone to enjoy, and to be a part of, during this wonderful night out.
To quote Dumbledore in Harry Potter and the Sorcerer's Stone, "music [is] a magic beyond all we do here" (SS, ch. 7).