"Potter" Book and J.K. Rowling Autograph Card Sold at Auction
Two Potter collectors have added some rare items to their collections this December.
A signed first edition of Harry Potter and the Chamber of Secrets was sold for £2,300 when it went up for auction on December 12. The copy of Chamber of Secrets was sold by British businessman Mark Cavoto, who purchased the copy for one penny (GBP) on Amazon.
Cavoto did not know the book was signed when he purchased it. It was his daughter who discovered the inscription, which reads "To Alexandra, J.K. Rowling," when helping her father open his orders.
This edition of Chamber of Secrets is not the only Potter book that Cavoto has sold for a high price. According to Sky News, he has sold around 3,000 Potter books, including a second-print edition of Harry Potter and the Philosopher's Stone, which he also bought for just one penny (GBP), that went on to sell for £4,600 at auction.
Also up for auction this month was a J.K. Rowling autograph that provided clues to the plot of Harry Potter and the Order of the Phoenix.
This rare item features not only J.K. Rowling's signature but also a handwritten 93-word clue to some of the key plot points of Order of the Phoenix, which at the time was unpublished.
The autograph card was originally sold by Sotheby's in 2002 for a total of £24,000 in aid of the charity Book Aid International.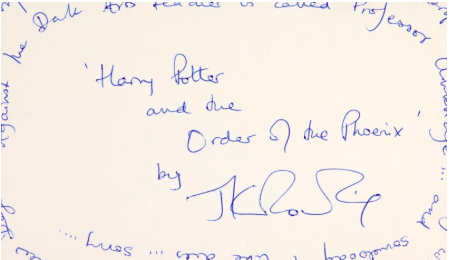 The auction for this piece of Potter history ended on December 10. The autograph card sold for £10,000, which was £3,000 above the expected highest estimate.