Why "Prisoner of Azkaban" Is the Most Autumn-Feeling Movie
As Potter fans and film buffs alike, we all love to sit down and analyze our favorite films. After all, after the 975th time of reciting Daniel Radcliffe's lines from Harry Potter and the Sorcerer's Stone, what more fun is there for fans to have but to dive deeper into the scenic level of our beloved magical cinema? Each film seems to have a theme of its own, but there is a reason why the third installment in the Harry Potter films is widely considered a favorite. Not only is it super long and faithful to its novel counterpart, but its set design also seems to coalesce beautifully with the season of autumn.
Starting off simple, we have the golden trio's style and wardrobes. A year prior to the Tri-wizard surfer hair craze that Ron and Harry seem to go through, our boys sport longer locks and long sleeves throughout the entire film. Hermione is no exception, wearing intricately patterned sweaters as well as having her hair down, cropped shoulder-length, and fluffy. Though our favorite half-breed critter is given no introduction, Crookshanks' autumn-tinged fur only adds to the seasonal feel.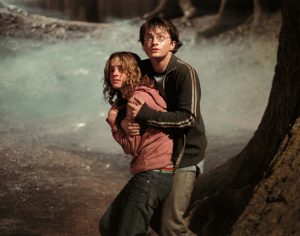 Unlike the other films, which mostly focus on the outer landscape of Hogwarts during the Christmas season, Harry Potter and the Prisoner of Azkaban goes above and beyond with focusing on the murky moorlands of Scotland. First, we have the famously breathtaking Care of Magical Creatures scene where Draco gets the seven bells knocked out of him by our favorite equine avian, Buckbeak. As Harry flies across the graying lake, one cannot help but feel the cool autumn air along with him, and the light in the shot is absolutely beautiful.
Speaking of Buckbeak, the execution scene is fraught with either pain or tension, depending on which timeline you are considering, but as Hermione and Harry are either crying or skulking around incognito, all I can focus on are the pumpkins. For a series that seems to have pumpkin juice as a staple drink, regardless of whether it is Halloween, you would think we would see these orange members of the squash family quite a bit more. Their bright colors against the almost noir saturation of the film lead to a very fall-esque sort of tone.
While we are on vegetables and foliage, let us not forget the snow in Hogsmeade, or the falling leaves from the tenacious Whomping Willow – by far the most creative way to show Hogwarts' seasons, in my opinion. I remember my tiny self getting a kick out of the unfortunate bird that the willow attacks.
So if you're looking for a Harry Potter film to emphasize the autumn spirit without jumping straight into Christmas, pop in Prisoner of Azkaban and fall in love all over again.