Dobby Statue with New Friends Thanks to Excellent "Elfie"
If there's one thing you'd think Harry Potter fans would hold sacred, it's the final resting place of Dobby the house-elf. Unfortunately, the pint-sized hero hasn't been getting much peace of late.
First, there was the theft of the headstone left in his memory on the dunes of Freshwater West in Wales, the film location of Bill and Fleur Weasley's Shell Cottage. Then, a few days after Welsh company Dragon Signs Ltd. placed a sculpture of the house-elf in a parking lot near the beach, it disappeared.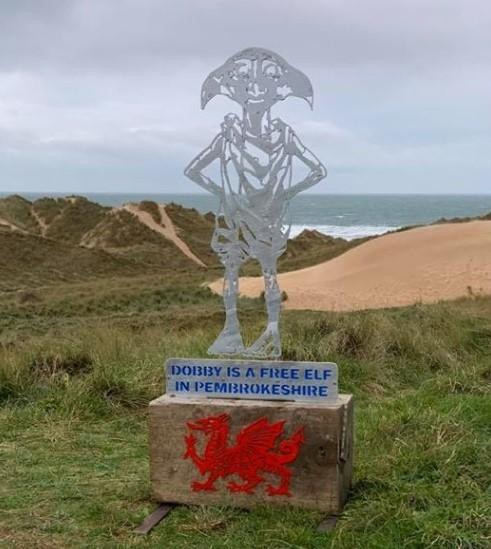 Fortunately, the statue wasn't stolen. Though Dragon Signs' owner, John Goble, said he was careful to position it "on the edge of one of the more discreet car parks about 300 metres behind the sand dunes," the National Trust determined that the swift attention the Dobby memorial generated posed an environmental hazard. It was removed, a representative of the trust stated, in order to prevent damage to the dunes by fans clamoring for photos.
Luckily, however, Dobby's journey didn't end there. As we know, all the little house-elf ever wanted was to be with friends, and thanks to a contest organized after the statue's removal from the beach, his wish has been granted.
From Freshwater West, Dobby traveled to the Happy Planet Green Store in Narberth, Wales, where he stood on display outside. Fans were charged with orchestrating the most creative elfie… er, selfie they could with the statue, which would serve as the prize.
The Western Telegraph reports the winner was chosen December 31, 2019, and Dobby is now with his new friends, Shelley and Frankie Higham. The mother-daughter team crafted an impressive photo op, complete with speech bubbles and a cardboard Hogwarts Express as the backdrop.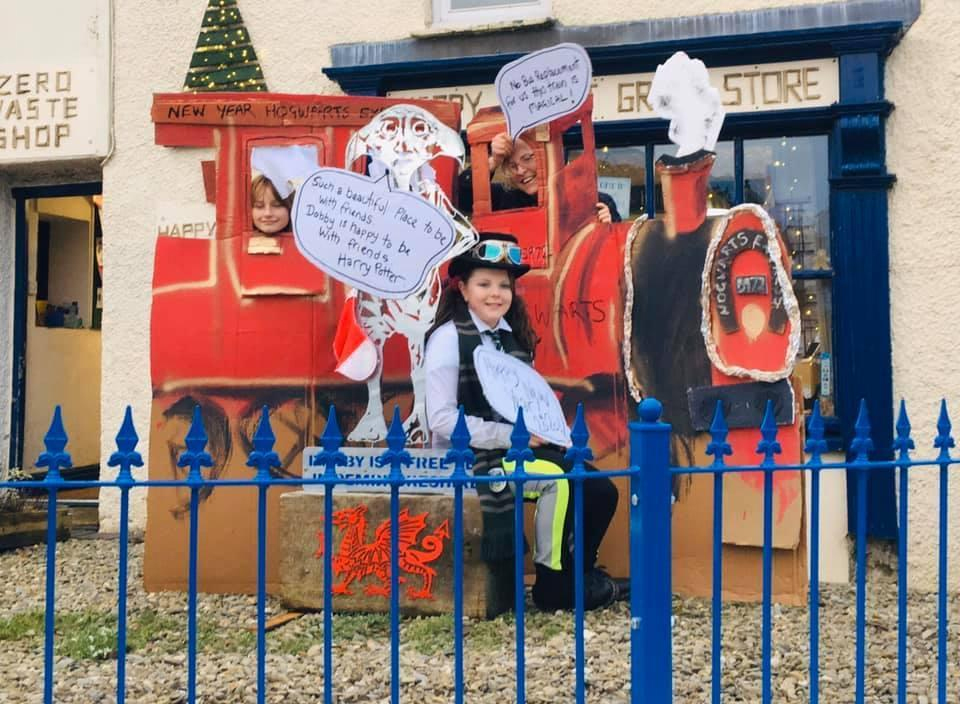 Shelley said the family was delighted to be taking Dobby home.
We were absolutely thrilled to win the Dobby. My daughter, Frankie, is a huge 'Harry Potter' fan, and we spent a lot of time over Christmas creating the Hogwarts [E]xpress to use in the photograph; I would like to thank John from Dragon Signs, who delivered Dobbie [sic] this morning.
We hope the Highams are keeping Dobby's statue well supplied with socks!