Castium Revelio: Ralph Fiennes Might Play WHO?
by Brienne Green · Published · Updated
Come up with a role for which you never thought you'd hear Ralph Fiennes was in consideration, multiply that by a million, and then go ahead and click the Harry Potter toggle and read the top entry. When you've quite finished laughing your head off, you'll be able to check out the rest of this week's Casting News, which includes big news galore. We've got all the Emma updates, Hero Fiennes-Tiffin and Ezra Miller in new fashion campaigns, Jude Law teaming up with Taika Waititi, three Wizarding World alumni in a new imagining of Macbeth, and Johnny Depp premiering Minamata at the Berlin Film Festival. And that's barely a fraction of what lies ahead, so hurry up and get going! Castium Revelio!
Harry Potter Cast & Crew
Ralph Fiennes (Lord Voldemort) already has one of the greatest villains of all time on his list of acting credits, a role we can't imagine any other actor playing. It would come as no surprise, therefore, to learn that Fiennes is being sought after for another iconic baddie – except, in this case, it still comes as something of a surprise.
According to Broadway.com, the actor is in talks to portray Miss Trunchbull in the upcoming movie musical Matilda, which will be based on the Broadway version of the tale.
We'll go ahead and let that mental picture sink in for a moment.
Also in talks for the film is Emma Stone, who would play Trunchbull's antithesis, Miss Honey. Should Fiennes be cast, it would be his first foray into musicals. It goes without saying that we'll be letting you know within seconds of any such casting coming to pass.
In other Fiennes news, the actor's upcoming and highly anticipated Kingsman prequel, The King's Man, is still expected to hit theaters September 18, but HN Entertainment reports the film has been undergoing reshoots and additional photography. The website notes that reshoots are common and not necessarily a sign of production trouble, but they likely explain why the film's release was moved to September 18 from February 14.
Deadline Hollywood also says Fiennes's period drama Farnsworth House, which MuggleNet let you know about way back in January 2019, is in the midst of having its US and multi-territory rights acquired by Sony Classics. When we first reported on this one, Maggie Gyllenhaal was set to star opposite Fiennes, but that role has now gone to Elizabeth Debicki. Shooting is scheduled to begin this spring or summer.
Variety reports the North American rights to thriller The Stars at Noon, which will star Robert Pattinson (Cedric Diggory) and Margaret Qualley, have been purchased by A24. The film will be based on Denis Johnson's 1986 novel of the same name. The story follows "a mysterious English businessman and a headstrong American journalist who strike up a passionate romance. Their situation soon deteriorates, and they attempt to escape the country with only each other to trust and rely on." The movie is currently in preproduction, since Pattinson is otherwise occupied cruising around in the Batmobile.
The May 15 premiere of The Woman in the Window, starring Amy Adams and Gary Oldman (Sirius Black), is drawing closer, and we're definitely psyched for this psychological thriller. Oldman plays Alistair Russell in the story of an agoraphobic woman (Adams) who witnesses a disturbing act of violence, and you can check out the latest trailer below.
Superman: Red Son
, which MuggleNet
told you about in October 2019
, is finally about to hit digital on demand on February 25, and
SyFy Wire
has a fun exclusive clip of a showdown between Isaacs's Superman and his counterpart, played by Travis Willingham. You can also preorder your Blu-ray or 4K copy ahead of its March 17 US release and March 16 UK release on
Amazon
and
Amazon UK
.
Isaacs has also just been announced among the cast of Season 3 of Netflix's
Castlevania
. The animated series will add both Isaacs and
Bill Nighy
(Rufus Scrimgeour) to its list of actors. Isaacs will voice the Judge and Nighy Saint Germain, and you can check out some pretty awesome split-screen images of the actors and their characters in the tweet below.
The cast of Castlevania is back for Season Three with some new additions that promise to get your blood flowing..." pic.twitter.com/6xT8GwlNcP

— NX (@NXOnNetflix) February 20, 2020
It's been some time since we had an update for you about Phoebe Waller-Bridge's upcoming project Run, starring Domhnall Gleeson (Bill Weasley), but we have a couple this week! The first, and biggest, is the show's premiere date: It'll begin airing April 12 on HBO! The second is that the series will also be available for viewing in the United Kingdom. Sky recently launched Sky Comedy, a new channel for United States programming, and the channel has a content deal with HBO, NBC, and Showtime. There's been no specific release date listed for the UK just yet, but we'll let you know! In the meantime, check out a photo of Gleeson and costar Merritt Wever, plus HBO's official teaser, below.
Gleeson is also awaiting the April 3 premiere of
Peter Rabbit 2: The Runaway
, in which he reprises his roles as Thomas McGregor and Jeremy Fisher, and you can watch Gleeson do some hardcore frolicking in the trailer below.
Deadline Hollywood reports
that
Harry Melling
(Dudley Dursley),
Brendan Gleeson
(Mad-Eye Moody), and
Ralph Ineson
(Amycus Carrow) have joined the cast of Joel Coen's upcoming remake of Shakespeare's
Macbeth
, with production recently underway. Melling will be taking on the role of Malcolm, son of former Scottish king Duncan and threat to Macbeth's reign; Gleeson will star as Malcolm's father; and Ineson will portray the Captain. Denzel Washington and Frances McDormand star as Lord and Lady Macbeth. The film is expected to premiere in 2021.
The elder Gleeson will also be teaming up with Colin Farrell (Percival Graves, Fantastic Beasts) on a new Martin McDonagh film, The Banshees of Inisheer, Deadline Hollywood reports, and based on that title alone, sign us up! Farrell and Gleeson will be appearing on screen together for the first time since In Bruges and will take the lead roles of two lifelong friends who find themselves facing alarming consequences when one abruptly ends the friendship. Shooting is expected to begin this summer.
Ineson also has a role in Everybody's Talking About Jamie, a new film based on the documentary Jamie: Drag Queen at 16. Ineson will portray Wayne New in the picture, which recently wrapped filming. The movie is expected to debut on October 23.
You've had nearly a year now to get over feeling weird about finding Hero Fiennes-Tiffin (11-year-old Tom Riddle) attractive in After, so we're back to stir things up again! Let's face it: All the actors behind the various stages of Voldemort grew up to be quite handsome, so we may as well embrace it by way of a major Fiennes-Tiffin update.
Late last month, Salvatore Ferragamo unveiled its new Ferragamo men's fragrance, using Fiennes-Tiffin as the face of the "Just Myself" campaign. "I want to be the best version of myself," the actor said. "I want to do everything I love, as best as I can." He's good enough, he's smart enough, and doggone it, people like him. Fiennes-Tiffin is undoubtedly in demand, having been named the face of Oliver Peoples's spring-summer 2020 campaign as well. Enjoy films and a gallery of photos from both design houses below!
Behind-the-scenes footage from the set of
After We Collided
, the sequel to
After
, has also been released, courtesy of Candice King, the actress behind Kim Vance, and you can check that out in her video on Instagram. Fair warning: If you have motion sickness, you might want to skip it. King sped the video up so as not to give too much away, but fans insist they catch a glimpse of Fiennes-Tiffin amid the flashing images.
We're still eagerly anticipating the expected release this year of Enola Holmes, starring Millie Bobby Brown in the titular role as the younger sister of Sherlock (Henry Cavill) and Mycroft (Sam Claflin) Holmes, and Helena Bonham Carter (Bellatrix Lestrange) as the trio's mother. Fiona Shaw (Petunia Dursley) and Frances de la Tour (Madame Maxime) also feature in unnamed roles. There's been precious little information released about the film since it was announced, but SyFy Wire was able to secure a verbal teaser regarding the movie's score from composer Daniel Pemberton (The Dark Crystal: Age of Resistance), and it definitely gives us even more reason to be excited!
'Enola Holmes' I'm working on right now, and that, for me, is kind of interesting because I'm doing quite a conventional, straight orchestral score, which is fun for me because I don't normally do that. And so it's just a way of saying I'm gonna do something different from what you'd expect. It's a really fun, heartwarming adventure film with Millie Bobbie Brown. [It's] very British, and it's kind of got the sort of magic of 'Harry Potter' in a way. So that's been really fun.
Resistance, starring Clémence Poésy (Fleur Delacour) and Jesse Eisenberg, is set to debut in select theaters on March 27, and the official trailer was recently released. Poésy stars as Emma in the story of a young French actor who joins the French Resistance at the start of World War II.
Three new clips were released this week for
Greed
, starring
Shirley Henderson
(Moaning Myrtle) and
Stephen Fry
(narrator of the UK
Harry Potter
audiobooks) ahead of the film's February 28 release. If you don't remember the gist, you can review
our last post
, and you'll want to watch all three clips since this movie is obviously hilarious. But be warned about the language; it's typical Steve Coogan levels of bad.
The new thriller
Six Minutes to Midnight
, starring Dame Judi Dench, Eddie Izzard, and
Jim Broadbent
(Horace Slughorn), has had its US rights acquired by IFC Films,
Screen Daily says
, and is being tapped for theatrical release this autumn. Broadbent stars as Charlie in the story of a teacher (Izzard) to the daughters of high-ranking Nazis at an English finishing school who goes on the run after a colleague is found dead. It's based on actual events from 1939 and is set to debut May 29 in the UK. We'll let you know as soon as a US premiere date is set!
What's nearly as awesome as David Tennant (Barty Crouch Jr.) as Doctor Who? David Tennant as Doctor Who as a teddy bear! Build-A-Bear Workshop unveiled its new Time Lord teddy bear collection Friday, and that high-pitched squealing noise you hear is us. Sorry. The collection currently features Tennant's 10th Doctor and Jodie Whittaker's 13th, and they're available for sale as online exclusives in the US and UK.
Calling all Whovians! Meet our NEW Time Lord teddy bear! Our online exclusive #DoctorWho Bear makes a brilliant friend for fans and collectors alike! SHOP NOW US: https://t.co/78vGATXanX UK: https://t.co/EYrWuBX52V pic.twitter.com/cX3uacMnPj

— Build-A-Bear Workshop (@buildabear) February 21, 2020
Released Friday on Netflix, Glitch Techs is a new animated series that follows two teenagers who work at a game store by day and hunt video game monsters by night. It stars Luke Youngblood (Lee Jordan) as Mitch, and you can check out the trailer below!
The Virgin Media Dublin International Film Festival is coming up February 26–March 8 in Dublin, Ireland, and the event will feature a trio of projects involving Wizarding World alumni.
The Irish Independent reports that Bill Nighy will be in attendance at the festival in support of Danish filmmaker Lone Scherfig's The Kindness of Strangers, in which he portrays eccentric Russian restaurant owner Timofey. Timofey hires an ex-con seeking to rebuild his life as a manager in this film about different characters fighting for better loves during a tough winter in New York City, New York. You can check out the trailer below.
Meanwhile, a screening of
Street Leagues
, a documentary featuring contributions from
Colin Farrell
, will also be held. The film follows the Irish Street Leagues football teams – composed of homeless men and women – as they work to progress through a major tournament.
The festival will additionally feature Radioactive, a picture about Marie Curie (Rosemund Pike) based on the graphic novel of the same name, which was screenwritten by Jack Thorne (writer, Harry Potter and the Cursed Child). Tickets for the festival can be purchased online.
Back to Nighy – we're also awaiting the release of his film Hope Gap, which premieres March 6. We've done several updates on the progress of the project – which also stars Annette Bening and Josh O'Connor – but as a refresher, Nighy portrays Edward, a man who leaves his wife of nearly 30 years, Grace (Bening). The upheaval also affects the couple's grown son, Jamie (O'Connor), as Grace works to overcome her shock and pain to rediscover her sense of self. You can check out the trailer and film poster below.
Geraldine Somerville
(Lily Potter) will soon be appearing in a new play at the Royal Exchange Theatre in Manchester, England,
the Stage reports
. Somerville has been cast as Amanda Wingfield in a new production of
The Glass Menagerie
, three decades after she made her debut at the Exchange in the same play. She portrayed Laura Wingfield in the 1989 production.
The Glass Menagerie
will run June 5–July 4, and tickets
are available for booking now
.
A new ITV drama filmed in Devon and Cornwall in England will soon make its way to the small screen, with Dawn French (the Fat Lady, Harry Potter and the Prisoner of Azkaban) starring. The six-part series, titled The Trouble with Maggie Cole, will premiere in March and star French as Maggie Cole, a woman who makes it her business to know just a bit about everyone in her community. You can watch the trailer below.
It's a safe assumption that many people you know – and probably also yourself – have been tossing coins to their Witchers for weeks now, so you'll be happy to learn that we'll eventually have some new things to talk about. Deadline Hollywood reports that the second season of Netflix hit The Witcher, starring Henry Cavill as Geralt of Rivia and Anna Shaffer (Romilda Vane) as Triss Merigold, has begun production in the UK with a planned launch in 2021. Some new faces will also be among the cast, including Yasen Atour (Young Wallender) as Coen, Agnes Bjorn as Vereena, Paul Bullion (Peaky Blinders) as Lambert, Thue Ersted Rasmussen (Fast and Furious 9) as Eskel, Aisha Fabienne Ross (The Danish Girl) as Lydia, Kristofer Hivju (Game of Thrones) as Nivellen, and Mecia Simson as Francesca.
Period drama The Moonstone, starring Guy Henry (Pius Thicknesse) as Mr. Murthwaite, will make its US premiere on PBS starting Sunday. The five-part series from BBC Studios follows Franklin Blake (Joshua Silver) as he returns to England and is forced to face the ghosts he fled a year prior when the Moonstone, a priceless Indian diamond, was stolen. You can view the trailer and a cast photo below.
Amazon is set to air a new interpretation of one of Agatha Christie's supernaturally tinged stories, The Pale Horse, this month. The two-part mystery stars Henry Lloyd-Hughes (Roger Davies) as David Ardingly in the tale of Mark Easterbook's (Rufus Sewell) investigation into why his name was on a list found in the shoe of a murdered woman. His quest takes him to a "witchy village" (yay!), where three rumored witches had a strange connection to his late wife. Both parts of The Pale Horse will hit Amazon Prime on March 13, and you can check out a trailer below.
UKTV is gearing up for a March 4 premiere of its new comedy show
Sandylands
, starring
Sophie Thompson
(Mafalda Hopkirk). Thompson will play Jeannie Swallows in the three-episode series, which is described as
"a father/daughter relationship comedy with a twist."
Jessica Hynes (voice of Mafalda Hopkirk) is currently starring in Far Away at the Donmar Warehouse in London, a play about a world in which everything in nature is at war. The production has been extended to run through April 4, and tickets can be purchased online.
Variety reports that David Heyman's (Harry Potter and Fantastic Beasts producer) Heyday Films has teamed with Hardy Son & Baker to produce Shackleton, a biopic of polar explorer Sir Ernest Shackleton. Tom Hardy is on tap to play the titular role. Heyman also has a film based on the Pippi Longstocking character in the works, as MuggleNet reported in October 2019.
Heyman is additionally anticipating the April 17 release of the latest adaptation of The Secret Garden, starring Dame Julie Walters (Molly Weasley) as Mrs. Medlock with a script by Jack Thorne, and the latest trailer for the film was released last week!
Mythos
, the book by
Stephen Fry
, was recently adapted into a one-man stage show and an album, and now, Fry's audiobook narration of his Greek mythology text has been nominated for an Audie Award. The Audio Publishers Association's 25th annual awards ceremony will be held March 2 in New York, and Fry's book is up for the Audie in the Literary Fiction and Classics category.
Fantastic Beasts Cast & Crew
We have a whole lot of Jude Law (Albus Dumbledore) coming at you this week, starting with the recent announcement by Deadline Hollywood that the actor has been confirmed among the cast of a new Showtime series from newly Oscar-winning director Taika Waititi (Jojo Rabbit). The Auteur is currently in development for Showtime and will be based on the graphic novel by Rick Spears, James Callahan, and Luigi Anderson. Waititi will pen the scripts with Peter Warren, and we cannot wait to see how the series uses Law!
'The Auteur' is described as a gonzo horror-comedy, a twisted romance, and a glamorous high-wire act of biting satire. In it, desperate to make a great horror movie after a massive bomb, a film producer accidentally traps his production on a backlot with a serial killer.
Have you ever thought to yourself, "Gee, I wish Jude Law would critique my photography?" Granted, that's an oddly specific wish, but if you've wished it, get ready for it to come true. BroadwayWorld reports that Theatres Trust has launched a national photography competition that will be judged by four of the Trust's ambassadors: Law, Miranda Hart, Matthew Bourne, and Samira Ahmed.
The competition is open to amateur and professional photographers alike, with entries open until March 30 in three categories: beautiful buildings, connecting communities, and entertaining evenings. Winners will be selected in each category, and one image will be selected as the overall Theatre Photograph of the Year. A Young Theatre Photographer of the Year prize is available for those 16 and under. There's one catch: Photos must be of a theater in the United Kingdom and must have been taken within 12 months of the competition's closing date. To enter, visit the Theatres Trust website.
Elsewhere, you may remember another project on which MuggleNet reported in April of last year: Francis Ford Coppola's impending epic Megalopolis. Law recently told the Telegraph that while he has indeed been involved in the film's planning stages, he doesn't consider himself a lock for the project just yet.
'Megalopolis' is proceeding at a pace unlike anything I've ever been involved in. Before I even got a phone call or an email or a script, it had been 30 years in development. [...] But there's no schedule, we don't know when it's going to be made, and if Francis goes off and makes it with someone else, I'm not gonna turn around and be like: 'F*ck you, it's my role!' For the last year I've been a part of script meetings, read-throughs, he and I have worked together on it – and, yeah, the role I'm reading is the architect. But equally, it's an evolving thing. All I'm saying is, I don't have any ownership over it. But are we in communication? Absolutely, all the time. And I want to see it happen.
Jane Austen fans are all atwitter about the latest adaptation of her classic novel Emma, starring Callum Turner (Theseus Scamander) and Bill Nighy (Rufus Scrimgeour, Harry Potter). Turner plays Frank Churchill and Nighy Mr. Woodhouse, Emma's father, in the story of coming full circle to find love. The film premiered as a limited release Friday and will hit theaters everywhere March 6; we have a slew of posters, trailers, and clips to get you in a fancy mood before then.
A recent special screening of the film was also hosted by Vogue editor Dame Anna Wintour.
Nighy spoke with the Guardian recently about his character.
He's a valetudinarian. Not to be confused with a hypochondriac. Hypochondria is being selfishly concerned with your own health. Valetudinarians are obsessively concerned with other people's. And therefore he lives in terror of draughts and any kind of change in the weather. He's always thinking that everyone's going to die. Which is ridiculous until you start reading anything about 1815, and you realise he's got a point.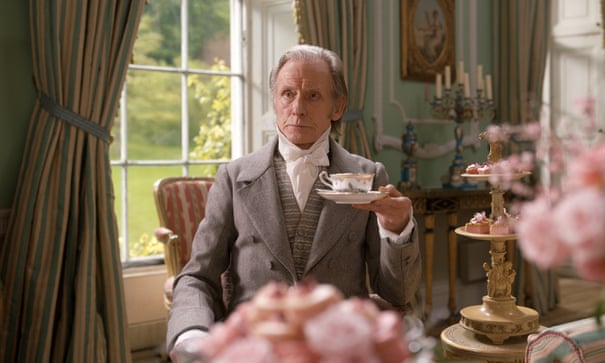 Nighy also admitted to Vogue that he's never read Austen and stated that his first condition upon being offered the role was "no breeches... not that I don't have the legs for them!" And for one final Emma fun fact, Anya Taylor-Joy, who stars in the titular role, tells ABC News that she learned to speak English with the help of a familiar series after being raised in Argentina then moving to London.
I was very lonely. So I learned English. I needed to make friends. So I actually learned to speak English by reading the 'Harry Potter' books.
The friendship between legendary Pogues singer the late Shane MacGowan and Johnny Depp (Gellert Grindelwald) is well known, and Deadline Hollywood says the actor will be teaming up with documentary director Julien Temple on a documentary biopic titled Shane.
The film will deep dive on the tortured Irish vocalist, best known as the lead singer and songwriter of Celtic punk band the Pogues and for his renditions of 'Fairytale of New York' and 'Dirty Old Town.' It will combine animation, unseen footage from Temple's own archives, and contributions from collaborators and his own family. The film will culminate in MacGowan's 50th birthday celebration, where singers, movie stars, and rock 'n' roll outlaws gathered for a knees-up.
Depp will coproduce through his label Infinitum Nihil, and the film is set for distribution in the UK and Ireland through Altitude Films, with a plan to broadcast it on BBC Four at a later date. "Knowing Shane for 30 years, I am honored to be producing the definitive film on both my friend and one of the most important artists and beloved poets of the 20th century," Depp stated.
Depp is also in Berlin this weekend for the world premiere of his latest picture, Minamata, which also stars Nighy, at the Berlin International Film Festival. We've been keeping you up to date on that project, which will hopefully eventually make its way to the US and UK. During a press conference in Berlin, Depp said he's always felt like his character, war photographer W. Eugene Smith, "was very isolated or locked into his own peculiar understanding of fate, I suppose."
It was almost impossible to believe [what happened to Minamata], not only in such a horrific way but it spared no one and there was absolutely nothing that they could do about it. [...] As someone who was interested, I believed it was a story that needed to be told. If you can take an idea, bring it to a page, somebody decides they are interested in putting the thing together, somebody chucks money in because they care... Films like this don't get made every day. We are very lucky to have the honor to bring this to people and maybe spark some degree of interest or care. [...] There's a beautiful symbol in the I Ching that means 'the power of the small.' So when you have these huge, monolithic opponents in front of you, screaming at it is not going to do anything, trying to take the whole building down by yourself isn't going to do anything. The power of the small is the idea that we recognize the issue, and it just starts with one; you chip away little by little, and then that problem can be toppled.
You can also read Variety's interview with Depp and view a gallery of photos from the film festival below.
Also in the BIFF are First Cow, featuring Toby Jones (voice of Dobby, Harry Potter), which tells the story of a skilled cook and a Chinese immigrant who meet after joining a group of fur trappers in Oregon and form a successful business venture together, and Siberia, starring Simon McBurney (voice of Kreacher, Harry Potter), which is billed as "an exploration into the language of dreams." Tickets to the festival can be purchased online.
Hero Fiennes-Tiffin (11-year-old Tom Riddle, Harry Potter) isn't the only Wizarding World alumnus who's been perfecting their smolder and pout for Yves Saint Laurent. Ezra Miller (Credence Barebone) has also been announced as a new face of the brand for its spring-summer 2020 menswear collection, and you can check out a few campaign clips and photos below.
You've likely been checking out the new
High Fidelity
series, starring
Zoë Kravitz
(Leta Lestrange), on Hulu, and the actress
tells Vulture
that, upon her casting, she immediately reached out to the man who invented her gender-swapped character of Rob: Nick Hornby. Hornby penned the 1995 novel that inspired the 2000 movie, and Kravitz says it was important to her to have him involved. The two also became playlist buddies.
Kravitz: I had a lot of opinions about what this reboot was going to be like, so I got in touch with Nick, and we hit it off. I really wanted his blessing and ended up getting a lot more than that. I ended up getting a producer and a writer who had wonderful ideas. [...] I started making this playlist during the writing process, and it grew and grew and grew, and we were very fortunate to clear a lot of the songs. Ahmir ['Questlove' Thompson] had input; we had great music supervisors. When we couldn't get a song, we would find something we loved just as much, if not more. But these are all musicians and songs that I love. I love all different kinds of music. It was easy to go from Fleetwood Mac to Frank Ocean. I love them equally.

Hornby: When Zoë and I met, I liked her a lot and thought she was really smart. Then she sent me this playlist that she'd made for the show. The breadth and depth of the playlist, I was in absolutely no doubt that the show was in the right hands. It was insane what was on there.

Kravitz: Since then, me and Nick have become playlist buddies. He sends me tons of playlists. They've become a bit of an addiction.
Irish filmmaker and screenwriter Neil Jordan has opened a new exhibition titled Best Costume Goes to... at the Hunt Museum in Limerick, Ireland, which features 33 costumes from 19 films, representing the relationship between actors, costumes, and the growth of the Irish film industry. Costumes on display include Colin Farrell's (Percival Graves) from In Bruges and Brendan Gleeson's (Mad-Eye Moody, Harry Potter) from Calvary. The exhibition will be on display through April 14, and you can get more information and book tickets on the Hunt Museum's website.
Cursed Child Cast & Crew
We let you know earlier this month about Anthony Boyle's (Scorpius Malfoy, original West End and Broadway runs) role in the upcoming HBO six-part miniseries The Plot Against America, and we have a full official trailer for you this week! The series is set to premiere March 16.
The 2020–2021 season at London's National Theatre has been announced, and it includes a new play from
Jack Thorne
(writer,
Harry Potter and the Cursed Child
).
Broadway.com reports
that
After Life
, adapted from the film of the same name by Hirokazu Kore-eda, is set in a purgatory of sorts, where those passing through are asked to pick the one memory they will live in for eternity. We'll give you a heads up when tickets go on sale!
At this point, the sky's the limit for Ralph Fiennes and villains, so let us know which iconic bad guy you'd love to see him play in the comments! And be sure to tune in next week for another edition of MuggleNet's Casting News.