Parley with the Giants: San Francisco Team to Host "Cursed Child" Night
Harry Potter and the Cursed Child has been making a splash in the Bay Area since its December 1, 2019, premiere. But there's another San Francisco, California, institution that also enjoys making a splash in the bay – with home-run balls.
The San Francisco Giants organization recently announced it will host a Harry Potter and the Cursed Child Night on April 28 at Oracle Park, and hold on to your Sorting Hats: Special-event ticket holders will receive custom Hogwarts House-themed Giants T-shirts!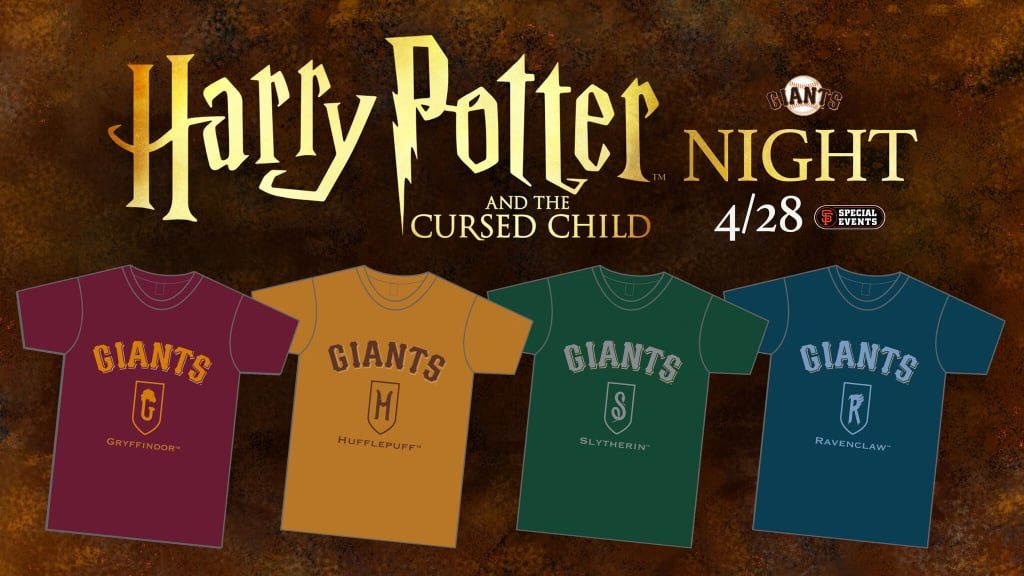 People all over the Internet have created their own mash-up shirt designs featuring Harry Potter themes and their favorite Major League Baseball team logos, but this is the first time we've seen a team release an official Potter-themed shirt. As you can see, they're a total home run, with the Giants logo and Cursed Child-style House crest on the front and what else for the number on the back but 9 3/4?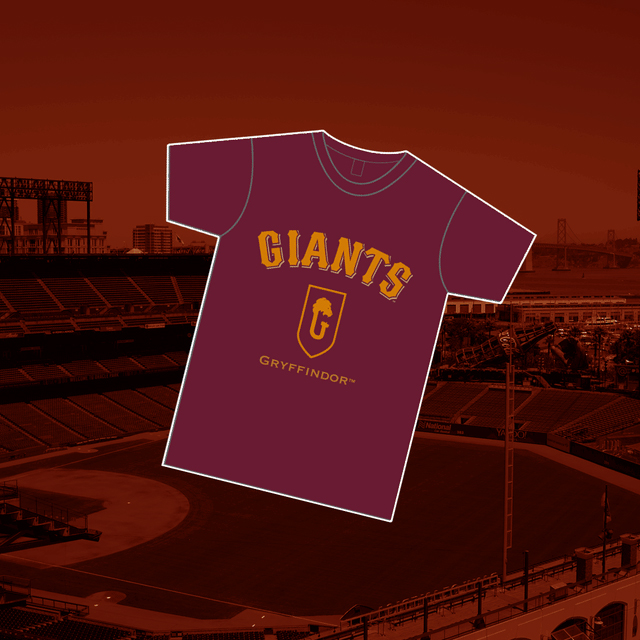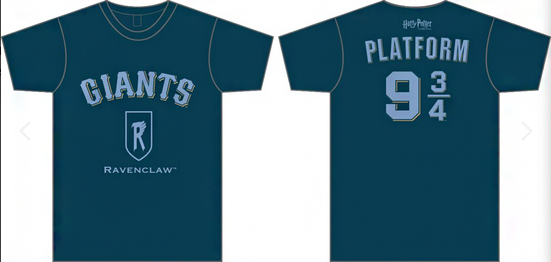 Basic special-event tickets start at $20 and entitle the holder to a game ticket – the Giants will be taking on the Philadelphia Phillies that evening – and a House T-shirt of their choice. When ordering, note that a telephone number is provided for those who need shirts featuring multiple Hogwarts Houses in the same order. Gryffindors and Hufflepuffs will be able to pick up their shirts at View Reserve Section 334 and Ravenclaws and Slytherins at View Reserve Section 317 through the fifth inning.
But there's more! For those who want to up the magical ante on their evening at the ballpark, tickets are also on sale now for a special Harry Potter and the Cursed Child Night VIP experience.
Join us for an exclusive VIP experience that will bring a bit of Harry Potter magic to Oracle Park. Meet cast members from the San Francisco production of Harry Potter and the Cursed Child, enjoy exclusive photo opportunities and more at this limited VIP experience!
VIP tickets start at $124 and will include a game ticket, House T-shirt, Hogwarts/Giants collectible mini bat, access to the Triples Alley pre-game premium event space from 4:15 to 6:15 p.m., Harry Potter-themed activities and photo opportunities, complimentary food and beverage during the pre-game event, and "more to be announced"!
All levels of tickets for Harry Potter and the Cursed Child Night at Oracle Park are on sale now and can be purchased on the San Francisco Giants website.
This is definitely a Potter/baseball fan's dream come true, so don't miss out! And let us know in the comments which professional sports teams you'd love to see bring a bit of the Wizarding World to their ballparks or stadiums!