One-of-a-Kind Miniature "Philosopher's Stone" Manuscript Up for Auction
A rare and unique (and tiny!) piece of Potter history, containing an excerpt from Harry Potter and the Philosopher's Stone, has come up for auction.
This miniature manuscript handwritten by J.K. Rowling stands at just 1.6″ tall and has 31 pages of text and doodles. It contains an excerpt from Philosopher's Stone that details the equipment list required for first-year students at Hogwarts. It will be put up for auction by Invaluable auctioneers on March 26.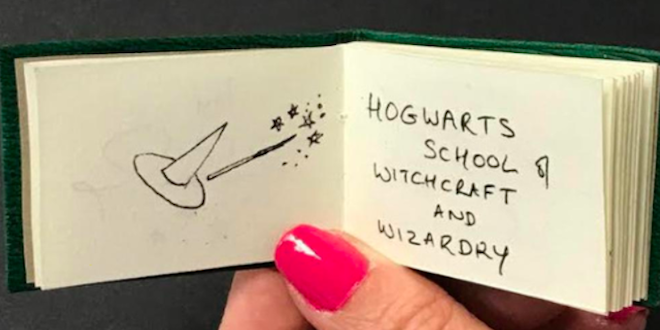 Created in 2004, the miniature manuscript is the only one in existence and was originally auctioned for charity. It originally sold for £10,000 and is now expected to sell for £100,000 to £150,000 when it goes up for auction later this month.
The first page features J.K. Rowling's signatures, and the final page of the manuscript features the inscription "From: 'Harry Potter and the Philosopher's Stone' by me."
Check out some of the other pages below.
In addition to the handwritten text, the tiny book contains doodles of broomsticks, quills, an owl cage, and a dragon's tail.
This rare collector's item joins a number of other Potter pieces to have gone up for auction in the past 12 months. Just last month, a copy of Philosopher's Stone went under the hammer and sold for £118,000 (US$144,786). Check back in with MuggleNet to see how much this tiny book sells for at auction.