Tech and Toys Coming Together: Harry Potter Invisibility Cloak Wins Innovative Toy of the Year
It's not just movies that win awards anymore. The winners of the 2020 Toy of the Year Awards were recently announced. The Harry Potter Invisibility Cloak won Innovative Toy of the Year, and it was well deserved.
The Harry Potter Invisibility Cloak utilizes your smartphone and green screen technology to help make you invisible. One side of the cloak is a green screen like the ones you hear about in movie productions. On the other side is a similar pattern to that of the Invisibility Cloak as seen in the Harry Potter movies. To become as elusive as Harry himself, wear the cloak with the green side out, turn on your phone, and snap a picture or take a video! Thanks to the power of movie magic, you'll be able to convince your friends that you've actually disappeared right before their eyes.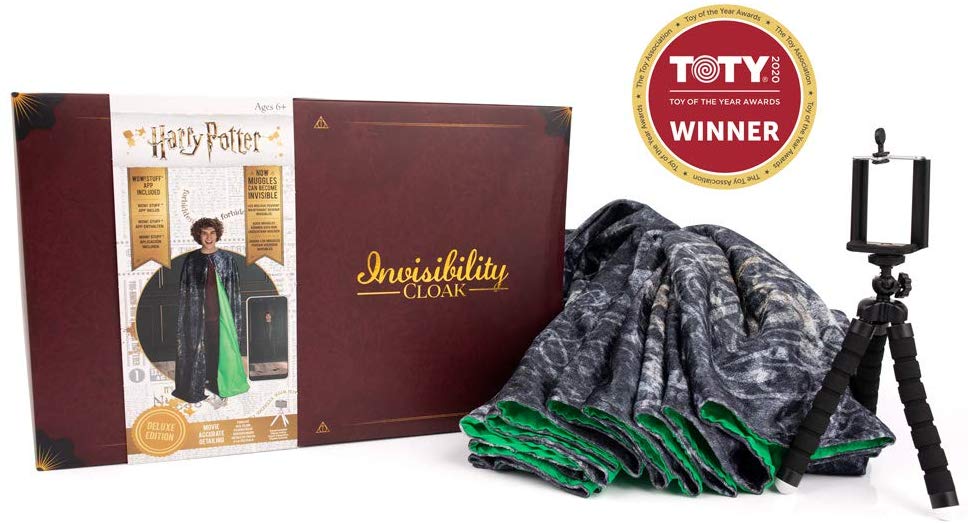 Other winners of the Toy of the Year Awards include L.O.L. Surprise!, winner of Toy of the Year; Rainbocorns Ultimate Sequin Surprise Series 2, winner of People's Choice Award; Disney Pixar Toy Story Basic Figures, winner of Action Figure of the Year; and L.O.L. Surprise! Winter Disco Series, winner of Collectible of the Year. A total of 18 toys won an award in each of the 18 different categories. To see the full list of Toy of the Year winners, check out the Toy Association website.
To be considered for an award, a toy must go through a selection process. A nomination committee reviews the products, narrows down the selection, and votes for the best toys to receive an award. Consideration is given to products based on creativity and originality, design and quality, play value, marketing and promotion, and sales and marketplace acceptance. It takes a couple of months for the committee to deliberate and vote for the winning products. For the 2020 awards, voting was open from November 11, 2019, to January 5, 2020. The winners were kept secret until the awards ceremony could take place on February 21, 2020.
The Harry Potter Invisibility Cloak is for sale now on Amazon for $46.55.
What's your favorite Harry Potter toy?