J.K. Rowling Buys Home that Inspired "Harry Potter" Series
Before J.K. Rowling became famous for writing the Harry Potter series, she lived in Church Cottage, Tutshill, in the Forest of Dean with her family (sister Dianne, mother Anne, and father Peter) from the age of 9 to 18. In what used to be her bedroom, a carving in the wall reads "Joanne Rowling slept here circa 1982."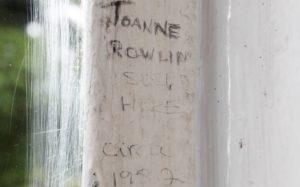 The Gothic-style house was built in 1852 and has vaulted ceilings and stone windows. After Rowling's father sold the house in 1995 to Julian Mercer, it came back on the market in 2011 for £399,950. The home was bought by a mystery buyer, and searches show it was a company known as Caernarfon Lettings Ltd. Although Rowling's husband, Dr. Neil Murray, is a director of the company, Rowling is the lead person in control under her married name of Mrs. Joanne Kathleen Murray.
At the time the home went back up for sale in 2011, Harry Potter fans began to notice similarities between the cottage and the series. Most notably, there is a cupboard under the stairs in the house, similar to the one Harry lived in for many years before attending Hogwarts School of Witchcraft and Wizardry. It is reported there are other connections to be made between the series and Rowling's life at Church Cottage, such as the possibility that she based characters in the Harry Potter series, such as Professor Snape and Ronald Weasley, on people she knew while living there. Additionally, one of the Quidditch teams in the series, the Tutshill Tornados, could have been named after the location of where she lived.
Previous owner Julian Mercer gave his insight on Rowling taking inspiration from the home for her books.
JK Rowling would have been here in her formative years and could have taken inspiration from the cottage. The architecture is very Hogwarts-like. It has vaulted ceilings [and] stone windows and oozes gothic spirit.
It is unknown exactly why Rowling decided to purchase this home. Some think she wants to protect the property that shaped part of her life, while others imagine she wants to use it as a holiday home for deprived families. Ultimately, she may also just want to have a second home.
What is known is that she plans to renovate the three-bedroom home. Scaffolding has gone up, and Rowling has supposedly been seen at the home a few times. There are plans to renovate some parts of the home, reinstalling and fixing the original pieces and removing any modern additions made over the years.
Would you purchase your childhood home if given the opportunity?