USQ Announces Winners of 2019–20 Team Awards
US Quidditch has announced the winners of the 2019–20 USQ Team Awards.
Executive Director Mary Kimball, Strategic Planning Manager Megan Anderson, and Director of Gameplay & Member Services Eric Schnier made the announcement through Facebook Live a few hours before the finale of US Quarantine Cup 13. The livestream and the simulated virtual tournament replaced the canceled US Quidditch Cup 13.
Every USQ member team had the opportunity to be nominated until April 16, and the final nominations were posted on April 17. Winners were decided by votes from over 500 members and fans. There were four categories and each category had five nominations.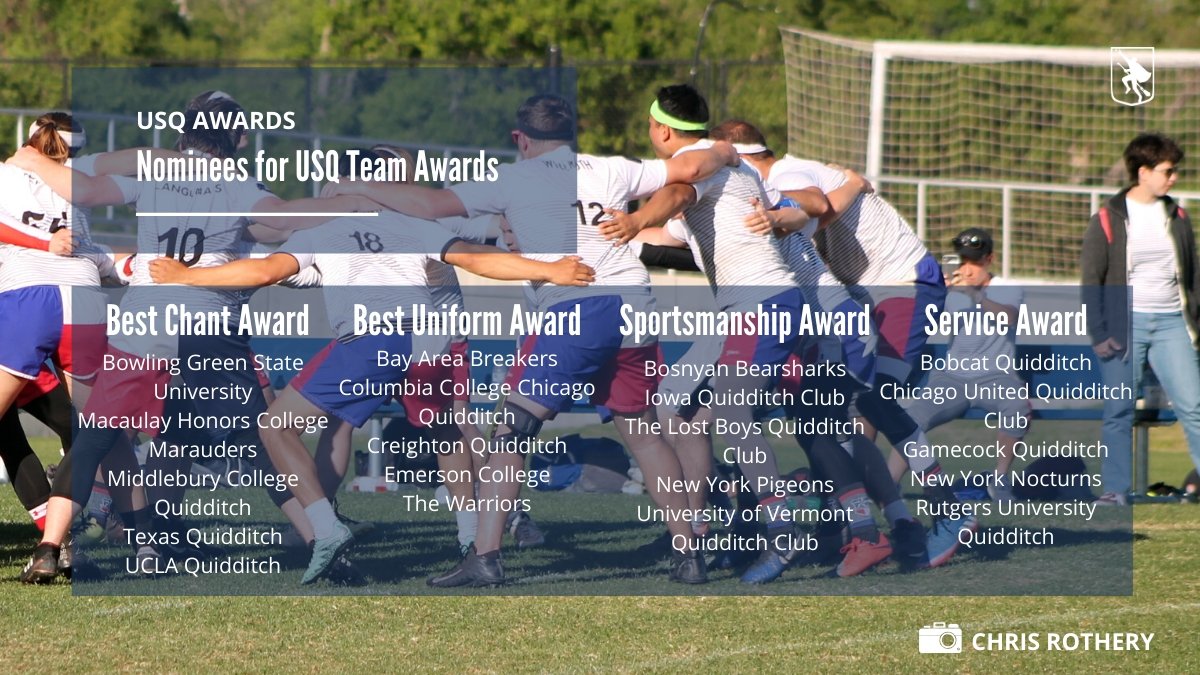 Nominees for the Best Chant Award were Bowling Green State University, Middlebury College Quidditch, Texas Quidditch, UCLA Quidditch, and the winning Macaulay Honors College Marauders, who believe that they can fly.
here we are, boolin pic.twitter.com/d0WqCPtU37

— Macaulay Marauders (@MHCQuidditch) April 21, 2020
The Best Uniform Award is given for the best display of team spirit, and the fans decided that to be the uniform of Emerson College. Other nominees in this category were the Bay Area Breakers, Columbia College Chicago Quidditch, Creighton Quidditch, and the Warriors.
The Sportsmanship Award goes to the team that demonstrates fairness, honor, and respect on and off the pitch. This year, votes were tied in this category, so there are two winners – the Lost Boys Quidditch Club and the Bosnyan Bearsharks. Other nominated teams were the Iowa Quidditch Club, New York Pigeons, and University of Vermont Quidditch Club.
The last category was the Service Award, for the team that gave the most effort in the Muggle quidditch community to help the sport grow. New York Nocturns won, and other nominees were Bobcat Quidditch, Chicago United Quidditch Club, Gamecock Quidditch, and Rutgers University Quidditch.