Six Magical DIYs for Your Dogs
While looking for different ways to keep myself busy and creative in quarantine, I started dreaming up crafts that would combine two things that I love: Harry Potter and animals — specifically my dog, Luna.
Like her namesake, my Luna is friendly, smart, and quirky. She has been by my side throughout this pandemic, proving that man's best friend also makes for a very comforting quarantine partner.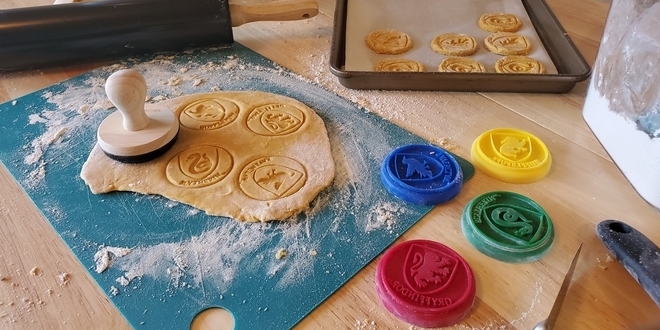 Since I love to spoil my dog, I found fun ways to use objects and ingredients already easily found around my home as well as a few online orders to craft some treats, toys, and other pet supplies. Completing these projects was fun enough for me, but even more enjoyable for Luna. In honor of National Pet Month, here are some simple DIY projects inspired by Harry Potter to easily enchant any dog.
Padfoot's Paw Pupsicle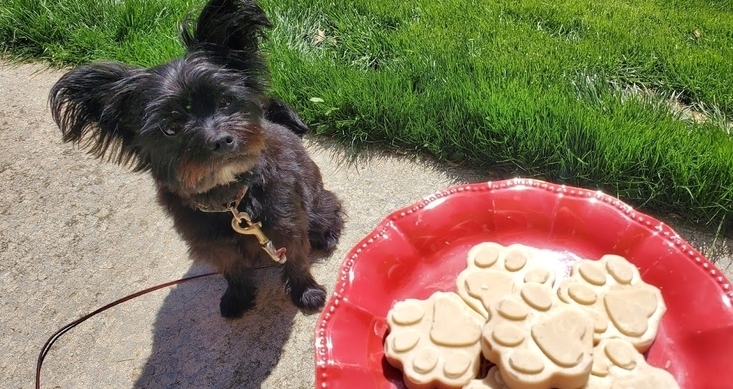 In Harry Potter and the Goblet of Fire, Sirius sends Harry a muddy paw print on a good luck card before the third task. Inspired by this gift and the warmer days ahead, I created paw print pupsicles for my pup. All you need is a freezer, paw print silicone ice cube trays, and a few simple ingredients for a frozen dog treat.
You can follow any recipe you like. The one I used called for blending a banana, plain Greek yogurt, and peanut butter. Luna was so excited at the scent of her favorite peanut butter that she couldn't wait for these to freeze before I had to give her a taste!
Magic Wand Pupsicle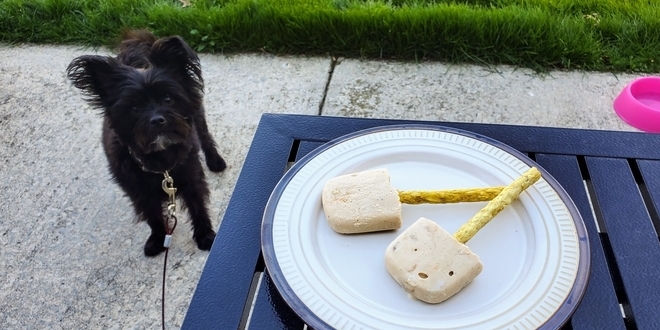 These frozen treats are sure to cast a spell on your pup. Following the same recipe that I used for the paw-shaped treats, I created yummy pupsicles with an added rawhide stick. You could also use a bully stick. In this way, the treat resembles a wand.
For added fun, I also tried star-shaped silicone ice cube molds to create sparks emitting from the tip of the wand. Luna especially loved this two-in-one treat!
Hogwarts House Dog Biscuits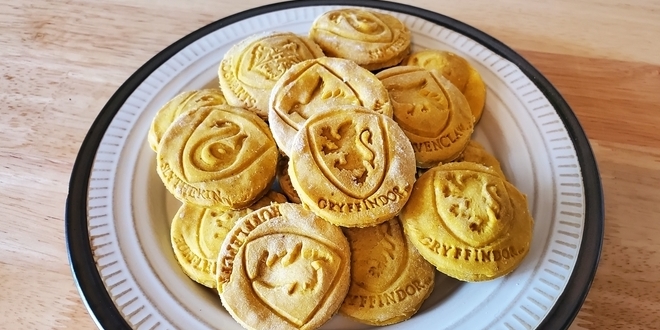 My dog loves learning new tricks, so I've always thought her to be a Ravenclaw. There are other ways to Sort your dog into Hogwarts Houses: Let him or her choose with these treats! I followed a simple recipe online for homemade dog biscuits using peanut butter, pumpkin puree, and flour (you could use coconut flour to make this grain-free). With special Hogwarts House crest cookie cutters, I pressed the emblems for Gryffindor, Hufflepuff, Ravenclaw, and Slytherin into the treats.
To Sort your dog, whip these up, then set them in a line and let the dog choose their favorite. You could even make these extra special by using safe and natural dyes, like beet juice to create Gryffindor red.
T-Shirt Rope Toy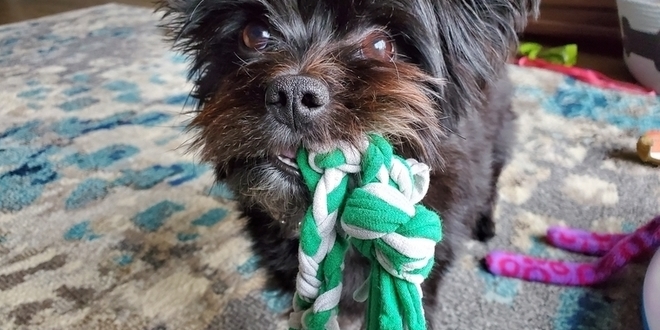 Like many others, I have been conducting some spring cleaning while in quarantine. One task has included going through old clothing items that I've been holding onto for far too long, such as Harry Potter T-shirts that no longer fit. An easy way to reuse these materials is to cut them up into strips and knot or braid them together as a fun new rope toy!
You don't even have to use Harry Potter prints to make this craft. You could simply use any old clothes in the Hogwarts House colors of your choice.
T-Shirt Bandana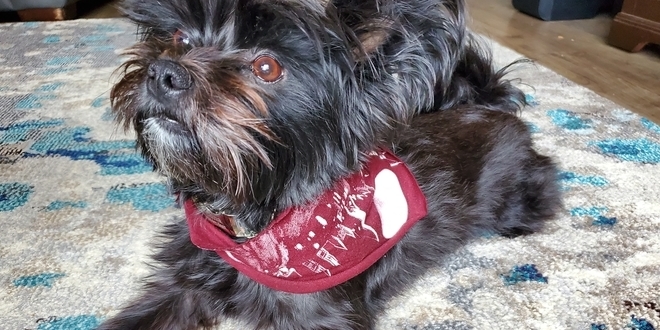 For those shirts with designs that are simply too good to cut up for a dog toy, it's super easy to make a bandana. Using pinking shears, fabric scissors, or any sharp scissors, you can cut an obtuse triangle and end up with an adorable recycled bandana for your dog to wear.
For smaller dogs, cut the shape with a length of 15-25 inches and a width of 3-7 inches. For larger dogs, anywhere from 26-30 inches in length and 8-9 inches in width should work. To get the measurements just right, I used a bandana that had been provided by a groomer as a guide.
No-Sew Tie Dog Bed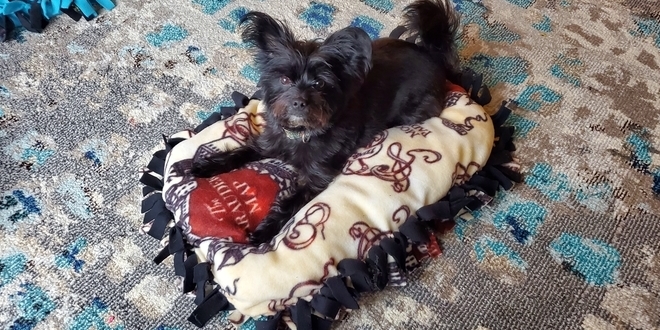 This project required taking a trip to a local craft store that was offering curbside pickup for online orders. I acquired two yards of fleece fabric, one of which was a licensed Harry Potter design, and some polyester filling. I then cut the fabric into roughly the size and shape of a dog bed with 8 extra inches in length and width. I cut four-inch by one-inch strips along each side, then double knotted them together, finally filling the inside with stuffing.
Luna instantly recognized this as a cozy new spot for her daily naps. She now follows a routine of following up a treat by snoozing on the Hogwarts crests near my feet while I work from home.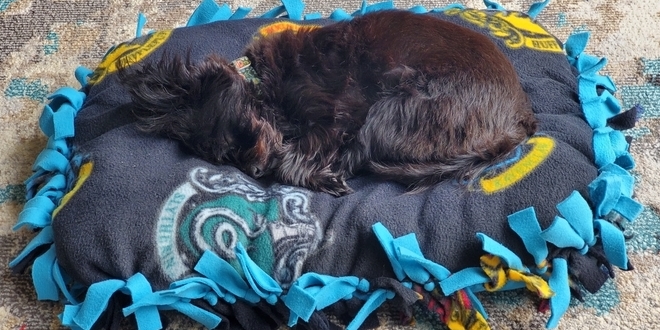 It was quite satisfying to find a way to spoil my dog while also indulging in my obsession with Harry Potter. All of these crafts were simple, cheap, and could be done in a single day. I hope that Potter fans around the world will show some extra love to these quarantine companions who bring us so much joy in difficult times. Let us know if you complete any of these projects!