UPDATED: YuMe to Launch Harry Potter Magical Capsule Collectibles at Walmart's Collector Con
Toy company YuMe will launch preorders of its newest magical collectible exclusively on Walmart's website as part of the retail company's Collector Con on July 17.
Harry Potter Magical Capsules are a mystery bag-style collectible, with each Hogwarts crest-shaped capsule containing seven miniature items, including a Harry Potter character. Collectors will need to use color-coded, heat, and water mechanisms to unlock the character hiding in a secret chamber inside the capsule.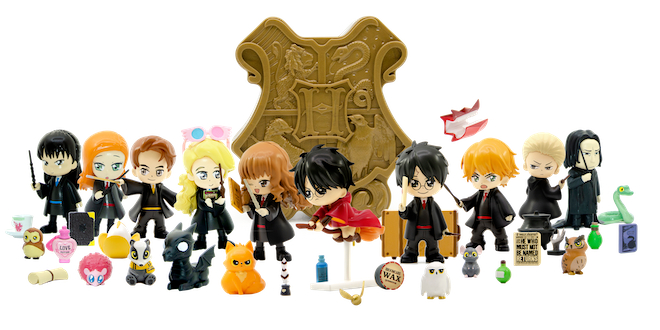 There are ten magical capsules to collect in this first series: Harry, Ron, Hermione, Quidditch Harry, Ginny, Draco, Luna, Cho, Cedric, and Snape (who is the only professor in the series). Among the other items included in the Magical Capsules are the character's wand, a magical creature, and other character-specific items such as textbooks, teacups, potions bottles, and more. Each capsule is set to retail for $9.99.
If you stumble across Harry in your capsule, you will find his wand, Hedwig, a Hogwarts acceptance letter, and a trunk among the additional items. Quidditch Harry features Harry in his Gryffindor Quidditch robes, some broom care essentials, a broomstick, and a Golden Snitch.
Hermione comes with her wand, a History of Magic textbook, quill and inkpot, and a rather grumpy-looking Crookshanks!
In addition to his wand, Ron comes with a Howler, Scabbers, and a potions bottle.
Draco Malfoy comes with an owl, a cauldron, and the Hand of Glory.
Luna can be found with a copy of The Quibbler, Spectrespecs, and a Thestral.
Cedric comes with his Triwizard Golden Egg, a badger, and a copy of the Daily Prophet.
Walmart is holding Collector Con on its website on July 17 to help collectors get their hands on items that are usually only available at conventions. With a large number of conventions canceled this year due to the outbreak of COVID-19, this is a perfect way to get your hands on some exclusive toys and collectibles.
Are you planning to collect Harry Potter Magical Capsules? Let us know in the comments.
—
UPDATE (August 14):
The Harry Potter Magical Capsules are being launched in stores this week – and they aren't exclusive to Walmart! YuMe has announced that the Harry Potter Magical Capsules collection of figures is now "at stores across North America including Amazon, Hot Topic, Walgreens, Indigo Books and Music and Walmart.com." According to the press release below, "each capsule will retail starting at $9.99 or $19.99 for dual packs."