LEGO Diagon Alley Set: New AR Experience and Minifigures Revealed
The long-awaited Diagon Alley LEGO set will be released tomorrow (September 1), and to help get Potter fans excited, LEGO has launched a magical augmented reality (AR) experience and some of the included minifigures have been revealed.
According to Brick Fanatics, some of the minifigures revealed as part of the set so far are everyone's favorite joke shop entrepreneurs, Fred and George Weasley, and Daily Prophet photographer Bozo.
The twins minifigures are dressed in their iconic Weasleys' Wizard Wheezes suits and prepared for a day of selling top prank products to Hogwarts students who are getting ready for the school year.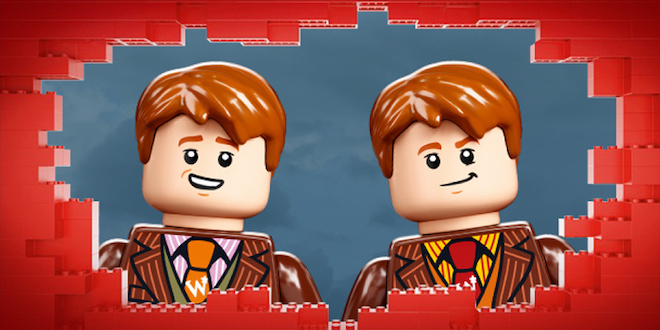 The Bozo minifigure is ready for a day of snapping photos on Diagon Alley's busy cobbled street. Bozo attended both Gilderoy Lockhart's book signing at Flourish and Blotts and is first mentioned by name in Harry Potter and the Goblet of Fire, in which he covers the Triwizard Tournament while on assignment with Rita Skeeter. If you want more information like this on every character mentioned in the Wizarding World so far, then make sure to check out MuggleNet's The Unofficial Harry Potter Character Compendium!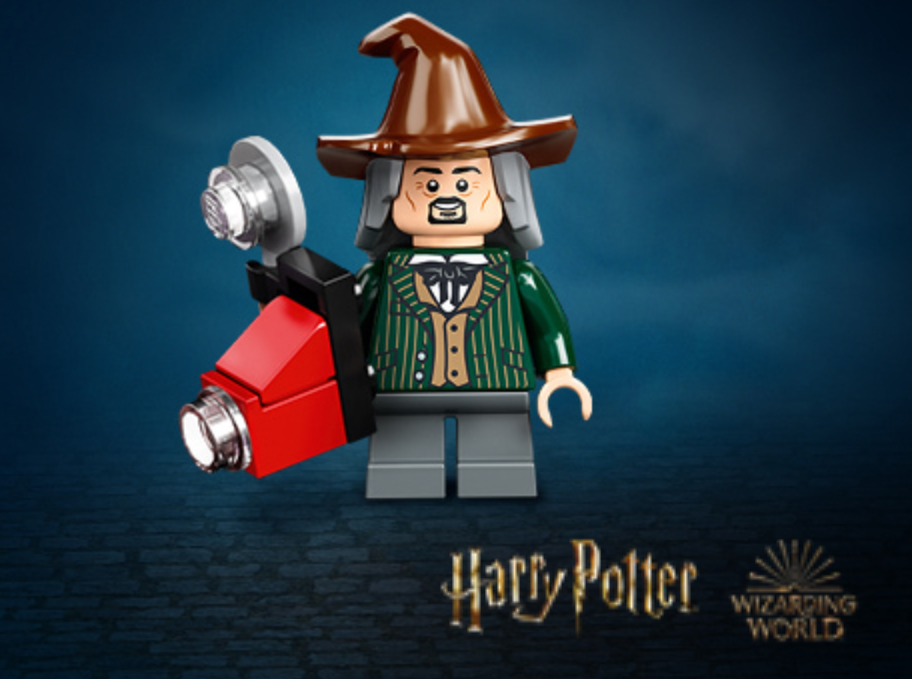 With the release of the 5,544-brick Diagon Alley set less than 24 hours away, LEGO has given fans a chance to experience this set like never before. The "Through the Bricks" AR experience takes fans through the brick wall behind the Leaky Cauldron and into Diagon Alley using their smartphones. During the experience, various minifigures can be seen shopping in Diagon Alley. So far, we have spotted Harry, Ron, Bozo, the Weasley twins, and Scabbers. At one point, Bozo is even chasing Harry for a photo!
And that's not all! If you have LEGO bricks at home, you can replicate the QR portal yourself and use your creation to access the AR experience, just like James and Oliver Phelps (Fred and George Weasely) have done. LEGO VIPs can also watch James and Oliver put the designers of the Daigon Alley set to the test in an exclusive video.
Who will build it best? 🤩 Join James and Oliver Phelps, the actors who play the Weasley twins in the Harry Potter films, for a unique QR code building challenge! 🧙‍♂️ https://t.co/dMchTQtHXN @wizardingworld @HarryPotterFilm pic.twitter.com/Oq1U6axrbV

— LEGO (@LEGO_Group) August 31, 2020
The release of the Diagon Alley set is not the only thing for LEGO fans to be excited about. From September 1 to September 15, fans in the United States can get their hands on a free LEGO BrickHeadz Hagrid and Buckbeak when they spend $100 on Harry Potter LEGO sets, or Harry Potter and Hedwig owl delivery minifigures if they spend $40 in-store.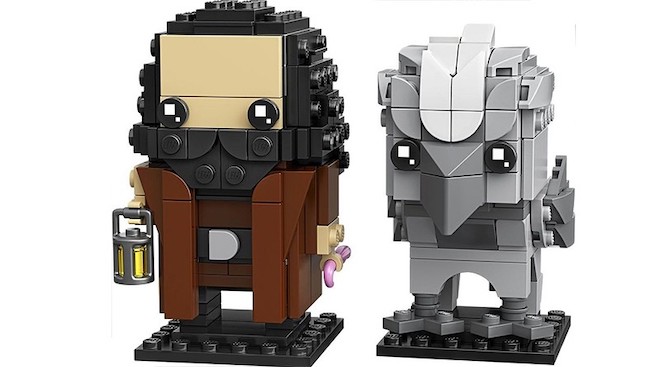 For fans hoping to pick up a copy of LEGO's 2020 Harry Potter Advent calendar, YouTuber just2good has posted an early review of the magical holiday staple. Some of the exclusive minifigures included in the calendar look incredible, and we can't wait for December to arrive so we can start opening the doors. Warning, the video does reveal what is behind each of the 24 doors, so don't watch if you don't want to be spoiled! Like the Diagon Alley set, the Advent calendar is also available on September 1.
Wow, that's a lot of LEGO for September! Are you most excited about the Diagon Alley set, the Advent calendar, or the free gift of Hagrid and Buckbeak LEGO BrickHeadz? Let us know in the comments!
Want more posts like this one? MuggleNet is 99% volunteer-run, and we need your help. With your monthly pledge of $1, you can interact with creators, suggest ideas for future posts, and enter exclusive swag giveaways!
Support us on Patreon