Liquid Luck: Beer Cheese Soup
The potion within was splashing about merrily; it was the color of molten gold, and large drops were leaping like goldfish above the surface, though not a particle had spilled." (HBP 186–7)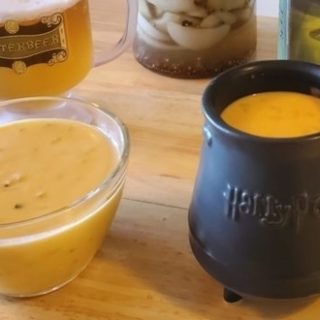 Liquid Luck: Beer Cheese Soup
Jennifer Fancher
This soup is wonderfully smooth and creamy; it can be enjoyed on its own or as part of a full Accio-toberfest meal, complete with Pretzel-ly Hallows for dipping. Be advised – overindulging with this potion may leave you with excessive giddiness and overconfidence.
Ingredients
4

Tbsp.

butter

unsalted

1

carrot

chopped

1

stalk

celery

chopped

1

onion

diced

2

cloves

garlic

minced

1/4

cup

all-purpose flour

2

cups

milk

16

oz.

beer

(of choice)

1

Tbsp.

dijon mustard

10

oz.

cheddar cheese

salt

black pepper
Instructions
Melt butter in large pot over medium heat.

Add carrot, celery, onion, and garlic. Sauté for 10 minutes or until softened.

Add flour and stir well. Cook, stirring frequently, for 3 minutes, or until flour turns golden brown.

Slowly pour milk into pot, whisking until combined.

Reduce heat to medium-high. Stir in beer and mustard. Bring to a boil, whisking constantly until foam settles.

Simmer on low for 10 minutes, or until thickened. Remove from heat and whisk in cheese in portions.

Add salt and pepper to taste. Serve immediately.
Notes
We recommend a German-style beer and yellow cheddar.
Remember that most of the alcohol will cook out of this soup, making it safe for witches and wizards of all ages.
Try this soup with Jennifer's Deathly Hallow Pretzels.
This recipe was adapted from the Wanderlust Kitchen.
Did you know that MuggleNet is 99% volunteer-run? With your monthly pledge of $5, you can provide monetary support to our volunteers while becoming eligible for exclusive swag giveaways!