Pretzels Two Ways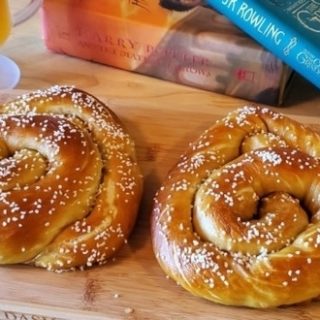 Pretzels Two Ways
Jennifer Fancher & John L. Wilda
This pretzel recipe has two shaping options: the Deathly Hallows and Occamies! Try one, or both, for your next wizarding world-themed party.
Ingredients
Dough
159

g

water

warm

12

g

butter

unsalted

300

g

bread flour

1 3/4

tsp.

yeast

1

tsp.

salt

fine
Lye Solution
40

g

food-grade lye

2.2

lbs.

water

cool
Instructions
Dough
Combine all ingredients in bowl of stand mixer, beginning with water and butter.

Mix dough on low (KitchenAid Speed 1) for four minutes. Then mix on medium-low (KitchenAid Speed 3) for three minutes.

Remove dough from bowl, grease bowl with pan spray, and return dough to bowl. Cover and let ferment for 30 minutes.

Divide dough as desired (80 to 100 g pieces will yield decent-sized pretzels).

Preshape dough pieces into logs. Cover pieces of dough with plastic wrap or tea towel and let rest for 5–10 minutes.

Roll logs out to 16-inch strands. Follow one of the two shaping methods below.
Deathly Hallows Pretzels
Shape each strand into the Deathly Hallows symbol: Start with the Elder Wand, loop across to make the Resurrection Stone, and then wrap around to make the Cloak of Invisibility. Pinch corners to make the shape more triangular.

Set each pretzel on parchment-lined baking sheet and set aside.

Prepare a second baking sheet with well-greased parchment paper (or a silicone baking mat, no need to spray). Also prepare your lye solution (see below). Set up your dipping station: Cover your work surface with a large plastic bag or plastic wrap. Place lye solution in middle, pretzels on one side, and prepared baking sheet on the other.

Working with gloves and a slotted spoon, dip each pretzel seperately in solution for no more than 10 seconds (flip pretzel over if needed). Move pretzels to prepared baking sheet.

Once all pretzels are dipped, sprinkle with pretzel salt.

Bake immediately for about 15 minutes.
Occamy Pretzels
Cut each strand in thirds and roll out thinner (to about 8 inches). Cover with plastic wrap (or a clean trash bag).

Prepare your baking sheets: Line each sheet with a silicone baking mat or parchment paper greased with pan spray. Use sprayed glassware or metal forms to help shape your Occamies.

Dip each thin dough strand in lye for 10 seconds. Then, knot and twist dough into the shape of an Occamy.

Sprinkle pretzels with pretzel salt. Bake for 15 minutes.
Lye Solution*
Only work with lye in a plastic container. Wide and short is better than tall and deep.

Add lye to water and mix until dissolved completely.

Once finished with your lye, discard immediately. Clean plastic container and utensils thoroughly.
Notes
*Lye is a chemical and can cause burns if it touches your skin. NPR discusses why this is important and offers a way to use baking soda instead.
This dough is very dense. If your mixer is struggling, remove the dough from the bowl and knead it by hand until it's smooth. The dough should bounce back when lightly pressed with the pad of the finger.
If the dough is too tough to roll out to strands, allow it to rest longer until it is fairly easy to work with. However, don't hesitate to put a little pressure on the dough.
Find a container that will allow the water to be deep enough so that your pretzels will at least be half submerged. Do not add more water to the solution; 4% lye is necessary.
A slight green tint is the result of the lye during baking. This color should be gone when the pretzels are baked properly.
This recipe was adapted from one by Chef Ciril Hitz.
Did you know that MuggleNet is 99% volunteer-run? With your monthly pledge of $5, you can provide monetary support to our volunteers while becoming eligible for exclusive swag giveaways!