The Wand Chooses the Wizard: Our Favorite Collectible Wands
There's almost nothing else that is as iconic to the world of Harry Potter as the wands that wizards wield. A wand is a symbol of a wizard or witch's magical abilities and of their acceptance into the wizarding world.
For the Harry Potter and Fantastic Beasts films, the props department gave these icons all the care and attention they deserve. Starting with Harry Potter and the Prisoner of Azkaban, each character had individually designed wands that are truly works of art. Luckily for us, the Noble Collection has an array of replicas of these pieces, and they are the perfect collectible! Whether you're just starting or are looking for your next addition, here are some of our favorite wands.
1. Harry Potter
The perfect starting place is Harry's beautiful holly and phoenix feather wand. Designed to look like a rough branch that eventually is smoothed into a tapered point, it has a sense of elegance and transformation. This one can be a little tricky to hold in your hand, as the handle is a bit short for larger hands.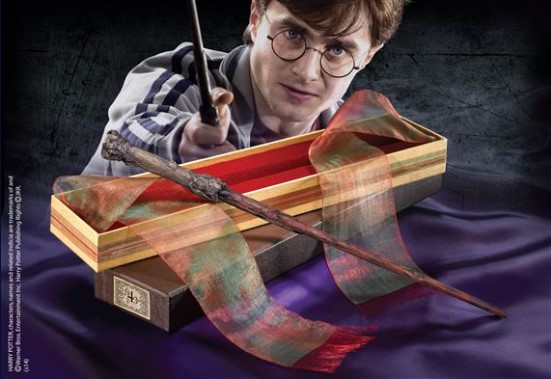 2. Hermione Granger
A favorite for so many, Hermione's wand is intricately designed with intertwining vines. Longer than other wands, it has a beautiful feel in your hand, simple and straightforward. There is a slight green tint to the color, which gives some depth to the design.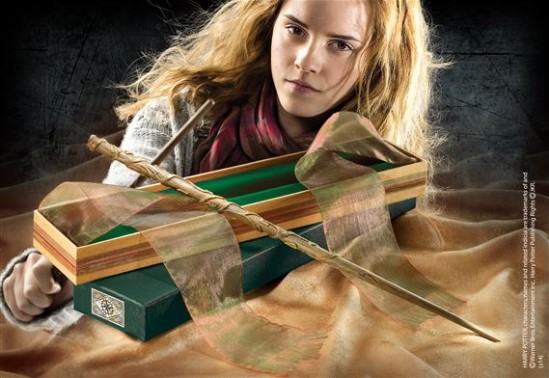 3. The Elder Wand/Dumbledore's Wand
Another iconic piece, the film designers did not know when first designing Dumbledore's wand that it was the legendary Elder Wand! The wand is striking in its long, knobbly design. A small ancient rune is set into the wand, creating an air of mystery and gravitas. The small knobs make the perfect thinking or worry stone-type feeling as you contemplate the power this wand holds.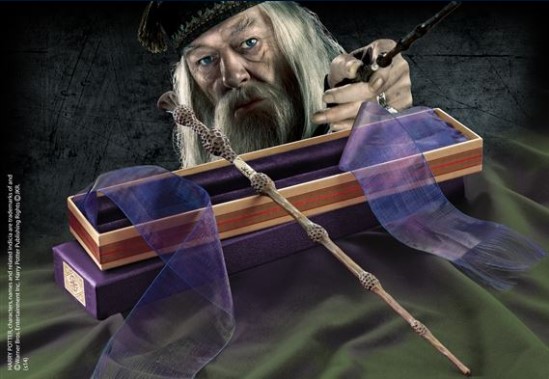 4. Young Dumbledore's Wand
Complete the set of wands for the most famous headmaster of Hogwarts! This new design for Dumbledore in Crimes of Grindelwald is beautiful ebony that seems all in order until you reach the twist near the handle, indicating the professor's inner conflict. Finished off with silver settings, it is a classic wand with a striking twist.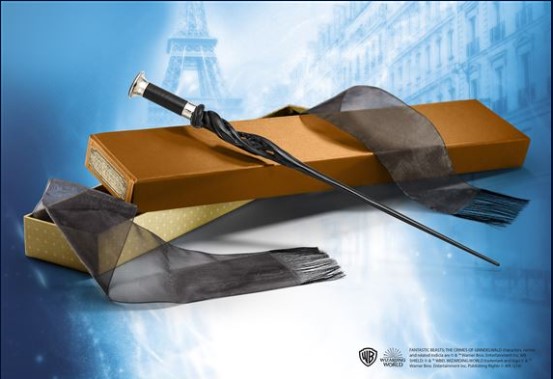 5. Lucius Malfoy
Want to really make a statement with a wand? Then you need Lucius Malfoy's walking stick, which cleverly conceals his wand. With an ornate silver and emerald snakehead handle, it makes your presence known and gives an air of power and cunning.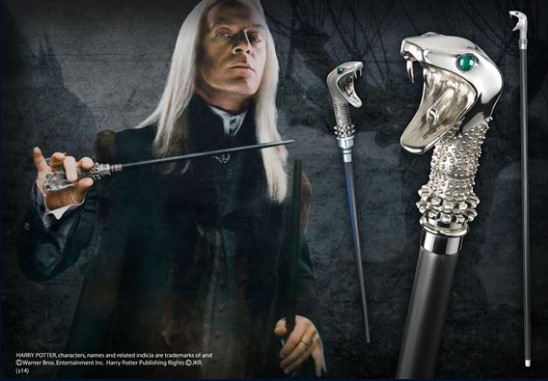 6. Fred and George Weasley
They may be twins, but our favorite pranksters have distinct wands! This set not only comes with their wands but also a beautiful display stand emblazoned with twin Ws. Fred's wand is designed with a long pinecone handle, and George's wand is designed more like a broomstick, according to actor Oliver Phelps.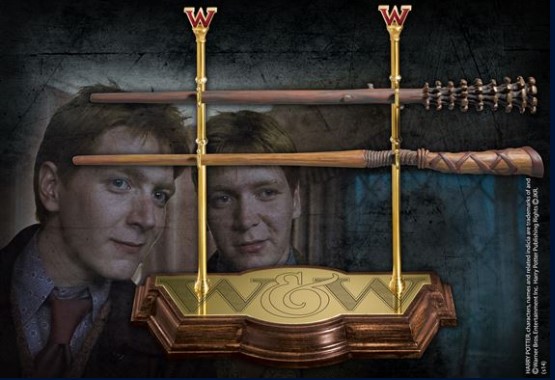 7. Dumbledore's Army Collection
Want to start your collection off with a bang? This collection comes with six wands – Harry, Hermione, Ron, Ginny, Neville, and Luna – as well as a beautiful display board designed to look like the scroll that listed the members of the DA. Make any room the Room of Requirement with this display!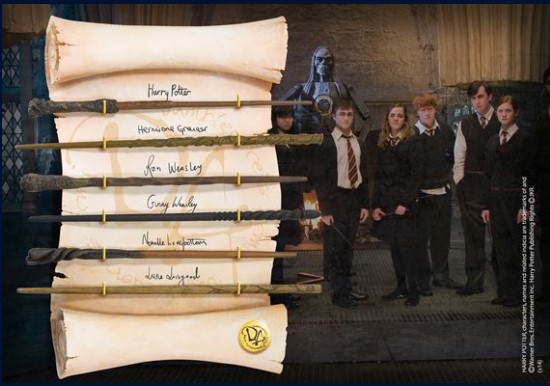 8. Newt Scamander
Our favorite Magizoologist has a wand fitting for his love of all creatures. Made to look like shell and covered in nicks from various beasts, this is another simple but beautiful wand. The slight blossoming end makes it fit beautifully in the palm of your hand, and a slight teal accent calls back to Newt's magnificent coat.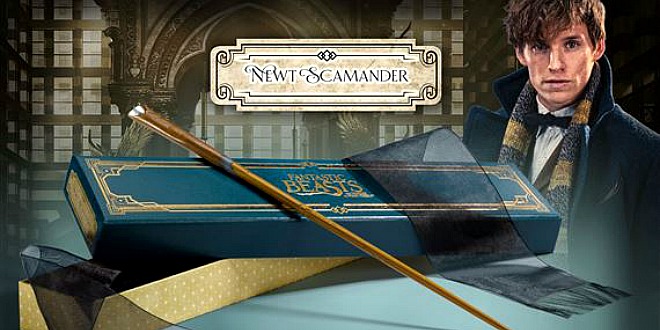 9. Queenie Goldstein
A confident, beautiful, and traditionally feminine witch deserves a wand that matches her, and Queenie's wand delivers. Elegant and relatively simplistic with beautiful art deco details, this wand is as genuine as our favorite Legilimans. With a mother-of-pearl shell knob at the end and gold accent, it's sure to turn heads.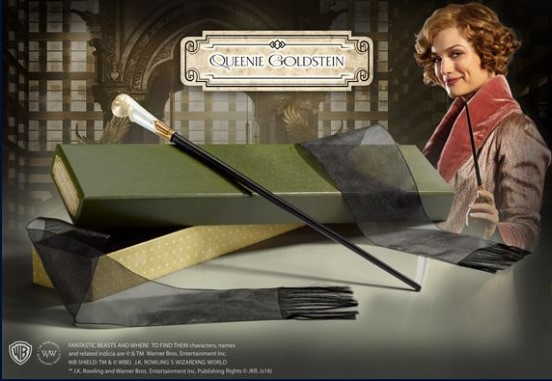 10. Bunty
Newt's timid and infatuated assistant also wields a nature-inspired wand. The end sports a lovely pinecone accent, with a winding tree leaves pattern completing the handle. This one is sure to catch the eye of anyone looking at your collection; see if its admirers can remember who it belongs to!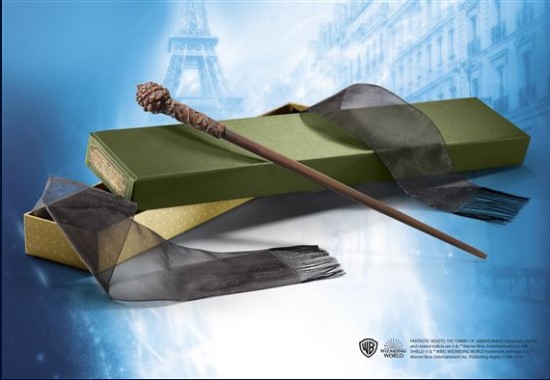 11. Theseus Scamander
Newt's older brother might be the more distinguished and celebrated by the Ministry, and that is reflected in his wand. A handsome tortoiseshell pattern handle with gold attachments shows the class and prestige that his character reflects.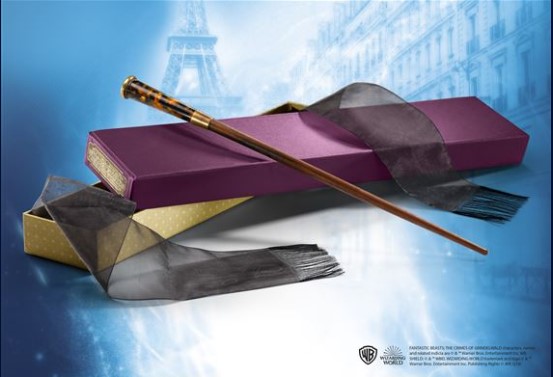 12. Display for Wands
No collection should be hidden in their boxes! These works of art deserve to be seen. Use this beautiful shadow box-type case to display up to ten wands, or pick the display for four wands for smaller sets and spaces or as you add to your collection!
As you build your collection, don't forget to include a reference book! Harry Potter: The Wand Collection is the best way to learn about wands and keep your collection in order. With full-size photographs of each wand, insight from the creative teams, and information about each wand, it's sure to become your go-to reference as you build your collection!
Here at MuggleNet, we have many enthusiastic wand collectors. Check out our video showing you what we love most about the beautiful pieces in our collections!
Want more posts like this one? MuggleNet is 99% volunteer-run, and we need your help. With your monthly pledge of $1, you can interact with creators, suggest ideas for future posts, and enter exclusive swag giveaways!
Support us on Patreon