Exclusive Interview: Anna Meriano Shares the Inspiration Behind Her New Book "This Is How We Fly"
We recently shared our review of the book This Is How We Fly, which might be the first fiction book about Muggle quidditch. We also interviewed Anna Meriano, the author of the book.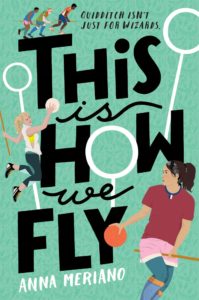 The parts about Muggle quidditch came from real experience because Anna Meriano has been a quidditch player since 2012. She mostly plays as a beater, which is actually the same position the main character, Ellen, plays.
I do love never having to worry about scoring and always having a clear human opponent or target!
The player position isn't the only thing they have in common since they also both live in Houston, Texas. That raises the question of whether Ellen is actually based on Anna.
I worried a lot more when I started this book that people would think Ellen was a self-insert or that the story was autobiographical just because we were playing the same (admittedly niche) sport, but now that I have more projects with lots of different main characters out in the world, I'm becoming more confident in the knowledge that all my characters have large chunks of me and larger chunks of themselves. I think that, while I usually agree with Ellen's intentions, I'm often laughing and rolling my eyes at her execution.
The truth is that Ellen is actually based on Cinderella. Anna saw Cinderella on Broadway and got the idea: What if Cinderella weren't so passive and good-natured as a character?
It would be funny if she was actually very angry and full of angst and just stuck in that teen space of caring a lot about justice issues but not knowing how to act on those feelings. And of course, as I started to design a passionate teen character, I thought of the many passionate quidditch friends I had.
But even though Ellen is a fictional character, not everything in the book is made up. This is clear to every quidditch player when they read scenes in the book that they have also experienced.
Everything I write is based on real situations or feelings that I've put in the blender long enough to make something new, but this book, especially, has lines of dialogue and occasionally whole scenes that match things that have happened on the quidditch pitch or at team dinners or in the online quidditch forums. I was, unfortunately, writing the 'stranger barfs on my shoes' scene from multiple experiences!
Ellen doesn't look much like a Harry Potter fan in the book, but Anna has a long history with the series. She's actually thought a lot about the Harry Potter fandom these days because she doesn't agree with Rowling's opinions about gender identity.
I don't think I can ever erase 'Harry Potter' from my personal story […] So yes, I have a lot of strong feelings about these characters, know a lot of obscure trivia, and [have] camped out for midnight releases of the books and movies. I play quidditch in real life, have a lot of wrock songs memorized, and can perform most parts of the Mysterious Ticking Noise ensemble passably well. But [I] don't want to make 'Harry Potter' part of my current and ongoing identity when its creator excludes and hurts my friends, my family, and my community.
The relationship between Rowling and the fandom was discussed at her launch party on December 20. Gender inclusivity and equality are some of the values of Muggle quidditch and are also part of the book. These issues may show up in the next book about Ellen, which is expected to be published in a few years but in a different way than we would expect.
I am currently working on a companion novel (not a direct sequel but a story with overlapping characters) that follows Ellen's younger sister Yasmín as a sophomore in high school, five years after the events of 'This Is How We Fly.' Instead of being a 'Cinderella'-flavored quidditch book, this is going to be a 'Snow White'-flavored marching band book!
Ellen is expected to appear in the book, but unfortunately, the quidditch won't be there. But she will be wiser, and out of the closet.
Because I'm planning to skip five years, we won't necessarily follow Ellen through her exploration, but she is openly nonbinary (still using she pronouns, but probably not exclusively) in the second book. To me, that very much felt like an extension of who she is throughout 'This Is How We Fly,' but she needed space and time to get there.
Want more posts like this one? MuggleNet is 99% volunteer-run, and we need your help. With your monthly pledge of $1, you can interact with creators, suggest ideas for future posts, and enter exclusive swag giveaways!
Support us on Patreon