"Harry Potter and the Goblet of Fire" Costume Designer Laurent Guinci Breaks Down Golden Trio's Yule Ball Costumes
The Yule Ball may have been an unpleasant disaster for the golden trio, but it was a resounding success for the crew behind the scene, or more specifically, the costume designers. Hot off his previous interview with Metro, Laurent Guinci, who was one of the costume designers on the Harry Potter films, spoke to Tyla about one of the most iconic and visually spectacular scenes of Harry Potter and the Goblet of Fire.
You spend a lot of time developing garments for films. It's not like something you'd make for Topshop or for the high street. We have to put way more details into it.
First up was the dress that dazzled, Hermione's gorgeous pink dress. Guinci explained how the dress was put together and the intentions behind it:
That dress is made from layers and layers of chiffon silk, which is dyed in an ombre colour, from a light pink to a dark pink. It's not like a simple fabric. It allows it to give depth to the dress and is emphasised from all the layers you see on the dress, with that kind of magical, if not mystical, effect when she comes down the steps in the Great Hall.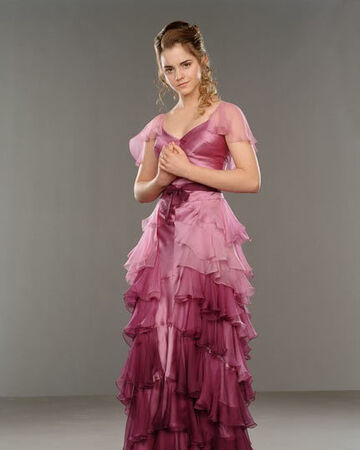 All the hard work and meticulous planning paid off. He revealed that the final product was a very proud moment for the costume design team:
I must say yes, we were all taken aback to see Emma in the dress. […] There is also sometimes that element of surprise when the actor or actress turns up on set where you all go wow. I think as a designer it's a real achievement.
Although Hermione's dress was certainly the outfit of the night, Ron had a much ghastlier time. Fans will recall with much delight the horror on his face upon realizing that he had to wear his great aunt Tessie's dress robes. Guinci shared the thought process that went behind their creation:
Ron's dress robes for the Yule Ball had to be clumsy. We made it look as if Ron's mum picked up bits and bobs and put it together. You have to create this costume keeping in mind it's the mum [who]'s making it. The outfit was totally him. It was as clumsy as he was! I want to say it's ugly in some ways, but it's fashionably ugly. It's done on purpose. It's iconically ugly!
One important consideration that the team bore in mind throughout the creative process was the aesthetic that fit each member of the golden trio. It was also for this reason that Hermione's dress was changed from blue in the book to pink in the film – a decision that proved to be particularly contentious.
We got JK Rowling's permission to make the change. Emma suits pink colours and denims […] When you decide to give an identity to a character and that identity was kept throughout the films, we felt it was very important. We felt at the Yule Ball it was more appropriate to give a hint of pink of the best for Hermione, instead of making it blue. Rupert's colours were green and orange, while Daniel Radcliffe will always be seen in light blue, purple and grey.
"The fans love it; it's almost as if we have a Harry Potter fashion," quipped Guinci as he concluded the interview. Jany Temime's costume designers truly deserve much respect and admiration for their detailed and iconic Potter costumes, which were a highlight in every film!
Want more posts like this one? MuggleNet is 99% volunteer-run, and we need your help. With your monthly pledge of $1, you can interact with creators, suggest ideas for future posts, and enter exclusive swag giveaways!
Support us on Patreon