Tom Felton's Holiday Home Party: Top Five Moments
Tom Felton's Holiday Home Party, hosted on Veeps, went off without a hitch earlier today. Much of the beginning was Tom and his beloved puppy, Willow, through their younger years. Here are our favorite moments from the livestream.
1. Fans sent in holiday greetings from around the world.
Over 1,200 fans submitted holiday greeting videos, and the select few that made it into the Holiday Home Party were delightfully merry. Each fan submission included a festive greeting in that person's native language and English. People from China, Germany, Greece, Indonesia, Ireland, Pakistan, Russia, and so many other places wished viewers happy holidays.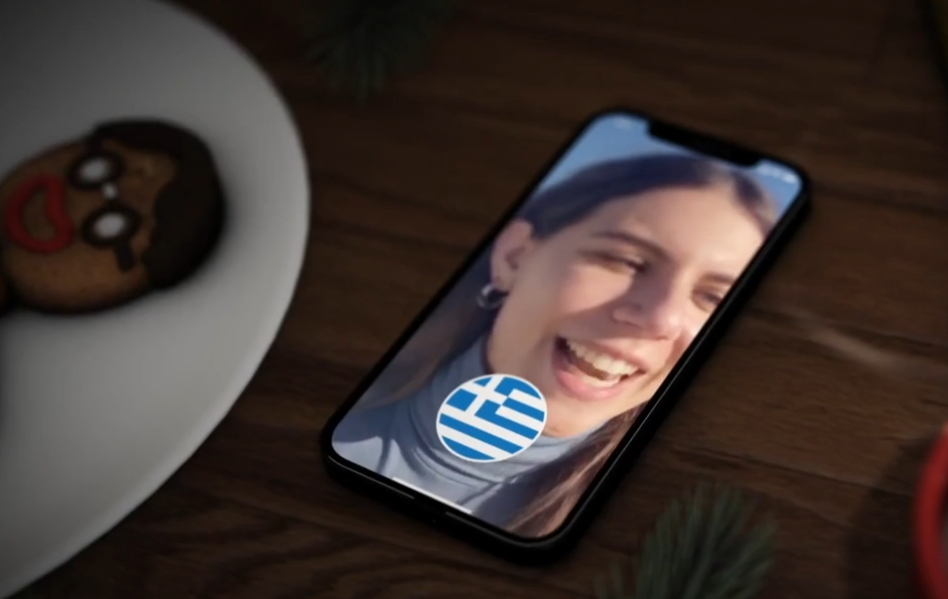 2. Willow stole the spotlight, again.
Willow, Tom's black Labrador Retriever, cohosted the party, and one could argue that she completely stole the show. She jumped in the session as soon as she could, joining Tom and his guitar on the couch. Tom gave Willow an array of Christmas gifts, which fans were delighted to see. Willow enjoyed her two new squeaky toys, a candy cane-shaped bone, a giant rawhide bone, and a few other treats for being the best cohost. When asked if he would get another dog, Tom says he actively avoids shelters and pounds because "I really just want to rescue them all." Many fans enjoy seeing the lovable black Lab, who is frequently featured on Tom's Instagram page.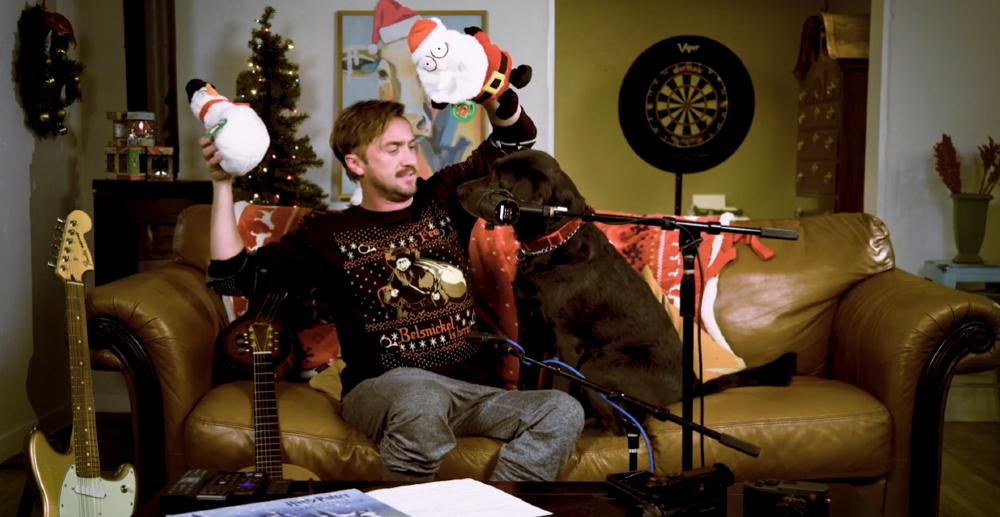 3. Tom played music, music, and more music.
Tom admittedly loves music, and the livestream featured numerous cheerful moments of Tom strumming on his guitars and singing some tunes. He sang original songs, fan requests, and some lyrics that seemed to be joyfully improvised, especially since he included lyrics directed toward his beloved companion, Willow. He even played a quick tune about the fan-made romance between Draco and Hermione in a song called "Dramione," after which he cheerfully announced, "shout-out to all the Dramione fans."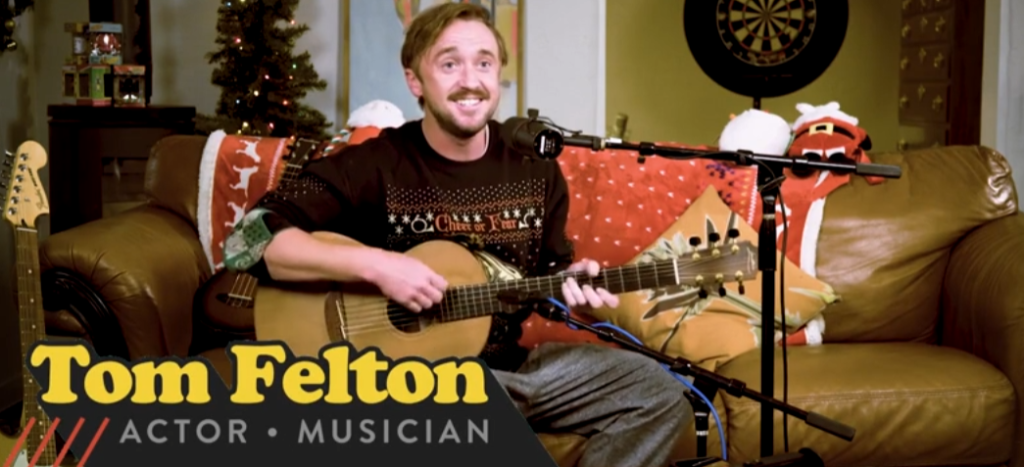 4. Jason Isaacs came to play (and win).
Tom shared a recent video of him and Jason Isaacs playing Heads Up! and chatting via a video call. The dynamic duo took turns holding up their mobile phones without peeking at their screens while they hilariously tried to guess the animal, word, and actor being described. Isaacs won with 17 points, while Felton ended the game with 12 points. As they were playing, the two shared fond memories of their time on the set of Harry Potter. For instance, Isaacs shared his experience of creating the appearance of Lucius Malfoy. Originally, the character wasn't going to have long, blond hair, with the director and design team having already set things in motion for Lucius to have short, dark hair. However, Isaacs insisted that Lucius, being a wizard of high stature who would insist on standing out as a distinguished and foreboding wizard by wearing "capes" and "furs," wouldn't style his hair like Muggles. So on set, Isaacs grabbed a wig, put it on, and said to the director, "I'm thinking I could maybe have a long, blond wig or something." He also insisted that Lucius should have a cane, which serves as a case for his wand. Immediately following the video of Tom and Jason Isaacs, Felton lamented, "Well, there you have it, time with me and the Pa!"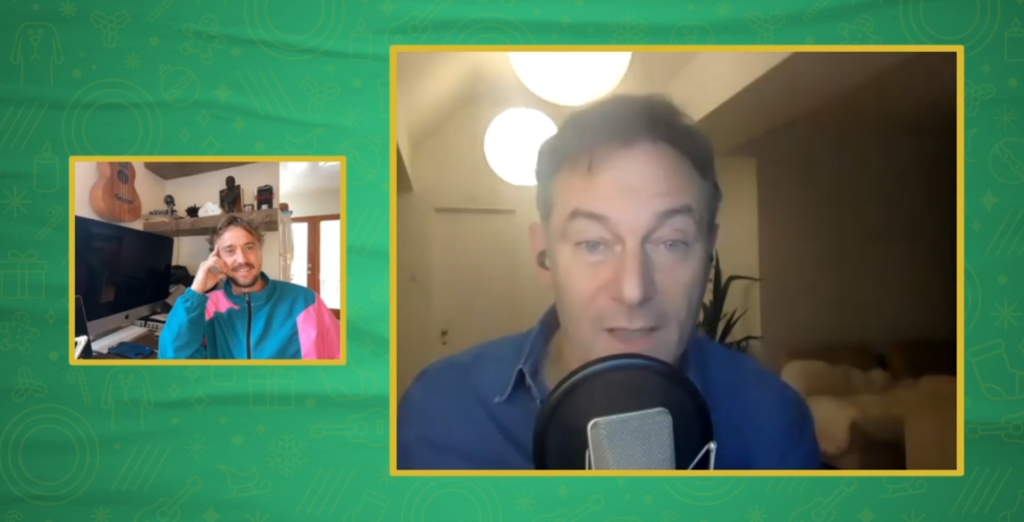 5. Tom's Muggle family got Sorted into their Houses.
While Tom's on-screen Potter father (Jason Isaacs) is an apparent and proud Slytherin, it only makes us wonder where his real-life family falls. Luckily for us, some of Tom's family were willing to take Wizarding World Digital's Sorting quiz to give us the answers. Tom also took it since he's never been officially Sorted himself. Despite being related to a prominent Potter actor, Tom's father and brothers couldn't even name all four Houses, although his mother said she remembered them all. While both of his parents and his brother Ashley were Sorted into Hufflepuff, his brother Chris landed in Ravenclaw. After much anticipation, Tom was Sorted into Slytherin. He cheered, "My life is made. I'm in Slytherin!"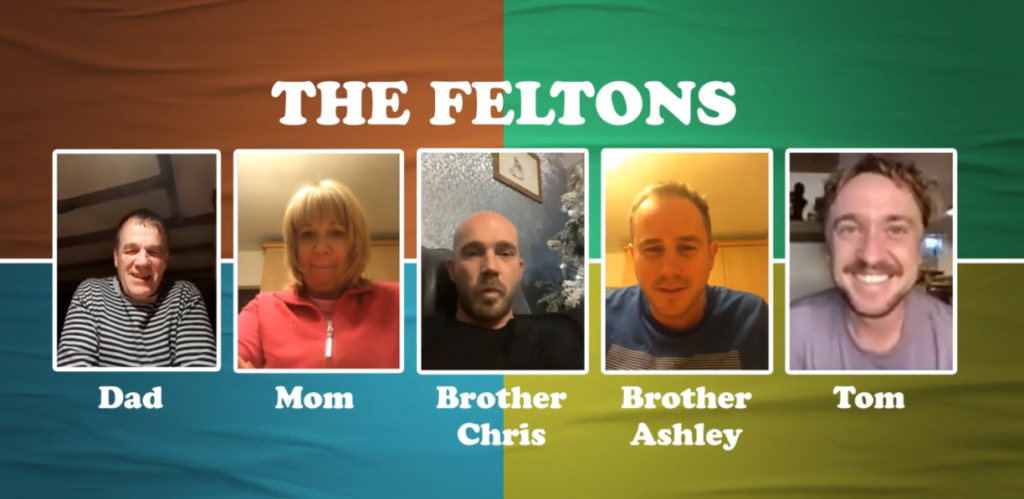 Despite Tom revealing that the Malfoys would be sharing a "miserable" Christmas at Malfoy Manor, Tom Felton is sharing holiday cheer this year. If you missed Tom's Holiday Home Party, it is available via Veeps until January 2, 2021, at noon PT.
Did you watch the livestream? Drop us line and let us know!
Want more posts like this one? MuggleNet is 99% volunteer-run, and we need your help. With your monthly pledge of $1, you can interact with creators, suggest ideas for future posts, and enter exclusive swag giveaways!
Support us on Patreon