Potter DIY: Weasleys' Wizard Wheezes Product Cabinet
You've got to put all those Harry Potter collectibles somewhere, so why not recreate your very own Weasleys' Wizard Wheezes cabinet to show off all your Potter products? Here we show you how to take a regular, everyday cabinet and Weasley-ify it for your home.
What You'll Need:
1 bookcase (As Snape would say – obviously!)
1 piece of 1 x 2 lumber
3 small L brackets
1 piece of 2 x 3 lumber that is ripped at a 38° angle
1 piece of 3″ x 8′ crown molding
1 piece of 5″ x 8′ base molding
Wood filler to cover up nail holes and fill in any problem holes
1/3 gallon of some base paint to cover up the original color of the cabinet
1/3 gallon of orange paint
1 2″ green decal of the words seen in Weasley's Wizard Wheezes
Finishing nails
Directions: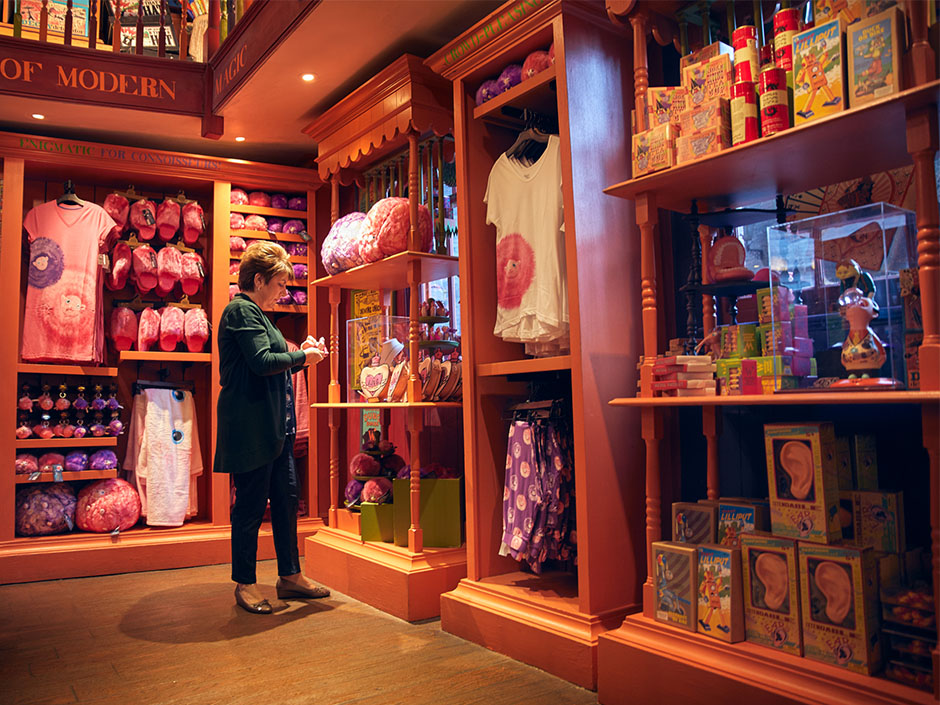 A couple of months ago, I decided that I wanted a cabinet to house nothing but products from Weasleys' Wizard Wheezes, and I wanted it to look as close to one of the cabinets in the store as possible.
Step 1: I looked for a bookcase that was close to looking like one of their cabinets, which I ended up finding, and then I removed the two bottom doors off of it.
Step 2: I had to put a piece on the front of the one shelf that was behind those doors so that it would match the other three shelves. I then added a gusset to the very top to support the crown molding that I would be adding. I also needed to add base molding to the bottom to cover up its legs, since the cabinet I was copying had both crown and base molding on it. I could not get the exact look on the top or bottom, but it is very close.
Step 3: As you can see from the pictures, it was a gray cabinet and needed to be painted the famous Weasley orange. Before I could do that, I had to put on a base coat to cover up the dark gray. It took multiple layers to get it completely covered up. On my last trip to the Wizarding World back at the end of January, I took some paint samples along with me, matched the color of the cabinets, and found almost an exact match. Once I got back home, I went to Walmart and had them make the paint, and then I gave the cabinet several coats of orange.
Step 4: I then took measurements of the lettering at the top of the crown molding and had someone replicate the exact same font, color, and size as the original. I was going to go with "CROWD-PLEASING," but after getting some opinions, I decided to go with "SHENANIGANS," which is one of the words along the bottom edge of the wall above the checkout area. This just seemed to be a more appropriate word for all the Weasley products that I would be putting in it. Once that was done, I only had to fill the cabinet up.
And there you have it – your very own Weasleys' Wizard Wheezes cabinet for your Harry Potter collection.
This DIY was submitted by a MuggleNet reader. Have a DIY you'd like to submit? Check out our guidelines here.