Top Ten "Harry Potter" Reusable Water Bottles
Wizards may be able to magic away any waste they create, but unfortunately, Muggles don't have the same luxury. Unnecessary waste, especially plastic, is highly damaging to the environment. Though we can't magic away plastic waste, we can help limit it with small steps. One of those is to switch plastic one-use water bottles with reusable water bottles. If you're in the market for a new one (or two, or three – you can never have too many!), we have some Harry Potter-themed suggestions you're sure to love.
1.Skele-Gro Water Bottle
There's only one word to describe this: STUNNING. A replica of the bottle seen in Harry Potter and the Chamber of Secrets, it is sure to be an absolute show stopper every time you use it.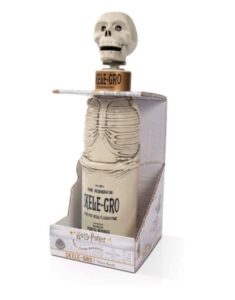 2. Glasses and Scar Blender Bottle
Simple yet chic, this bottle has a minimalist glasses and scar logo in gold. It's perfect for making protein shakes and more.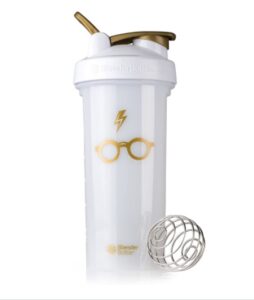 3. Hogwarts Crest Sport Bottle
If you prefer a twist-top bottle, this metal bottle is for you. With the classic Hogwarts logo on a black background, it's a perfect way to display your fandom.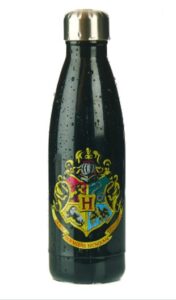 4. Tervis Marauder's Constellation
Tervis bottles are great for both hot and cold beverages. This design puts Hogwarts Castle and the House mascots in a beautiful constellation pattern.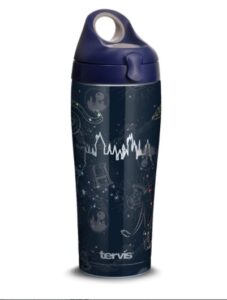 5. Tervis "Don't Let the Muggles Get You Down"
If you always wish you were in the magical world but remain stuck in a more mundane existence, this bottle is a cheerful boost of whimsy to your day. With a beautiful teal background and gold lettering, it's a friendly reminder to stay hydrated and believe in magic.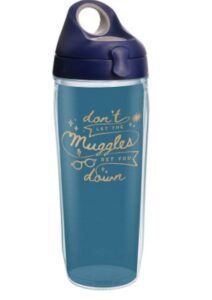 6. Tervis Hedwig Bottle
There are so many Tervis designs! This one features everyone's favorite snowy owl bearing a letter. Maybe the letter is to remind you to drink water?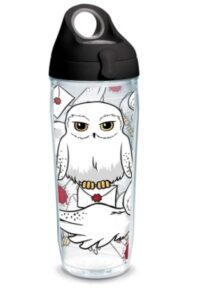 7. Glasses Glitter Cup with Straw
If you prefer to drink your beverages with a straw, this one is for you. With fun glitter and the classic glasses and scar logo, it's both understated and exciting.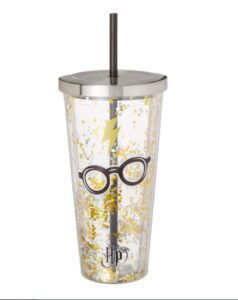 8. Tervis 20th Anniversary
I have this bottle, and I can confirm it is absolutely wonderful. Made of stainless steel, it features a plethora of insignia and icons from the series. You'll find something new every time you take a sip!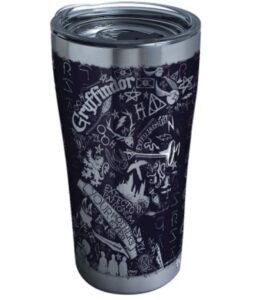 9. Chibi Mug
If you need your morning tea, coffee, or hot chocolate to go, take it in this mug. With the cute-style characters wrapped around it, it's like having a cozy drink with friends.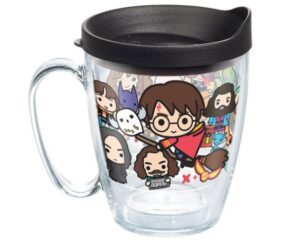 10. Glasses and Scar Tumbler
If you want a little more elegance in your morning drink mug, try this stainless steel tumbler – understated fandom but with all the reusable quality you need.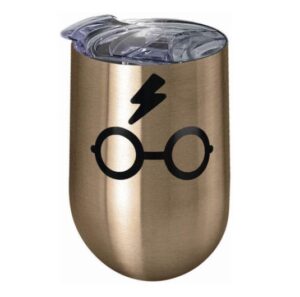 If you're looking for more reusable water bottles and other reusable needs, check out our Amazon list! Let us know what your favorite reusable water bottle looks like in the comments below.
Want more posts like this one? MuggleNet is 99% volunteer-run, and we need your help. With your monthly pledge of $1, you can interact with creators, suggest ideas for future posts, and enter exclusive swag giveaways!
Support us on Patreon