Review: Create Some Magic with "Harry Potter: Crochet Wizardry"
One of the things I love the most about the Harry Potter films is the gorgeous use of yarn-based clothing and accessories. I learned to knit and crochet young, and over the past few years, I've rediscovered my love of working with yarn. When I first saw the Harry Potter knitting book, I was instantly jealous; the designs were so beautiful, but my knitting skills aren't up to that level anymore. So when I found out that Insight Editions was releasing a crochet book of Harry Potter designs, I knew I had to get my hands on it!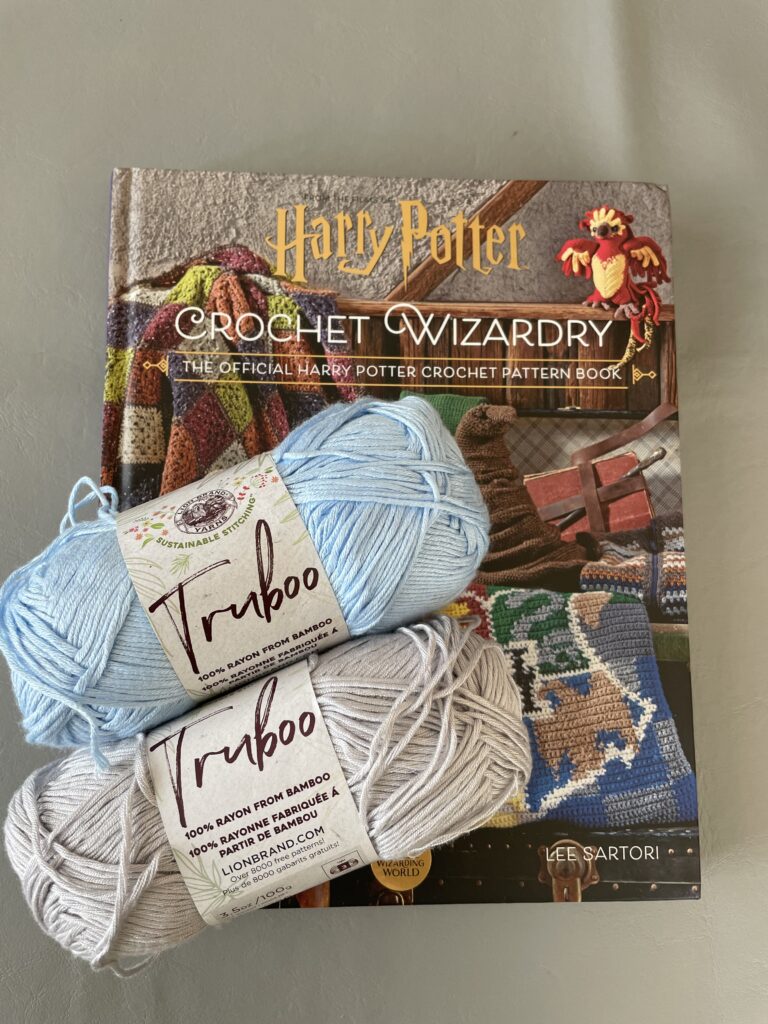 Harry Potter: Crochet Wizardry by Lee Sartori comes from Insight Editions and retails for $24.99. Over 25 projects inspired by the Harry Potter films are included in the book, as well as yarn suggestions based on the colors used in the films along with fun facts, original costume sketches, and more. The book includes four sections: Amigurumi, which features delightful creatures and characters; Conjuring Costumes, which gives patterns for replicas of the costumes from the films; Fantastic Fashion, which includes projects inspired by characters, themes, motifs, and events in the films; and Keepsakes and Curios, with home accents and accessories inspired by the wizarding world.
The book itself is beautiful and sturdy, but opens well and stays flat easily (a must for when your hands are preoccupied with yarn and hooks!). The photographs are gorgeous and fun, highlighting the projects but also incorporating them into organic atmospheres. The projects themselves had me flipping through pages eagerly, marking projects left and right to try. From adorable amigurumi mandrakes and a fluffy Hedwig to multiple detailed sweaters to fun housewares (including an easy blanket inspired by the Burrow that's surely Molly Weasley approved), there's something for everyone. I especially loved Hermione's Hog's Head sweater and her hat and gloves from Godric's Hollow. I was delighted by some of the more creative projects that aren't seen in the films, including a sweater inspired by the Unbreakable Vow, storage baskets made to look like cauldrons full of potions, and the school uniform inspired poncho. There's even a lovely Snitch-patterned baby blanket to get your little witch or wizard started young!
I decided to test out the Patronus amigurumi project for this review. The Patronus project is in the shape of a doe, with the option to add antlers to create Harry's stag. The book gives easy-to-follow supply and yarn lists, even listing the exact yarn used in the photos. For this project, the yarn suggested was a lovely bamboo rayon blend with a soft, almost silky feel that gives the final piece a very shimmery dimension, perfect for an ethereal Patronus. There are also helpful hints at the beginning of the project to keep in mind before you get started along with gauge size, measurements, and other helpful pointers.
The directions are clearly written for the most part. I wished there were a few more photos of the piece in progress; at one point I attached part of the head backward when I was confused by the written directions. This led to unpicking a large section after I'd woven in the ends of the yarn and having to start a section over. There is some space in the book dedicated to behind-the-scenes information from the films that could have been better used as process photos to clear up some of the instructions.
Overall, if you're an enthusiastic crocheter and Harry Potter fan, I recommend this book. The patterns are adorable and varied. If you're brand new to crochet, you probably won't want to dive into this right away, but if you have experience, you'll likely be able to handle the skills needed.
I'm looking forward to my next project from this book. The only question is, do I make Hermione's hat from Harry Potter and the Deathly Hallows or her sweater from the Hog's Head? Or perhaps both?
Harry Potter: Crochet Wizardry is available now. Get it from AbeBooks, Amazon, or Bookshop.
A copy of Harry Potter: Crochet Wizardry was sent to MuggleNet by Insight Editions. All opinions belong to the reviewer.
Want more posts like this one? MuggleNet is 99% volunteer-run, and we need your help. With your monthly pledge of $1, you can interact with creators, suggest ideas for future posts, and enter exclusive swag giveaways!
Support us on Patreon