What It Was Like to Take a "Harry Potter" College Course
While all of us would love to attend Hogwarts as witches and wizards studying magical spells, potions, and charms, it isn't fully possible. It is, however, possible to study Harry Potter in college – me being a prime example. I took a class at my local community college, Cleveland State Community College in Cleveland, Tennessee, called Modern British Literature. Through the course, I was able to study Harry Potter in comparison with other modern texts from the United Kingdom. In this class, we completed weekly journal entries, held detailed class discussions about the themes in each book, and attended a study abroad in England and Scotland at the end of the semester. I thoroughly enjoyed this class and will forever remember how great it was to get graded on discussing Harry Potter.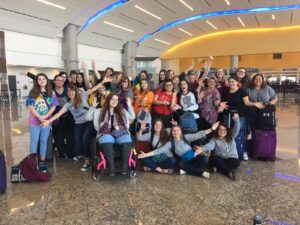 One of the main things we tackled in the class was weekly journal entries in which we each kept a journal for our weekly in-class discussions. In these entries, we compared the Harry Potter novels with other philosophical themes such as innocence vs. experience, SPEW, female heroism, and portrayals of the soul in the novels. Our journals were part of our grade, but they also helped with leading class discussions in giving each of the topics to bring up.
Our class discussions revolved around the chapters we read that week. Class discussions were one of my favorite parts of the course because it was fun to be in a room filled with people with an equally great passion for the story. Our discussions included debates on character morals and hidden themes, as well as writing context and sentence phrasing in the novels. The class was also tasked with an eight-page paper about a Harry Potter topic of our choosing. I chose to write on the themes of love and sacrifice throughout the novels. It was truly the easiest and most entertaining assignment I have ever done.
While the class was certainly entertaining enough, the trip that accompanied the course added to the excitement. After the semester, we took a nine-day trip to Scotland and England. While in Edinburgh, Scotland, we took a trip to Alnwick Castle to see where a majority of Harry Potter and the Sorceror's Stone was filmed. We even attended broomstick flying lessons, which included how to ride one properly and a few flying drills.
Back in Edinburgh, we took a Harry Potter walking tour to see where various inspirations might have come from. This tour included a visit to Tom Riddle's grave, The Elephant House cafe, and the street that might have inspired Diagon Alley. My favorite part of this tour was seeing the bathrooms in The Elephant House. While that may sound odd, it is a major tourism spot for all Harry Potter fans. Every spare space in the small three-stall bathroom is covered in messages to Rowling, quotes from the novels, and messages to the characters themselves. When I say every spare inch, I mean it; walls, light fixtures, mirrors, and pictures were littered with markings from inspired fans.
After four days in Edinburgh, we traveled to London for three more days to finish off our magical trip. This side of the trip was my favorite as it included a visit to the Warner Bros. Studio Tour London, where we spent the whole day seeing props, sets, and costumes. Seeing the aerial model of Hogwarts was truly breathtaking, and I am not ashamed to say that I cried. I wrapped up the day with a cold glass of butterbeer and lots of shopping in the gift shop.
In London itself, we were able to attend another Harry Potter walking tour. This tour included a visit to various filming locations, including two spots from Deathly Hallows – Part One, the corner Ron looks around, and the spot where the double-decker that almost hits Harry, Ron, and Hermione in (I still can't believe it drove by just as we were discussing the scene). We also saw the Millenium Bridge where the Death Eaters attack in Half-Blood Prince and the turnstiles Harry Potter and Arthur Weasley struggle through in Order of the Phoenix.
This college course is one I will never forget; I created lasting friendships through the love of this remarkable story. From arguments over Albus Dumbledore's choices to evaluations of Ron and Harry's friendship, wand dueling in front of Tom Riddle's grave to sipping butterbeer beside the Knight Bus and number four, Privet Drive, it was an experience like no other. While I still wish I could attend Hogwarts School of Witchcraft and Wizardry, I will settle for my version of Muggle Studies.