Designing Harry's Second Year at Hogwarts: Eduardo Lima on MinaLima's Illustrated "Chamber of Secrets"
To celebrate the publication of MinaLima's illustrated edition of Harry Potter and the Chamber of Secrets, MuggleNet sat down with Eduardo Lima to talk about designing Harry's second year at Hogwarts and what is going on with those book spines (sort of).
For Eduardo, Chamber of Secrets began with a book map. This vital part of designing Harry's second year at Hogwarts laid out the moments in the story with accompanying illustrations and interactive elements. The challenge for MinaLima was trying to balance a limited page count with the desire to explore special moments of the story.
In this book, there are amazing moments. The Burrow was one, the Floo Network […], the Whomping Willow with the Ford Anglia [getting] stuck. There are moments like that [where] we say, 'Oh, I'm sorry, even if it's too much at the beginning of the book, we will have to find a way to compensate somewhere else.'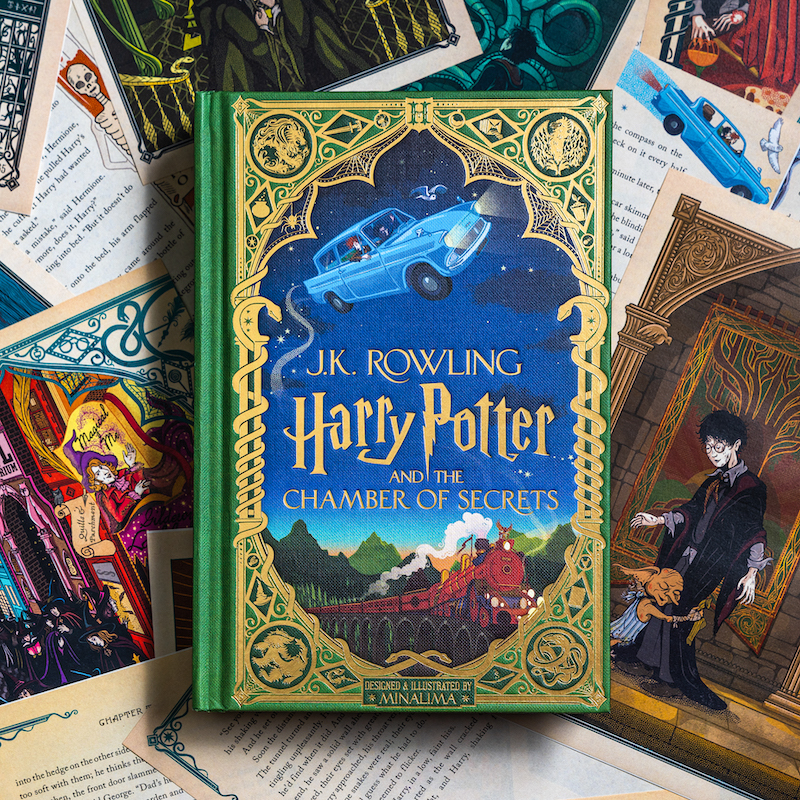 Chamber of Secrets contains eight interactive elements, including a paper-engineered mandrake, Whomping Willow, Basilisk, and Burrow. Eduardo revealed that although eight made it into the book, they originally started with 12 designs.
Usually, we propose up to 12. After [12], that is the boring thing of 'Oh, that's too expensive. That's too bulky.' But I think for this book, we chose the best ones and we didn't miss anything.
One of Eduardo's favorite interactive designs is the Burrow because it represents Harry "visiting a proper family that is happy, crazy, and dysfunctional at the same time." However, when it comes to the other illustrations in the book, his favorites are those moments that are not shown in the films.
The deathday party with all the ghosts and Halloween. We don't see that in the film, so I think to be able to spend more time with the ghosts of Hogwarts is really fun.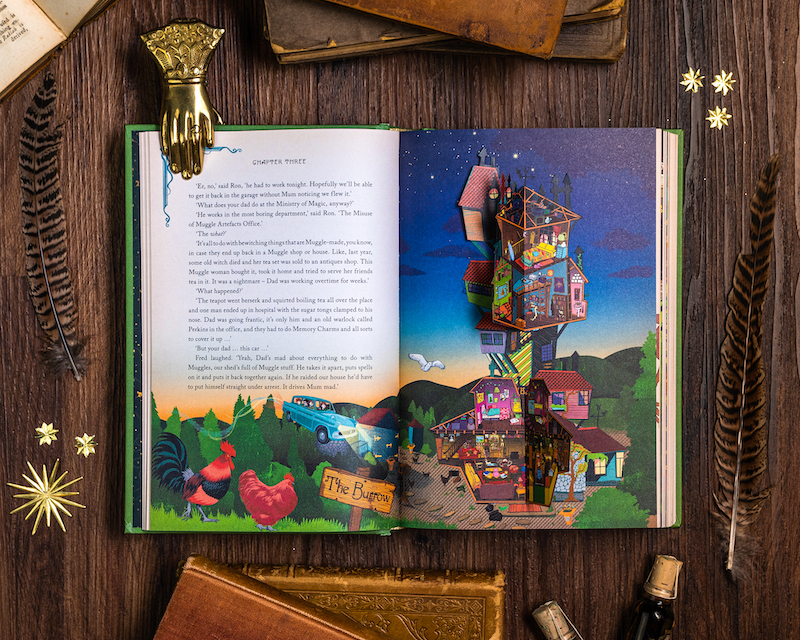 While MinaLima's style is synonymous with the Wizarding World, the designers had to quickly forget about the on-screen Potter universe.
I think now that the studio has a style. As we said before, this book is a collaboration with our beautiful illustrators [who] work downstairs, and we now have a nice language. […] The one thing we didn't want to do was to be too close to the film, and we tried to walk away [from that], but I'm sure there might be some similarities that you see in there because it's who we are.
The desire to not re-create what they have done before is clear in not including the Howler in the book.
The Howler is so iconic, the one we designed for the film, that we didn't want to… And again it was like, 'But that was nice, how the Howler was done for the film. How are we going to do something else?' I think those moments are where you can get, not stuck, but like, 'Oh! I need to rethink this. It's looking too close to the film.'
Even for moments from the movies that have made it into Chamber of Secrets, MinaLima's interpretation allows readers to spend more time exploring locations for hidden details.
The Slytherin common room in the film [is seen] very quickly, and now, at least here in this book, you can spend a little bit more time there to look.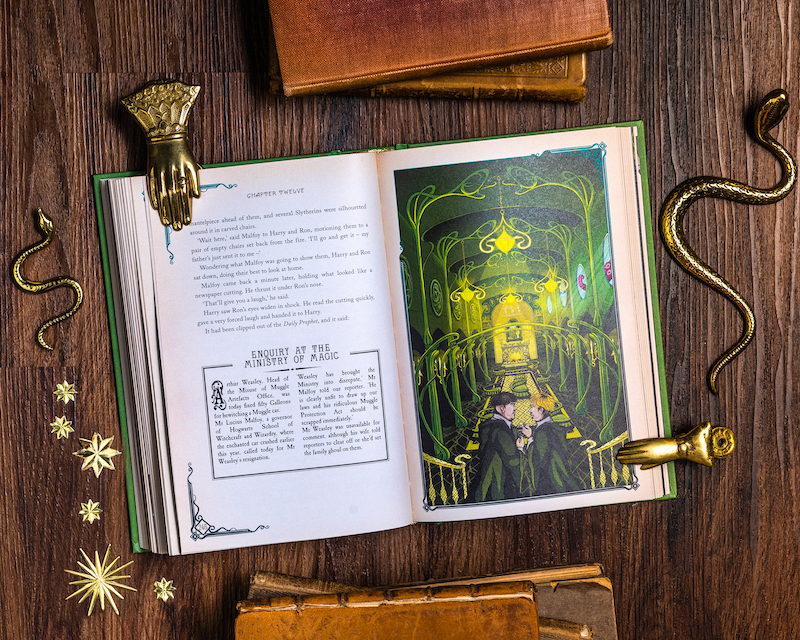 Hidden details and Easter eggs are a staple of MinaLima's Wizarding World work, and we have been assured that there are plenty in Chamber of Secrets, not that Eduardo is giving away any secrets.
Yeah, there are, but I don't want to tell you. Otherwise it would spoil the surprise. […] Especially in the frames of each chapter, there are Easter eggs everywhere.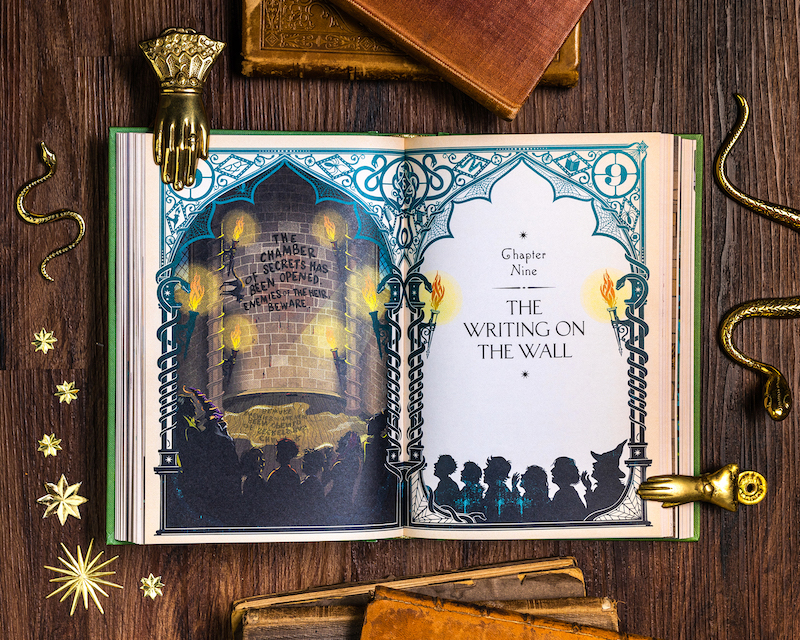 One secret that we won't be finding out anytime soon is the reason behind the color of the book cover and the change in tower design on the spine from Sorcerer's Stone. Eduardo remained tight-lipped about these differences and the possibility of future illustrated Potter books. Still, he suggested that the team has a plan, and "that is how [he's] going to leave that."
Signed copies of MinaLima's illustrated edition of Harry Potter and the Chamber of Secrets can be purchased from the House of MinaLima in London and the MinaLima online store. Unsigned copies can also be purchased in-store at the Harry Potter New York flagship store. Have you got your copy yet?
Want more posts like this one? MuggleNet is 99% volunteer-run, and we need your help. With your monthly pledge of $1, you can interact with creators, suggest ideas for future posts, and enter exclusive swag giveaways!
Support us on Patreon