Potter DIY: Quidditch Centerpiece
Whether you're getting ready for a big birthday bash or looking for budget-friendly Potter wedding ideas, this Quidditch centerpiece is the perfect thing to tie your event together. Bonus – it's super cheap to make and easy to put together. What else can you ask for in a DIY?
What You'll Need:
Styrofoam spheres, about 2 inches in diameter
Gold craft paint (or gold spray paint)
Bronze craft paint
Paintbrushes
Yellow ribbon cut into 6-inch lengths
Sticks and branches (either from a craft store or foraged)
A glue gun
Hot glue sticks
A vase
Cardstock
An empty egg carton
Directions:
Step 1: First up, we're going to paint the Snitches. Do a full coat of paint on all of your styrofoam spheres with gold paint and set them in an empty egg carton to dry. (I didn't have one handy, so I used some crinkled craft paper, but it would have been much easier with a carton.) Don't worry if it looks thin at first; it took me a couple of coats to build up enough paint. If you're using spray paint, this will be easier and much faster. Allow your spheres to dry completely and then give them another coat, rotating so the spots where you held them aren't left white. Allow them to fully dry.
Once your Snitches are dry, take a thin paintbrush and paint on the details of the Snitch using bronze paint or a darker gold paint. I found it helpful to search for a reference image, but basically, this was two ovals with lines beneath them. Allow the bronze paint to fully dry. One coat was enough for me, but you could definitely do more if you wanted more solid lines.
Step 2: While your Snitches are drying, you can get started on the wings. I used the wing template in the gallery below as a guideline. If you'd like to use the same one, print it and set your printer settings to resize the image to 2×3 inches. Cut out your template, then trace it onto a sheet of cardstock. Make sure to trace twice as many wings as you have Snitches since they'll each need two!
Cut out your wings, and paint both sides of the cardstock with the same gold paint as your Snitch. I did two coats on the top sides and one on the bottom, since the bottom won't be as visible, but it'll be obvious if you leave it white. Allow them to dry on both sides (this was much faster than the Snitches themselves). Take your thin paintbrush and bronze paint, and trace the top curve of the wing. Below this, draw a series of straight lines. Don't worry too much about being perfectly straight or even here – we're going for a rustic look, so a bit of blending is actually a good thing. Allow these to dry.
Step 3: Now to put them together! Fold the tab on the flat edge of the wing down toward the underside. Put a thin strip of hot glue along the tab, and press it to the side of your Snitch (in one of the ovals on the top). Do the same on the other side, then leave the glue to dry.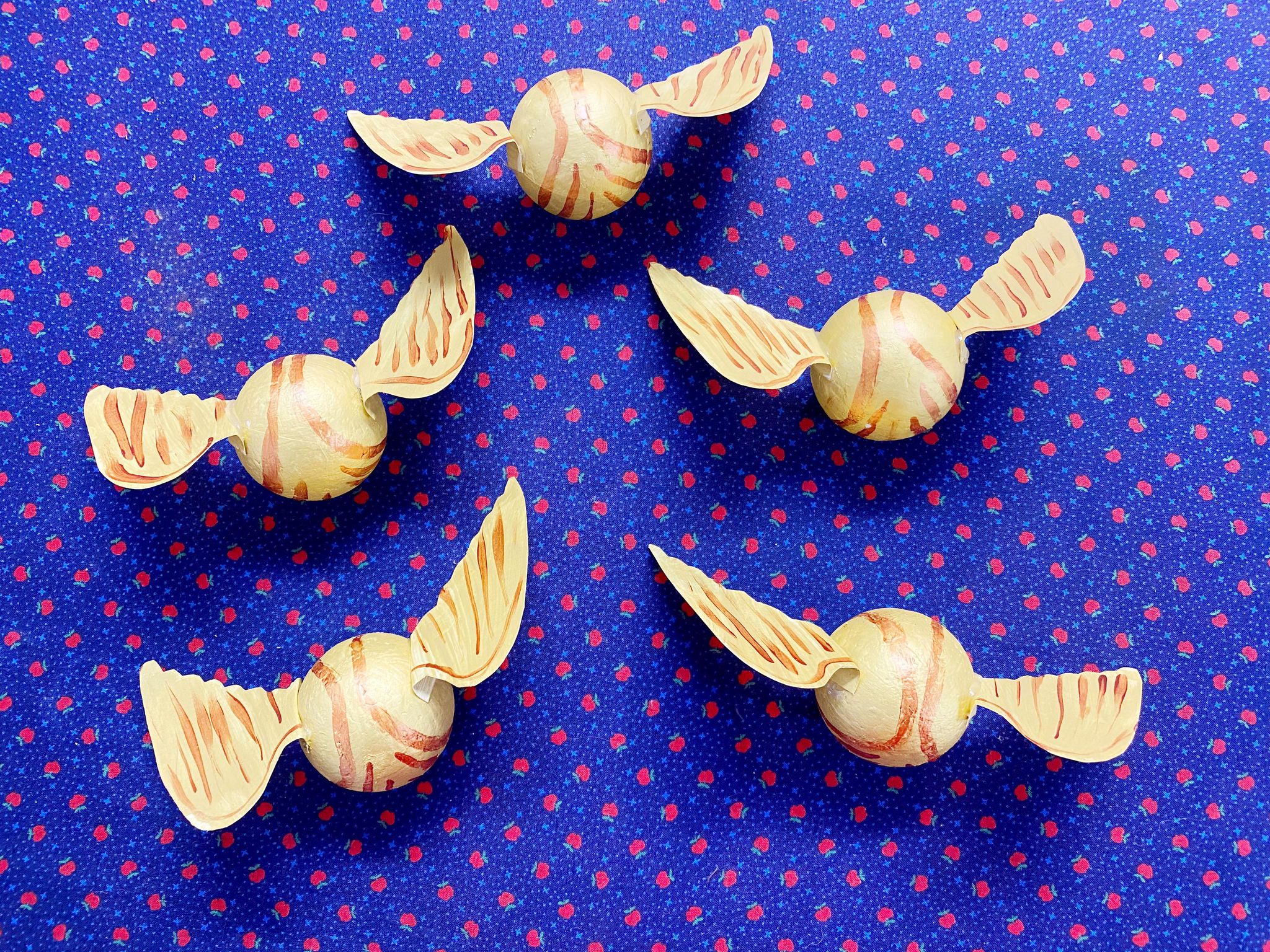 Step 4: Once your Snitches are done, you can start on the broomsticks. If you're using craft sticks, this will be straightforward. If you're foraging sticks, make sure they are completely dry before you start, or the glue won't stick to the bark. Separate the thin pieces you want to use for the tail of the broom from the thicker sticks you'll want to use for the handle and the Snitches. The broom handles should be a range of lengths from 12-18 inches long.
Cut your thinner twigs into lengths of 3-5 inches. Place a blob of hot glue on the broom handle near the end and press a twig into it. Once you've got one down, move around the handle gluing twigs next to each other. Once you've gone all the way around, you can start filling in any gaps left with different sized twigs or just do a whole second round until you get a fullness you're happy with.
When you're finished gluing twigs, place a blob of hot glue and press in one end of your ribbon. Wrap it tightly around the twigs a little up from where they end, placing blobs of glue at intervals and securing the end. Repeat until you have about twice as many broomsticks as you have Snitches.
Step 5: Finally, we get to put it all together! Poke a small hole in the bottom of each Snitch and insert a stick to hold it up, then arrange your Snitches and broomsticks in a vase. Try to create a shape by placing the longer sticks in the middle and the shorter ones around the edges. When you're happy with your arrangement, tie a ribbon around your vase and set it on the table.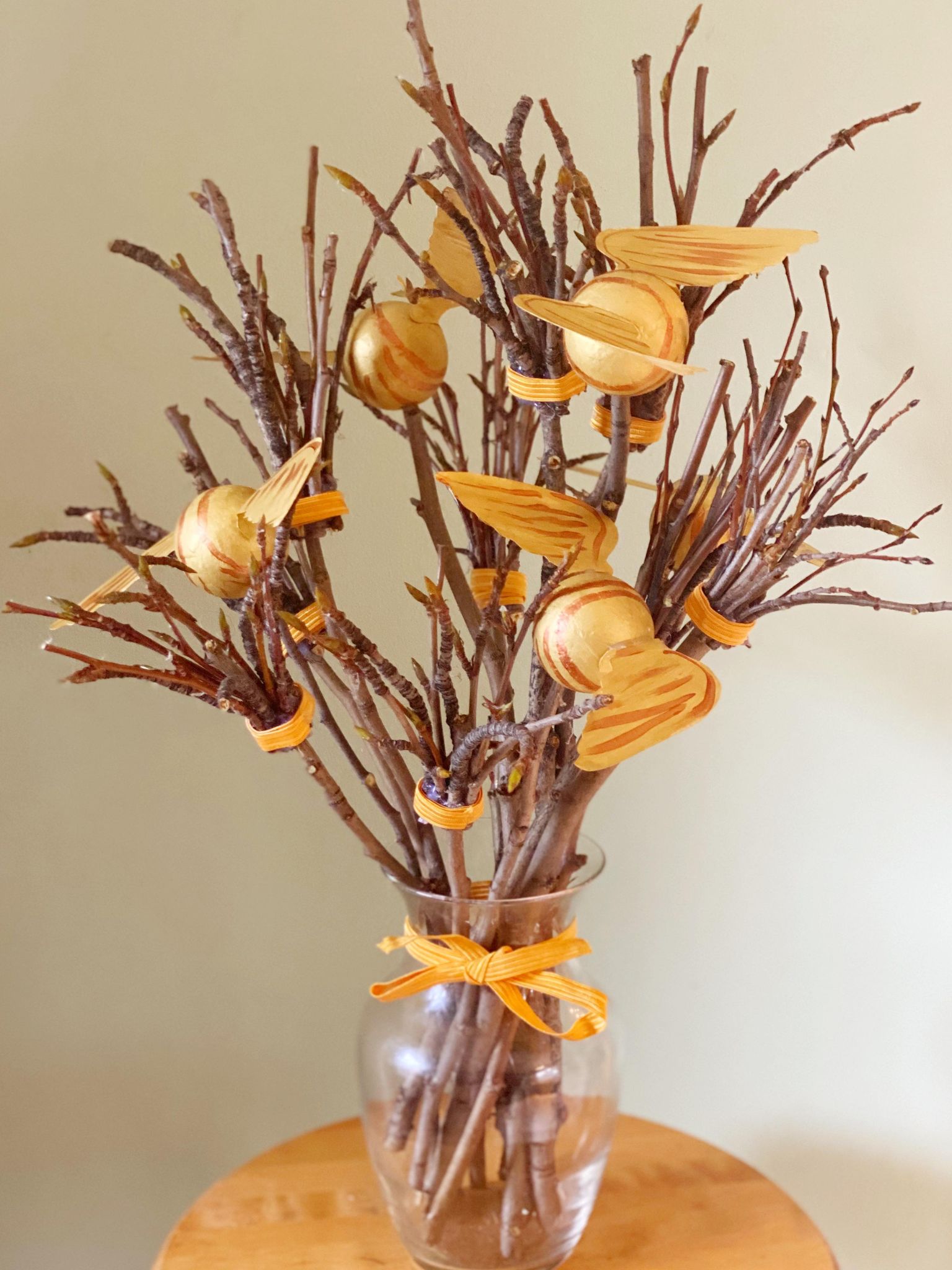 What sort of event would you make one (or several) of these for? Let us know in the comments!