Drarry Incorrect Quotes That Give Me Life Ft. Pansy Parkinson
You know, at this point, it's just so bloody easy to forget that Drarry isn't canon.
Honestly, how can it just be fanon? Do you mean to tell us that all the times they've had clandestine meetings in the Astronomy Tower, all the times they've had saucy, back-and-forth banter, all the times they've defied their respective sides in the war – all of those weren't real? Do you mean to tell us that Ron, Hermione, Narcissa, Lucius, Blaise, Neville – even bloody Pansy Parkinson – were cheering and rolling their eyes at nothing?
Yes, you heard that right; in the brilliant world of fanon, even Pansy bleeding Parkinson ships Drarry. And we can't exactly blame her, can we?
And, in this installment of Drarry Incorrect Quotes That Give Me Life, you'll have the pleasure of seeing Pansy thrown in the chaos!
P.S. Sorry, Pans, but Blaise is not helping you out with this one.
P.P.S. Majority of the incorrect quotes in this article were created by daddiesdrarry.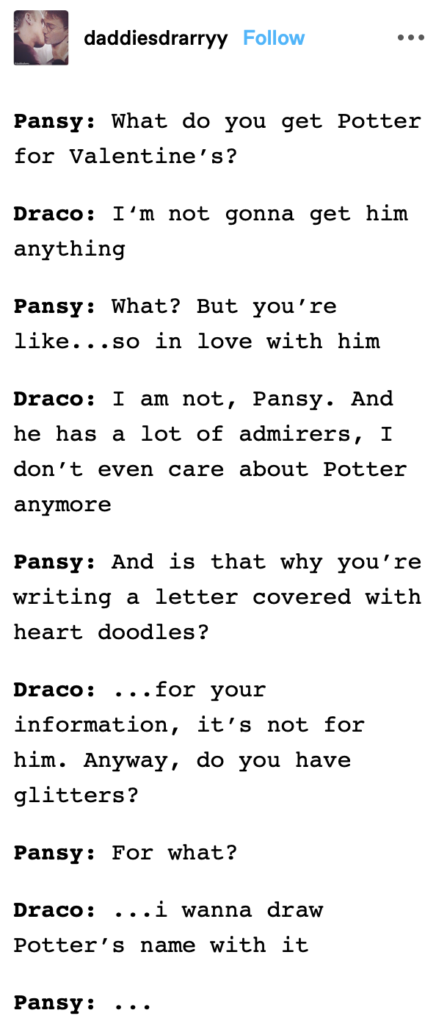 Ah, yes. Valentine's Day may be long over, but that doesn't mean we can't enjoy watching Pansy be annoyed and awed at Draco's cute attempts to woo Harry. Really, just imagine Draco, bent over (not that type of bent over) a desk, pouring glitter on his little card –
Too. Cute.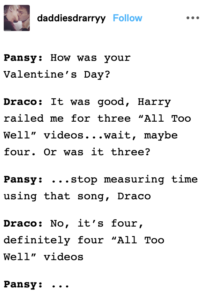 Now this, this, is the bent-over-the-desk moment ya'll were waiting for. And it's to "All Too Well"? Excuse us Swifties as we squeal into our pillows.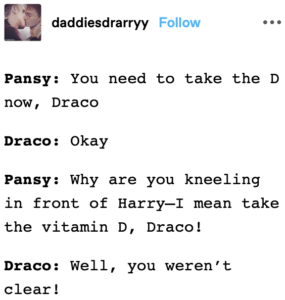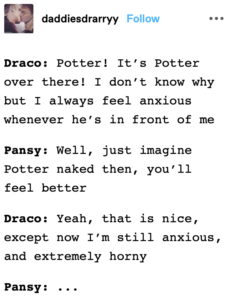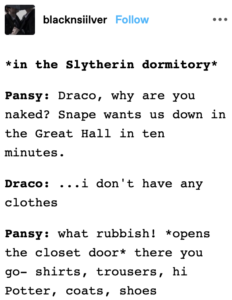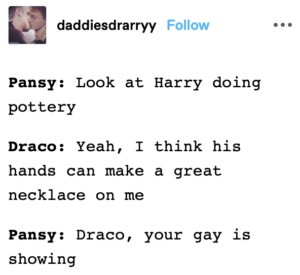 Draco – we – it's not yet – you naughty, little Slytherin. You really, really want to spend some time with Potter, huh? Don't worry, Pansy, Blaise, and the rest of Slytherin's gonna make sure your illicit affair remains secret.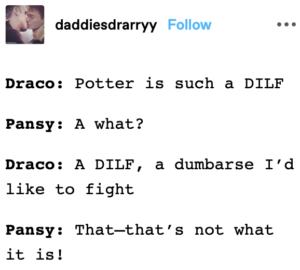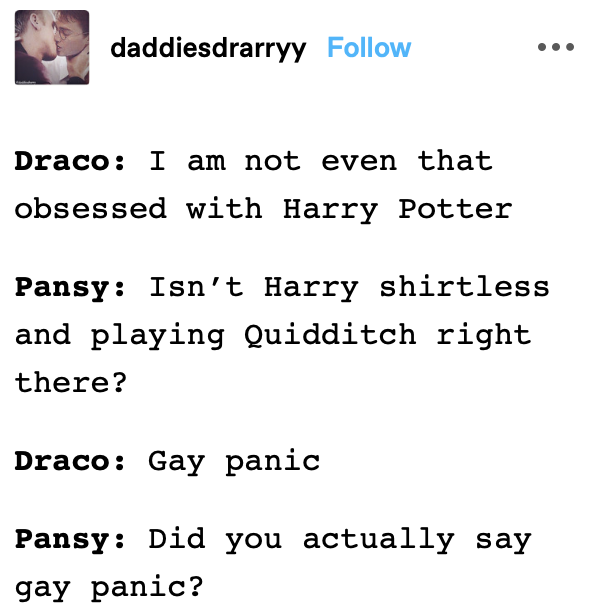 Yes, Pans, you heard right; Draco did say "gay" panic out loud, and he also called Harry a DILF… and we're pretty sure he also knows what DILF actually means, and he was messing with you. Sorry not sorry, Parkinson –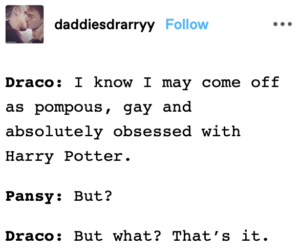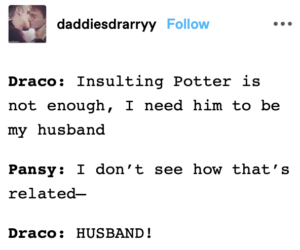 We get it, Draco, we'll back off from your husband (but who's to say it's him we're backing away from) –
Annddddd, we think it's time to give poor Pansy a break. There there, Pans, don't worry, you'll recover from the chaos and be thrown into the fray soon enough.
Don't forget to comment your favorite headcanons and incorrect quotes down below!
Want more posts like this one? MuggleNet is 99% volunteer-run, and we need your help. With your monthly pledge of $1, you can interact with creators, suggest ideas for future posts, and enter exclusive swag giveaways!
Support us on Patreon