Movie Review: "The Lost City," Starring Daniel Radcliffe
by Clare Worley
True: Sandra Bullock and Channing Tatum are each at their best when they're funny, and both at the same time must be funnier. So it is in The Lost City, an ultimately charming adventure comedy with more than a touch of Romancing the Stone, Jumanji, and Nim's Island about it. Of course, every good adventure needs a villain: Daniel Radcliffe's on dapper duty here as a treasure hunter searching for a priceless artifact, no matter the cost.
Bullock is Loretta, a successful romance writer (How successful? Her kitchen is shiny; her bath is huge) struggling with grief and writer's block after her husband's death. Tatum is Alan, the cover model for Loretta's books, who bursts into the movie looking like Fabio and using phrases like "human mummy" more than once. Loretta wants to withdraw from public life, but Daniel Radcliffe's antagonist, Fairfax, forces her to use her archaeological knowledge to find an artifact on a remote island (trust me, the actual details don't really matter). Loretta = kidnapped; Alan = determined to be a hero, no matter how unqualified he is. Hijinks, quite naturally, ensue. If you've seen anything in the action/adventure-comedy genre before, you'll know almost all the beats before you reach them.
It isn't news that Bullock and Tatum are good at screwball comedy, but they're a fun combination. Radcliffe looks like he's having a blast in the gorgeous jungle scenery, and his cold-blooded, smirking, totally amoral billionaire could serve as a neat Succession audition tape if he wanted it to.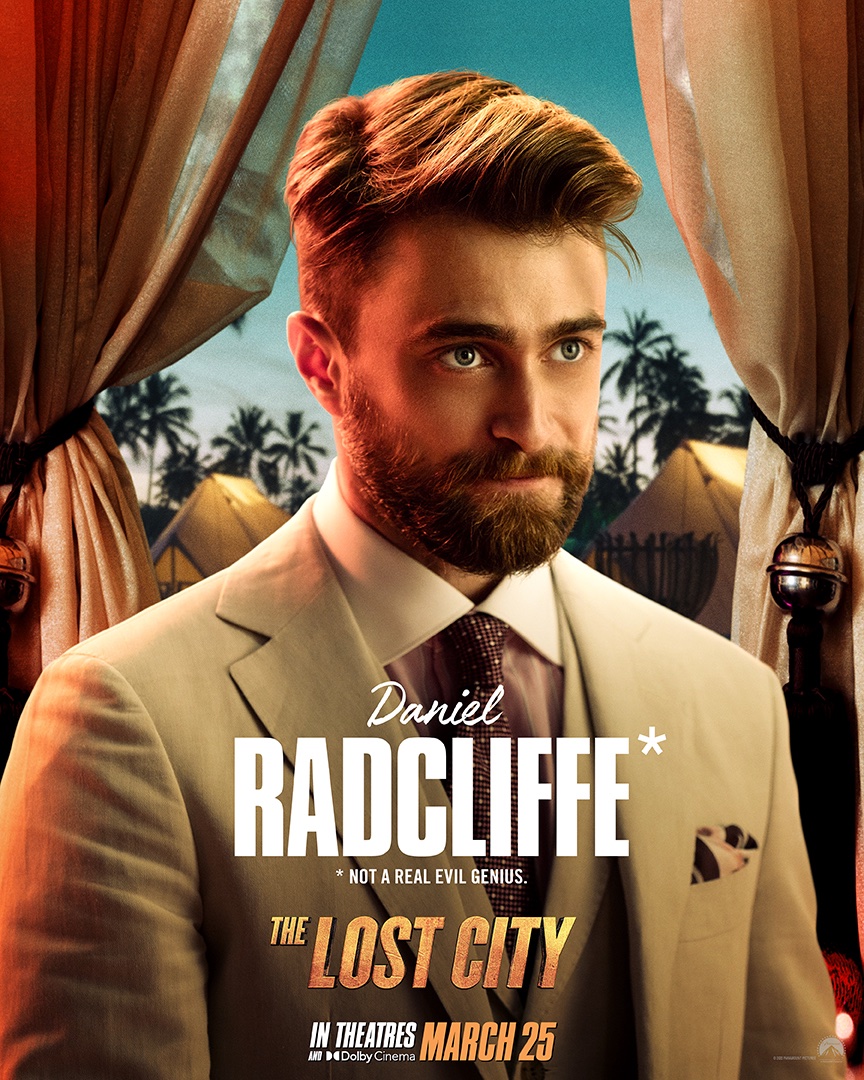 In support, Da'Vine Joy Randolph as Loretta's publisher, Beth, is a show-stealer in a role that's a step up from "sassy Black sidekick" at least.
Meanwhile, Brad Pitt's turn as The-Ghost-of-Hemsworth-Yet-To-Come is laugh-out-loud funny. His scenes with Tatum are some of the funniest in the film.
Now for the downsides: not all the comedy belongs here. There are some smutty jokes – it's not called the "Lost City of D" for nothing – which are amusing in isolation but don't feel like they fit in a film that is more sweet than salty. The social media assistant makes jokes at least five years out of date, and the character adds less than she detracts, sadly.
I'm also disheartened that Nick Cave and The Bad Seeds' song "Red Right Hand" (aka the Peaky Blinders theme) is becoming the 2020s edition of Leonard Cohen's overplayed-to-irrelevance "Hallelujah" and is sorely misplaced as a musical cue here.
The film's predictability is only a downside if you make it so, and there are a few moments of genuine "what the actual?!" It's solidly set in a Hollywood Jungle: the creepy-crawlies only come out on cue – though it's quite a cue. Although it avoids feeling like it's 90% green-screen (oh hai Death on the Nile), there's an artificiality that adds to the overall sense of low stakes throughout the film.
The Lost City is at its best when in "wacky good fun" mode, is less accomplished in moments of sincerity, and may be forgotten by most within a few months, but spending nearly two hours with this company is no chore.
The Lost City opens exclusively in theatres on March 25 in the US and April 15 in the UK.
Want more posts like this one? MuggleNet is 99% volunteer-run, and we need your help. With your monthly pledge of $1, you can interact with creators, suggest ideas for future posts, and enter exclusive swag giveaways!
Support us on Patreon