Merch Madness: Baby Niffler Plushies, Hogwarts Silver Coins, and Collectible Pins
The merch pile is climbing higher and higher as the summer gets hotter and hotter. Regarding merchandise, it's been a great season to get your hands on some awesome stuff. From San Diego, California, to Orlando, Florida, we've spotted the best products a Potter fan would open their bags for. With that in mind, let's get started.
Baby Niffler Plush
Ohh, the baby Nifflers are so cute you could just squeeze them! Wild and mischievous little things, the gold-loving critters of Fantastic Beasts have been immortalized as plushies. Three color options have been found at Universal Orlando Resort's CityWalk shops. All brown, black, and gray Niffler varieties cost $18. It's probably best that shoppers take home all three of these little guys because if you buy just one, it's going to be lonely.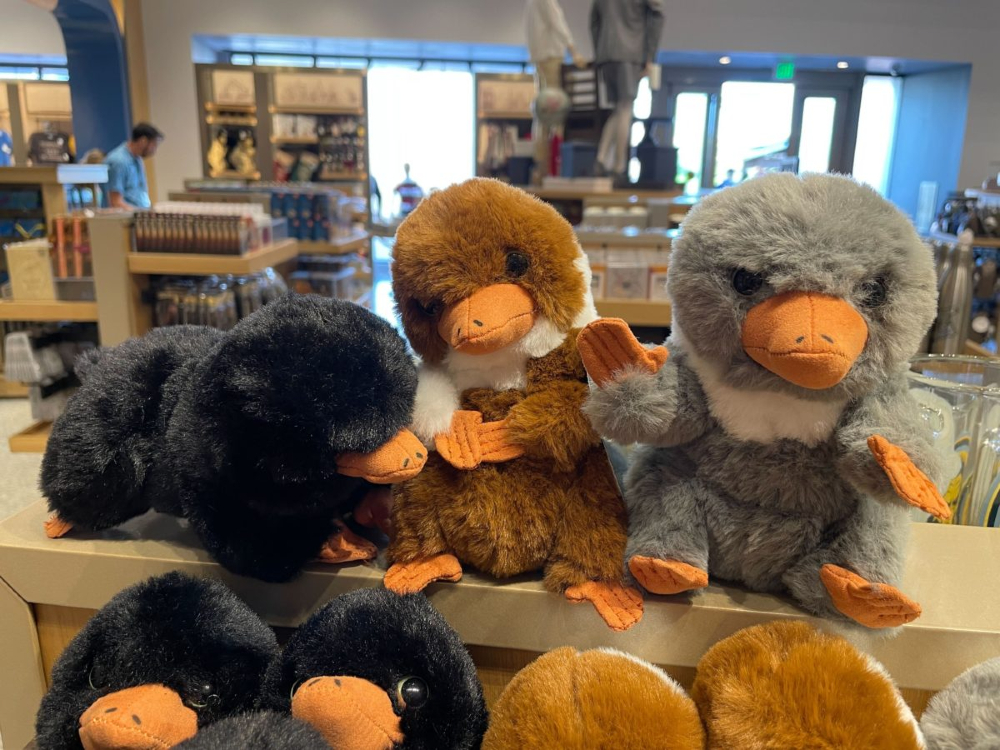 Loungefly Honeydukes Mini Backpack
Famous for its colorful fandom-based backpacks, Loungefly has more than made a name for itself in the merchandise realm. One of the latest designs matches the sweet tooth of every Honeydukes fan. It's sprinkled with cute candies, chocolate frogs, and beans. The Honeydukes sign is the zipper to the front pocket, and you'll find the signature Loungefly emblem right in front near the top of the backpack. This design has a price tag of $82, and you can find it at Universal Orlando Resort's CityWalk shops.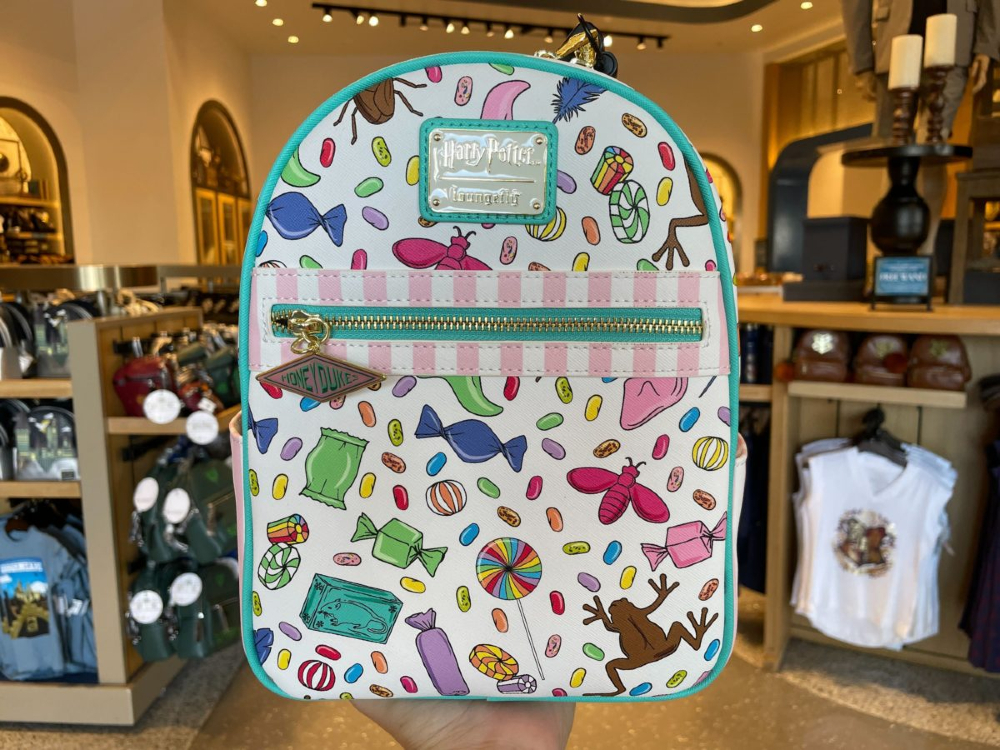 Collectible Coin Album
Pressed pennies were often one of the cheapest and easiest ways to bring home a souvenir after a day of adventure. While pressed penny machines are still around, you no longer have to carry them in your pocket. You can find these foldable wallet-sized coin albums at any of the three pressed penny machines around the Wizarding World of Harry Potter. The booklet costs $12, and there are 24 unique coin designs between all three penny machines. If you press all 24 pennies, that's another $15 for the complete collection. It makes for a great display case when you get all your coins pressed, not to mention it will keep them nice and safe for years to come.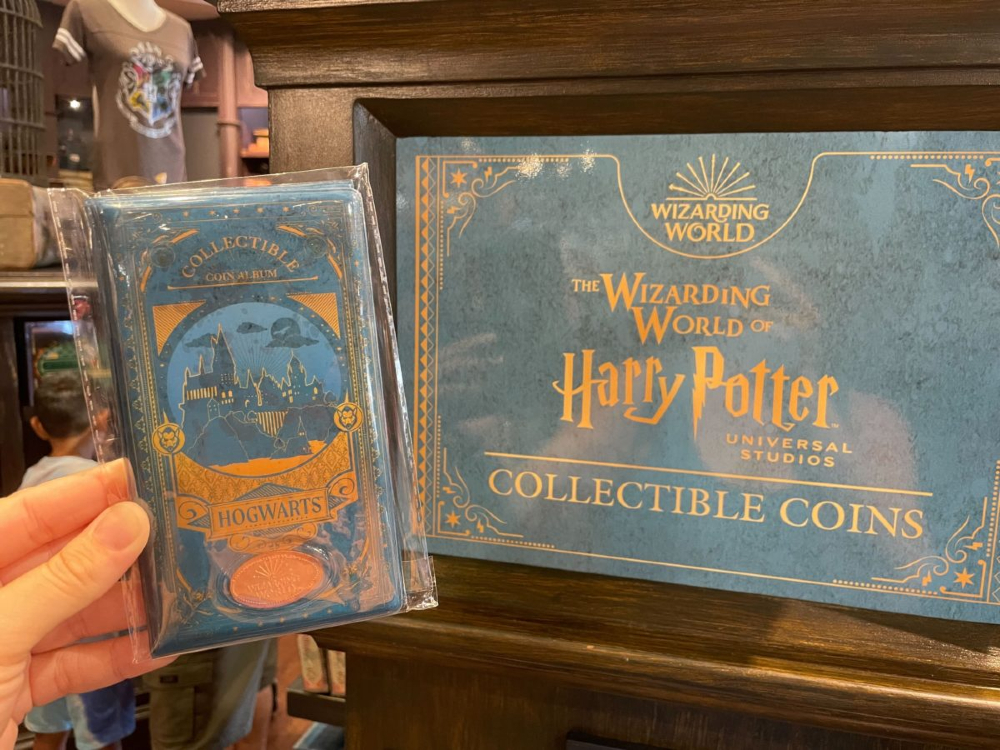 The Great Hall Silver Coin
New Zealand Mint is a cherished place for coin collectors. Two new coins have been added to the Harry Potter collection, and supplies, as always, are limited. The Great Hall silver coins feature one of Hogwarts' most communal locations. Both show the Great Hall in exquisite detail, but the size is the biggest difference between the two coins. One is a larger 3 oz. piece, and the other is a smaller 1 oz. piece. All four House tables can be seen along with the staff chairs at the front of the hall. If you look closely, you'll even see the four House points counter to the right of the staff chairs. The 3 oz. coin costs $299 with only 1,000 of this kind minted, while the smaller 1 oz. coin costs $99 with 3,000 minted.
Dumbledore Enamel Pin Set
Pins are yet another small way fans show their love for their fandom. Those who follow the Harry Potter Fan Club Pin Seeking collection can tell you that. As new pins and sets make their way to the public, we just had to share one of the latest sets that are now available. The Dumbledore Essentials Pin Set consists of five pins and will give you all the tools necessary to run Hogwarts. Okay, maybe you won't actually be headmaster with these pins, but it'll make you feel like one. The Elder Wand, a Pensieve, a memory flask, the Deluminator, and Dumbledore's half-moon spectacles make up this pin set, and they're all beautifully colorful and have gold outlining. This set also includes an "Enchanted Key that can be scanned using the free Harry Potter Fan Club app to unlock hidden surprises and extra details about the pins." For $65, this set is now available for purchase from the Harry Potter Fan Club website.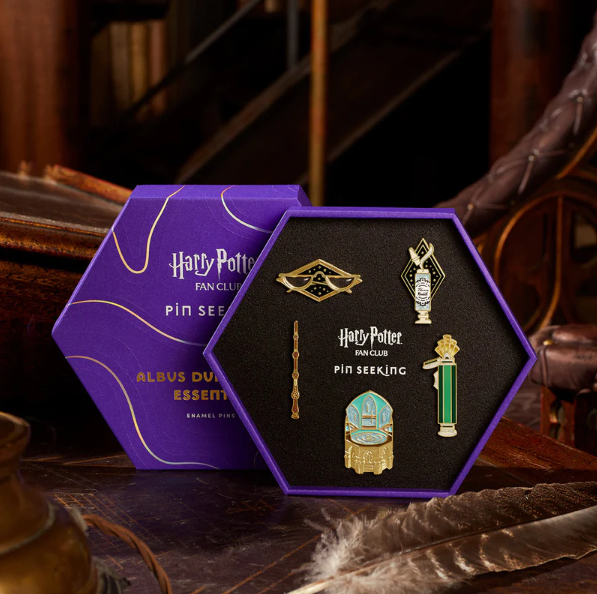 Acceptance Letter Locket Enamel Pin
We know it's tough having never received your Hogwarts acceptance letter. Trust us, we know the feeling. But perhaps this tiny version of it can quench some of that thirst. Harry Potter Fan Club Pin Seeking has an enamel pin that opens up to reveal Harry's letter from Hogwarts. While closed, the pin shows a gold envelope with a bright-red stamp and the Hogwarts school crest. Once you open the pin, green lettering reveals Harry's letter. This collectible pin is $18 and includes an Enchanted Key to find "hidden surprises" from the Harry Potter Fan Club.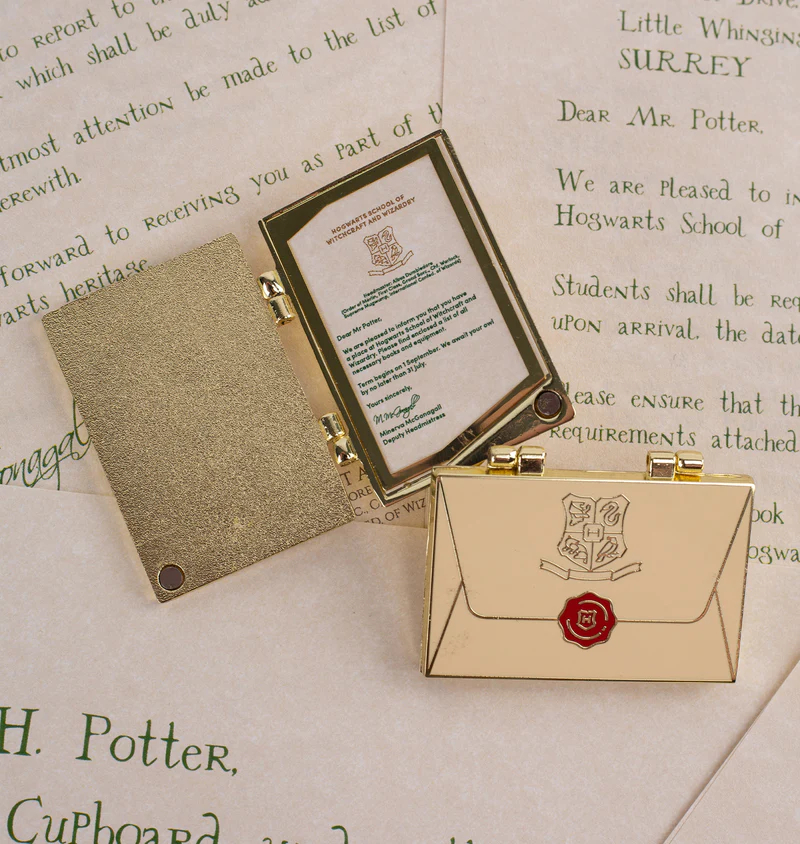 Albus Dumbledore's Fantastic Beasts Wand
We never think about Dumbledore's wand before he obtained the Elder Wand. But he did have a different one, and in the Fantastic Beasts franchise, we get a little peak. Now, you can add this same wand to your own collection. Universal Studios Hollywood recently started selling Dumbledore's Fantastic Beasts wand. It can be found in the Upper Lot's Universal Studios Store and has a price tag of $59 with the interactivity feature or $49 without the interactivity feature. This interactivity allows the wand owner to venture around the Wizarding World of Harry Potter casting spells that will actually get a reaction from a specific object. The wand is black with a silver pommel and has an intricate woodwork design right in the middle. Runes are carved into the handle and give the wizard extra protection in their endeavors, or so say the myths of the runes.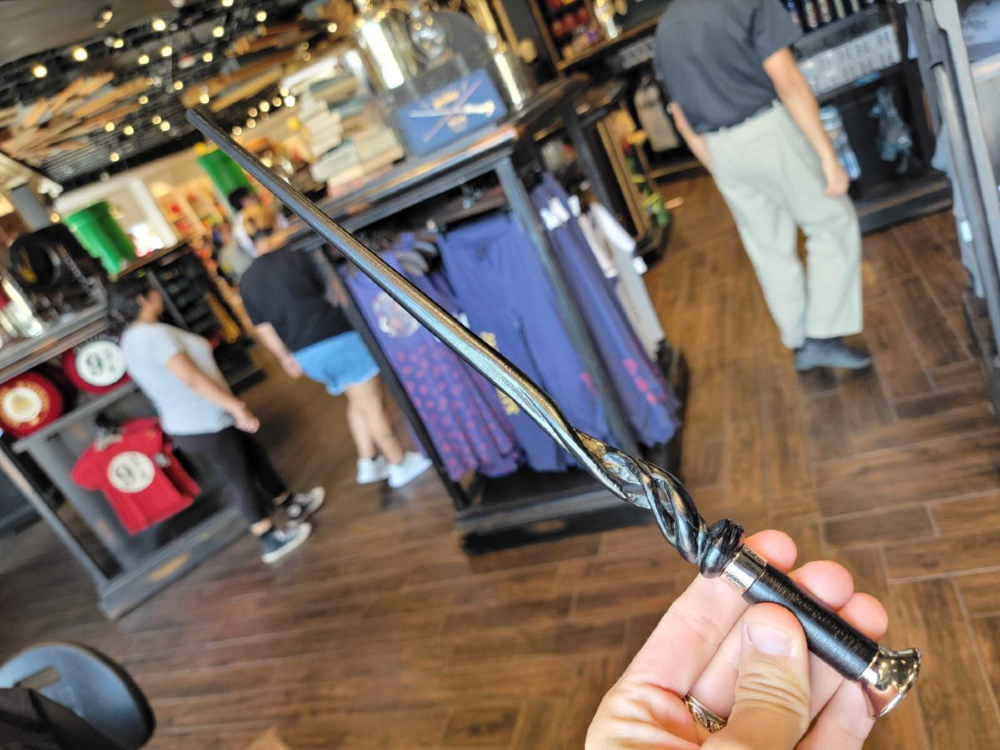 Hogwarts Mugs, Glasses, and Trivia
If Hogwarts were to sell ornamental drinking vessels, these would be the ones on the shelf. Universal Studios Hollywood has some new products just in time for the return to Hogwarts. A Hogwarts crest glass is perfect for sipping a chilled adult potion or perhaps a nice icy everyday beverage. This glass costs shoppers $10.95. If hot beverages are more your style, grab your House mug, and cheers to Hogwarts. These four special mugs don't feature the House crests; instead, they show off what's special about each House. For example, the Slytherin mug includes the words "Ambition, Pride, Cunning" around a green alternate crest.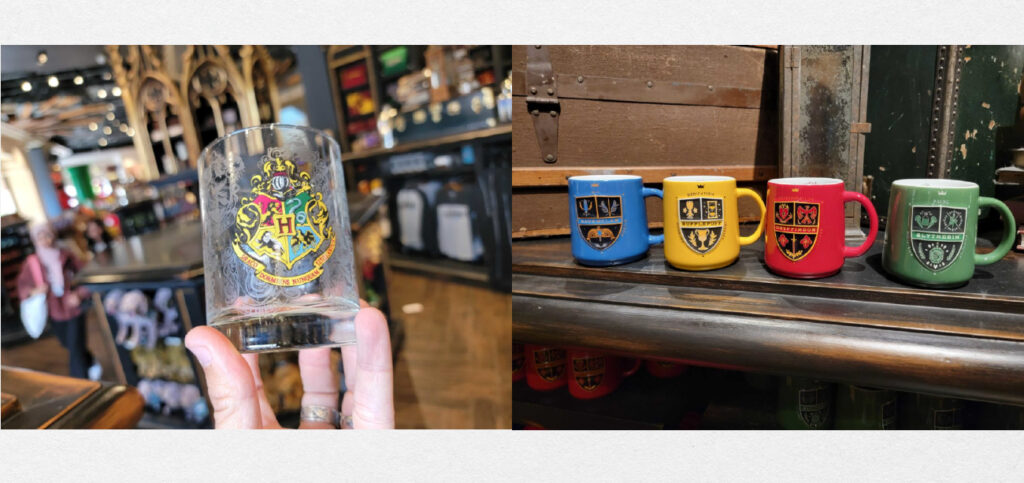 While you're hanging out with your friends and sipping on your beverages of choice, why not whip out a fun, quick game of trivia to make the time go by? The Hogwarts Trivia Quiz includes 200 question cards about what Hogwarts students might need to know about their school. The game is small enough to carry with you to quiz your friends on the go. For $17, that's not a terrible source of entertainment by any means.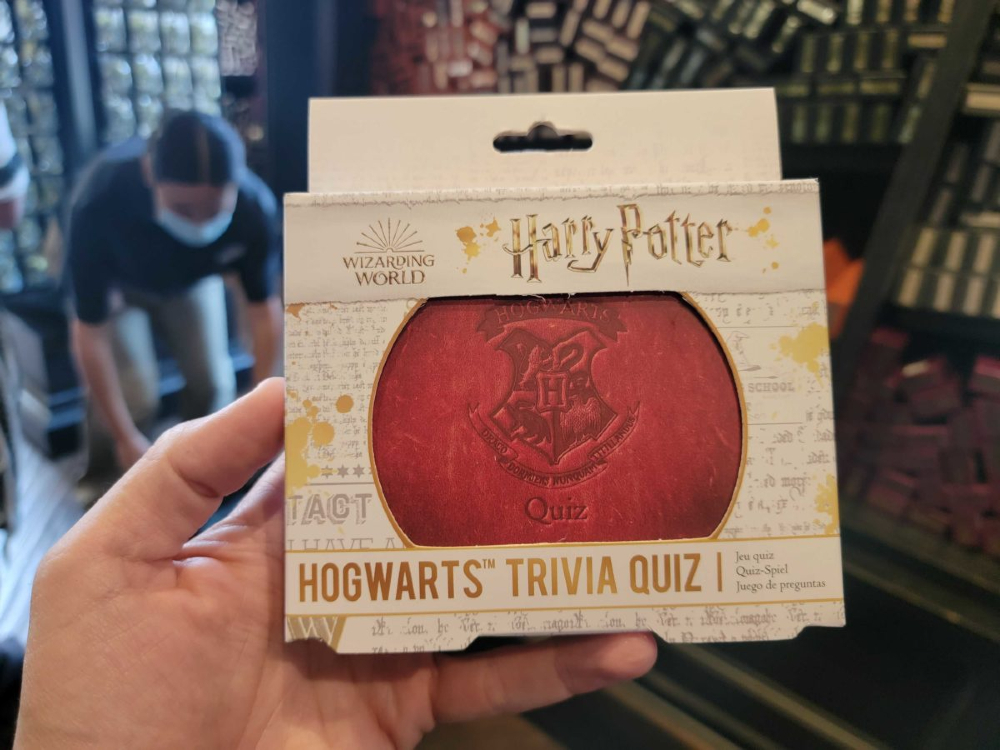 Hogwarts mugs, glasses, and trivia quiz packs can be found at the Universal Studios Store on the Upper Lot.
Those are all the products we have for you today. But come back soon for more from Merch Madness. Do you have any of these products? How do you like them? Let us know below.
Want more posts like this one? MuggleNet is 99% volunteer-run, and we need your help. With your monthly pledge of $1, you can interact with creators, suggest ideas for future posts, and enter exclusive swag giveaways!
Support us on Patreon