Top Niffler Moments
Spoiler Warning: This contains spoilers for Fantastic Beasts: The Secrets of Dumbledore.
There are many fantastic beasts in the wizarding world, but our favorite beast has to be the Niffler. When Teddy first appeared in Fantastic Beasts and Where to Find Them, we immediately fell in love with him. And we couldn't help but squee when we saw the baby Nifflers for the first time. With three Fantastic Beasts films out now, there are many amazing Niffler moments. Here are just some of our favorites.
1. Teddy Breaking into the Bank
This was our first introduction to Teddy, who wasn't named at the time, and it was one moment we couldn't help but laugh at. After escaping from Newt, Teddy finds himself in what could only be described as the happiest place on Earth for a Niffler: a bank. Surrounded by gold and all things shiny, Teddy can't help but fill his pouch up with everything that he loves. The look of defiance that he gives Newt while he tries to push one last gold bar into his pouch is only rivaled by Newt shaking him upside down to get all the stolen gold back. This moment is one we adore since it truly gave us an insight as to what to expect from this Niffler.
2. The Baby Nifflers' Escape
This scene is probably one of the cutest scenes in the entire franchise. There is not just one baby Niffler but four of them — and four Nifflers means four times the chaos that Teddy can cause. Returning home, Newt finds that the babies have escaped and are wreaking havoc within the kitchen, from stealing the cord for the lamp to popping a bottle of champagne. Watching these tiny Nifflers having the time of their lives and Newt and Bunty outsmarting them to put them back in their home is one of the most enjoyable moments of Fantastic Beasts: The Crimes of Grindelwald.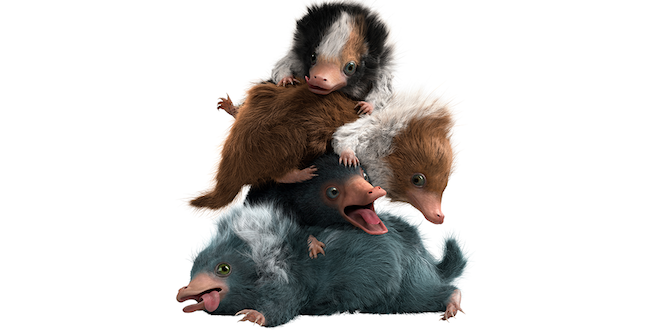 3. Teddy Helping to Track Down Tina
After Newt and Jacob go to Paris, Newt uses Teddy to track Tina's movements and work out what she was doing in Paris. This is a moment that we love since it shows that Teddy can behave himself — sometimes — and isn't always running off in search of something shiny. It also shows that Teddy has many more talents than just stealing shiny things and that when push comes to shove, he is always more than happy to lend Newt a helping hand (or snout).
4. Teddy Stealing the Blood Pact from Grindelwald
This is the moment we truly see what Teddy is capable of. Up until this moment, we never really see him helping Newt (with the exception of tracking Tina). We mostly see Teddy causing chaos and making Newt's life more difficult. But it is this moment when Teddy steals the blood pact vial from Grindelwald that shows how much of a hero Teddy is. Stealing this pact and returning it to Dumbeldore allows him and his first army to make their move against Grindelwald to help bring peace back to the wizarding world.
5. Teddy and Pickett to the Rescue
In The Secrets of Dumbledore, Teddy and Pickett become one of the most iconic duos within the wizarding world. After breaking out of their cages in Erkstag prison (which involves Teddy ignoring a falling Pickett in favor of the coins around him), the two of them charge into action. Between them, they are carrying a wand and the tie that is secretly a Portkey, allowing Newt and Theseus to escape from the manticore and return to Hogwarts. This moment is cute and hilarious as well as showing just how important they are as characters within the Fantastic Beasts franchise.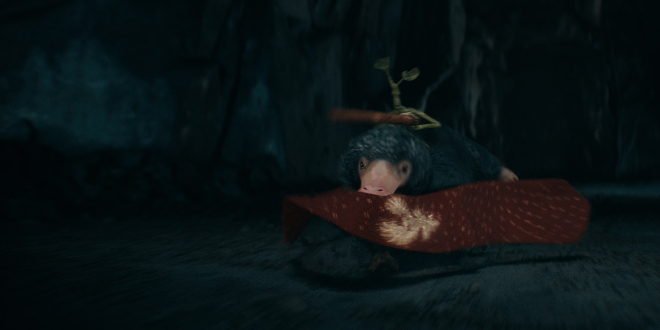 6. Teddy Breaking into the Jewelry Store
This moment is definitely one of the funniest moments of Fantastic Beasts and Where to Find Them. While looking for his missing beasts, Newt passes a jewelry store. At first, he walks past it and thinks nothing of it. But he does a double-take and returns to look through the window — and sees that Teddy is standing there with jewelry hanging off his arm trying to pretend that he's a statue. Everything about this scenario is hilarious, from the moment they make eye contact through the glass to the destruction caused as Newt tries to catch him, culminating in Teddy flying through the air surrounded by the jewels he loves so much. Unfortunately for Teddy, this time, he doesn't get to keep all the goodies he discovered, but his joy at them brings a smile to our faces.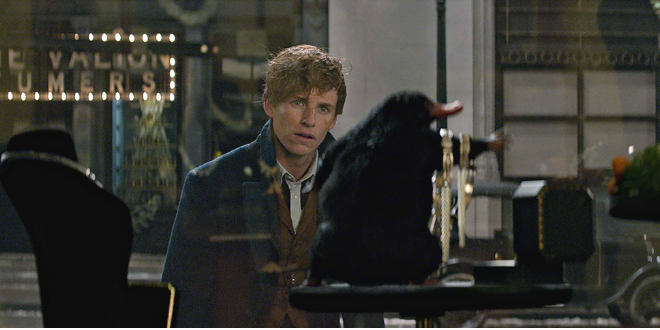 These are just some of our favorite Niffler moments. Do you agree with our list, or do you have any other moments that you love? Let us know in the comments below.
Want more posts like this one? MuggleNet is 99% volunteer-run, and we need your help. With your monthly pledge of $1, you can interact with creators, suggest ideas for future posts, and enter exclusive swag giveaways!
Support us on Patreon