Defy Death Eaters and Enjoy a Magical Light Display at This Year's "Dark Arts at Hogwarts Castle"
Spooky season is almost upon us, and Universal Orlando Resort is once again treating Harry Potter fans to a series of frightening and spectacular events this year with the return of the "Dark Arts at Hogwarts Castle" experience.
Any Potter fan knows that there's nothing quite as satisfying as getting scared out of your wits when Death Eaters suddenly appear around a corner while you're walking the streets of Hogsmeade. This is exactly what this event is all about, and in addition to Voldemort's followers prowling the streets, fans will also be treated to a spectacular light show that will be projected onto the walls of Hogwarts Castle. These projections will feature various Dark creatures from the wizarding world. Fans can expect to see Voldemort, mountain trolls, and even Dementors, among other things. The last projection will feature a stunning Patronus as a reminder that light always drives out darkness.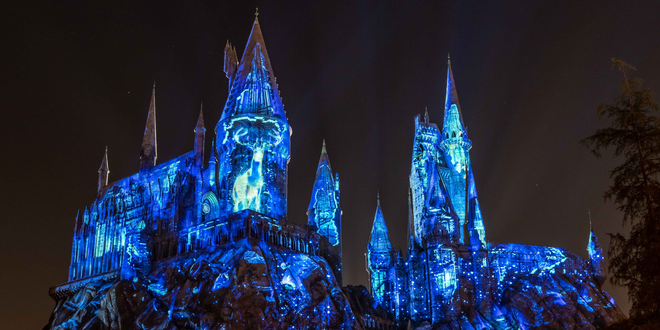 This event will run on select nights from September 16 to October 31. Once you've defeated a few Death Eaters, you can spend some Galleons on new merchandise that features the Dark Mark to commemorate the experience. There will be T-shirts, mugs, hats, and lanyards. Death Eater masks will also be available, which might just be the perfect addition to your Halloween costume.
We're very excited that this amazing experience is returning this year. For more information on the "Dark Arts at Hogwarts Castle" experience, you can head to Universal Orlando's website.
Will you be joining in the fun? Let us know in the comments.
Did you know that MuggleNet is 99% volunteer-run? With your monthly pledge of $5, you can provide monetary support to our volunteers while becoming eligible for exclusive swag giveaways!
Support us on Patreon