Soundtrack Teaser and Music Video for "Hogwarts Legacy" Released
With just a couple of months before the worldwide launch of Hogwarts Legacy, Warner Bros. Games and Avalanche Software have released a song from the game's soundtrack and an accompanying music video.
"Overture to the Unwritten," from composers Chuck E. Myers, J. Scott Rakozy, and Peter Murray, features the Seven Springs Symphony Orchestra & Choir bringing the sounds of Hogwarts Legacy to life with some familiar melodies while debuting something wholly new and unique to the video game. In a press release from Hogwarts Legacy, "Overture to the Unwritten" is described as a composition that "conjures a magical melody reminiscent of the Wizarding World fans are accustomed to while evoking an older descant from ancient lore." Portions of the piece are cheery and inviting, while other parts foreshadow the mystery and darkness that come with the shady side of magic.
The music video for "Overture to the Unwritten" features the orchestra and choir members as they perform the piece in its entirety, with authentic gameplay footage projected around them. More detailed cutscenes offer viewers a closer look through the grounds of Hogwarts, Hogsmeade, and other areas of interest that players will eventually be able to explore.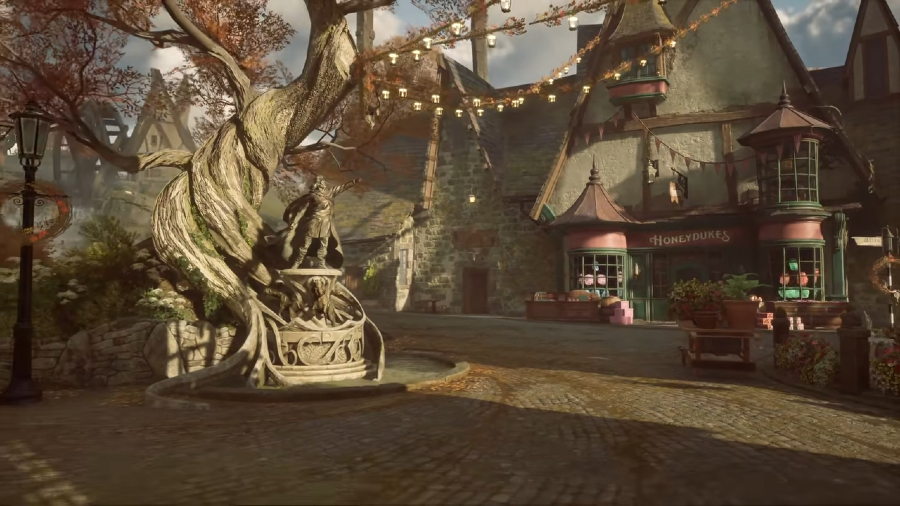 A second video accompanied the release of the "Overture to the Unwritten" music video, titled "Hogwarts Legacy – Making the Music," detailing the production of the musical piece. Peter Murray commented that nostalgia played a significant factor in creating the song.
I wanted to hearken back to the nostalgia factors. That was the biggest thing for me, was I feel like today's game scores, it's a lot of texture-based scores. And so I wanted to bring back the heroic fanfares of trumpets or melodic elements with the violins and bring back the magic and the childlike awe and wonder.
Chuck E. Myers applauded composer John Williams, who is known for writing the music of the Harry Potter films, for his brilliance in writing "Hedwig's Theme" and said the classic tune was a jumping-off point to composing a new musical piece "that might have been an earlier version of 'Hedwig's [Theme].'"
Murray delved into the complex shifts in tone that can be heard throughout "Overture to the Unwritten." Given that parts of Hogwarts Legacy will dabble in Dark Magic, Murray said it could be "tricky to know what to write" for those moments musically.
Some of these darker moments [are] balanced with some real beautiful music, and so the music does go through quite a shift. It goes from big, powerful combat music to very slow, very emotional strings.
"Overture to the Unwritten" is now available to stream online or purchase digitally. The remainder of the Hogwarts Legacy soundtrack album will be made available with the game's release on February 10. For music lovers all around, a second album, Hogwarts Legacy (Study Themes from the Original Video Game Soundtrack), is also being released and will focus "on more ambient, chill, relaxing music that is ideal to listen to while studying for classes at Hogwarts or any school."
Hogwarts Legacy is now available for preorder on PlayStation 4 and 5, Xbox Series X|S and One, PC, and Nintendo Switch. An official release date for the Nintendo Switch has yet to be confirmed.
Did you know that MuggleNet is 99% volunteer-run? With your monthly pledge of $5, you can provide monetary support to our volunteers while becoming eligible for exclusive swag giveaways!