"Harry Potter: Hogwarts Mystery" Is Expanding to Life Beyond Hogwarts
Harry Potter: Hogwarts Mystery is launching its biggest expansion yet. For the first time, players will be able to follow their characters' lives beyond the walls of Hogwarts and into the grown-up wizarding world.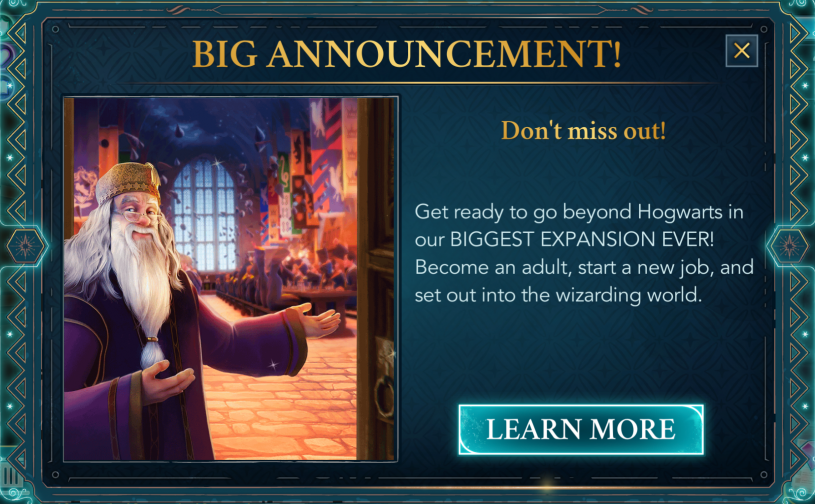 Jam City announced a "thrilling new chapter that offers an even richer, more immersive Harry Potter experience" and all-new content. The expansion will include more than 25 new chapters in Volume 1, 20 characters aged to adulthood, 15 new environments to explore, 14 repeatable projects, and new social encounters.
Adulthood in Hogwarts Mystery comes with a few perks too. Players will be able to pick a neighborhood to live in and decorate their very own flat however they please. But a brand-new flat isn't even the best thing this expansion has to offer. Since graduation is now in the past, it's time to start looking for a job. That sounded a little too familiar to real life until we learned that characters are recruited by Mad-Eye Moody for a top-secret position that will be full of mysteries to explore. To customize how characters will continue their careers, players will have access to specialization features "to shape how they play and which path they'd like to pursue."
The graduating characters will be the Hogwarts class of 1991, who will help prepare acceptance letters for the next batch of first years. Players should keep their eyes peeled for any Easter eggs since "they may even see a few familiar names."
So study up for those NEWTs and you'll be ready to start a new Hogwarts Mystery life after Year 7. The expansion update will launch this July. Until then, players who log in every day through July 27 can collect graduation-themed rewards, and some of the content in this expansion will even be available before players graduate.
Harry Potter: Hogwarts Mystery is free to play from your mobile app store.