Camping Out for JKR Tickets in NYC – A Fan's Story and Ultimate Reaction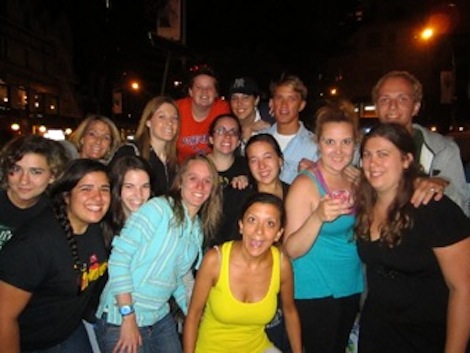 When Harry Potter author J.K. Rowling announced a rare visit to New York City to promote her soon-to-be-released adult novel The Casual Vacancy, fans began making their plans to ensure they were in attendance when the author arrived at the Jazz at Lincoln Center complex. The most important first step in the process: making sure they got tickets!
Several fans began this process by camping out at JALC and to ensure they were the first ones in line. They arrived on Friday evening, almost a full three days prior to the official opening of the ticket office. One of those dedicated fans is MuggleNet fan Irvin K. who has sent us numerous reports in the past. We have his full story of the weekend events at the bottom of this post.
Imagine the excitement that was building up with the group of campers as they patiently waited for the tickets to go on sale, only to get word that the JALC tickets were made available online a full 12 hours ahead of schedule. Panic and anxiety made the next few hours a complete blur as MuggleNet fan Irvin reported:
The following scene is a blur in my memory, but it must have looked like a mini-apocalypse was happening on the island. Everyone went into a complete and utter panic, running around like chickens with heads cut off, and yelling at the top of their lungs. Everyone was trying to access it on their phone, yelling to each other to enquire [sic] about progress. Some people (like myself) didn't have a data connection, and had to run across the street to Starbucks's WiFi. At the same time, all our friends began calling and texting us about the tickets to ensure we got them… which, though appreciated, was not conducive to buying tickets on our phones.
As we reported late last night, the tickets that were sold 12 hours early, may not be valid as many seats were "double-booked". So what will the JALC do? This has yet to be determined, but fans like Irvin who spent the weekend camping out for tickets certainly deserve to be among those in attendance as well as the dedicated fans that were lucky enough to purchase tickets online ahead of schedule. We are all equal fans of our favorite author as she has created an unbreakable bond between us.
So whether you were one of the online, phone, or in-person patrons who acquired a ticket for this event, getting the ticket was only the first step of the process. Travel and hotel arrangements also had to be made immediately, which also cost a great deal of money for those who live outside of New York City. So what will happen to those fans if the tickets are determined to be "invalid"? Will the JALC make all parties involved happy? We will keep you updated as information becomes available.
But for now, you can read Irvin's personal story of camping out in New York City below.
Want more posts like this one? MuggleNet is 99% volunteer-run, and we need your help. With your monthly pledge of $1, you can interact with creators, suggest ideas for future posts, and enter exclusive swag giveaways!
Support us on Patreon