UPDATED: "Harry Potter and the Cursed Child" Synopsis Revealed
It's been a long wait, but we've FINALLY got answers as to what Harry Potter and the Cursed Child will be about. Only last night, we were speculating about the identity of the Cursed Child after the reveal of the official artwork. Ticket sale dates were also revealed, and it was seemingly confirmed that the identity of the child would be Albus Severus Potter.
This morning, Pottermore has finally given us an official synopsis to the play – so there will be no more wondering if the play is a prequel (definitely not) and no more speculating as to whose story the play will be telling. The play is being advertised as the "eighth Harry Potter story," and the new tag line can be seen in the picture below.



J.K. Rowling has been working alongside Jack Thorne and John Tiffany, as seen in the picture below, to bring the story to the stage.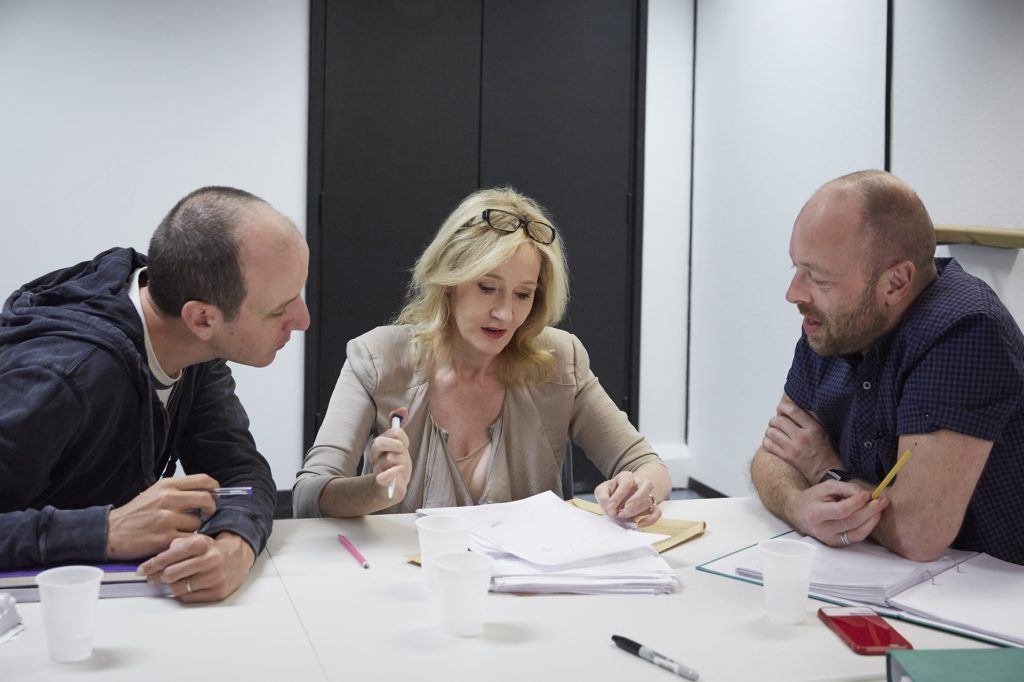 As rumored last night, the play is a sequel to the books, following the epilogue in Harry Potter and the Deathly Hallows. Here's the synopsis in full:
It was always difficult being Harry Potter, and it isn't much easier now that he is an overworked employee of the Ministry of Magic, a husband and father of three school-age children.

While Harry grapples with a past that refuses to stay where it belongs, his youngest son Albus must struggle with the weight of a family legacy he never wanted. As past and present fuse ominously, both father and son learn the uncomfortable truth: sometimes, darkness comes from unexpected places.
The play will feature a cast of over 30, and it's interesting to see how this new information fits in with what was overheard by a MuggleNet staff member a few weeks ago – were these boys auditioning for one of the Potter children?
It has also been confirmed that tickets will go on sale next week:
Tickets go on sale online only at 11am GMT on Wednesday[], 28 October, on a first[-]come, first[-]served basis to all who have registered for priority booking, and at 11am GMT on Friday[,] 30 October to the general public.
—
UPDATED
Information about booking tickets has also been released. Booking begins next week, as stated above, and tickets will be available for the preview run, starting June 7, 2016. The main performances will begin on July 30, 1016.
From July 30, on Wednesdays, Saturdays, and Sundays there will be two performances, with a matinee performance of Part 1 and an evening performance of Part 2. For the first round of tickets, when you buy a ticket for a Part 1 performance, you will automatically be booked onto the next performance of Part 2, whether that is in the evening or the next day. To make more sense of this system,  check out the press release below, head to the official website, or take a look at the visual guide from Pottermore: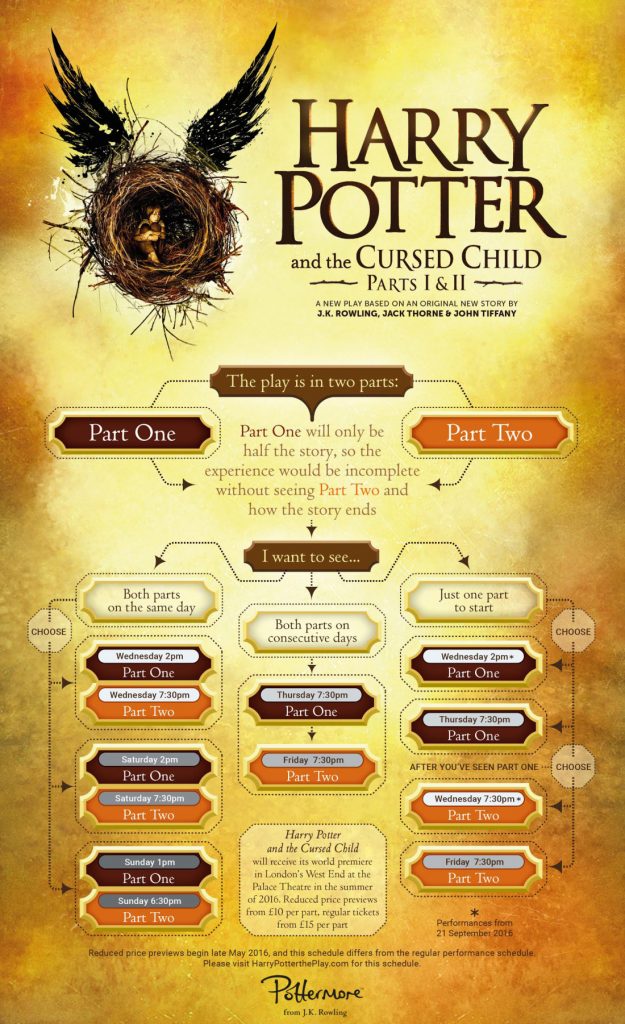 For those who miss out on booking next week, there will also be a weekly and daily lottery system in place. Here's some more information about the schedule of the play:
Reduced price previews will begin on Tuesday[,] 7 June 2016, and the [o]pening performances of Part One and Part Two of the play will be on Saturday[,] 30 July 2016 at 2pm and 7.30pm.

In addition, four special preview performances are planned for the end of May 2016. Details of when these performances will go on sale will be announced at a later date.

For the schedule of preview performances from 7 June to 3 July 2016, please see the official website HarryPotterthePlay.com

From 6 July 2016, the production will commence its regular performance schedule:

Monday – no performance

Tuesday – no performance

Wednesday – 2pm Part One & 7.30pm Part Two

Thursday – 7.30pm Part One

Friday – 7.30pm Part Two

Saturday – 2pm Part One & 7.30pm Part Two

Sunday – 1pm Part One & 6.30pm Part Two
More details about the tickets, including prices, which begin at £30 for both shows during previews, and at £40 afterward, can be found in the press release below.
You can register for priority booking until Saturday, October 24.
—
Let us know your thoughts on the synopsis in the comments!