A Vegan "Harry Potter" Holiday Feast
Between Harry Potter movie marathons, secret butterbeer recipes, and ugly Christmas sweaters, the most wonderful time of the year might also be the most magical time of the year. Every winter since I got my copy of Dinah Bucholz's The Unofficial Harry Potter Cookbook, I've tried to make at least one recipe in honor of the many mouthwatering meals Harry had at Hogwarts. This year, my husband and I decided to make the switch to a vegan diet. Rather than abandoning my tradition, I decided to adapt some of the recipes to fit our new eating habits, and the results were delicious.
This cookbook is filled with tons of scrumptious recipes inspired by dishes mentioned in the Harry Potter series. I'm no Molly Weasley when it comes to cooking, so I wanted some recipes that would be easy to make and adapt. I ended up choosing Molly's meatballs with onion sauce, boiled potatoes with herb vinaigrette, and for dessert – jam tarts!
Molly's Meatballs with Onion Sauce
I was nervous for this recipe since it was the first time I tried making vegan meatballs, but boy, was I worried for nothing. They were delicious! To make this recipe vegan, I defrosted some Gardein beefless crumbles in a sauté pan for two minutes, then added it to the rest of the meatball ingredients. Since this recipe calls for an egg, I made a replacement out of some ground flaxseed.
To transfigure flaxseed into a flax-egg, combine one tablespoon of ground flaxseed with three tablespoons of warm water. Whisk until you have an egg-like consistency and voilà! You've got the flaxseed equivalent of one egg. This particular recipe calls for one real egg, but if you're going to use flax-eggs, I'd advise using at least two. Some of my meatballs started to fall apart when they were simmering, and a little extra binding agent would have helped them stick together. Speaking of simmering, swap out the chicken broth for some vegetable broth, and this recipe has been totally veganized.
Boiled Potatoes with Herb Vinaigrette
I'm a huge potato-eater, so I was not disappointed with the wide variety of potato recipes in The Unofficial Harry Potter Cookbook. To my joy and surprise, this boiled potato recipe was already vegan, so all I had to do was follow the instructions and do my best not to eat like Ron Weasley.
Jam Tarts
When it comes to baking, my results usually look more like Hagrid's rock cakes than the treacle tarts and puddings found in the Great Hall. This was the most difficult recipe to select since so many desserts rely on dairy products, but these jam tarts only require a stick of butter and an egg. I mixed another flax-egg and some Earth Balance vegan butter with the rest of the dough ingredients, and the recipe went off without a hitch!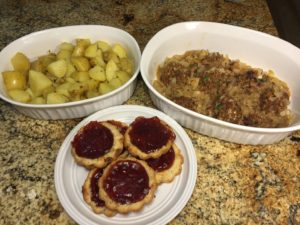 My vegan Harry Potter feast was the most delicious one I've had so far; Molly's meatballs were hearty and filling, the onion sauce was sweet and savory, the potatoes were fragrant and fluffy, and the jam tarts were gone by the end of the night.
For the full version of these recipes, check out Dinah Bucholz's The Unofficial Harry Potter Cookbook, and for more amazing Harry Potter holiday recipes, you can always check out Rosmerta's recipes here at MuggleNet.
Happy eating!